Marriage Lessons from the Luthers
Katharina and Martin Luther lived 500 years ago, but they can teach us much about how to live well in our own modern-day marriages.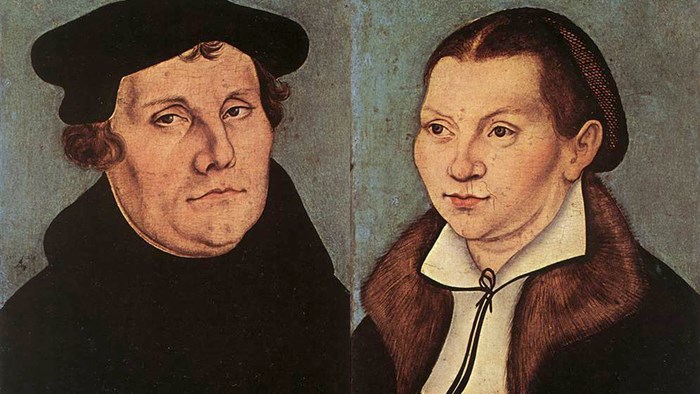 Image: Wiki Commons
Martin Luther had no intention of marrying. Though he had preached extensively and passionately on the theology of marriage, matrimony, he had decided, simply wasn't for him. "Not that I am insensible to the emotions of the flesh, being neither wood nor stone," he wrote to a friend, "but because I have no desire to [marry], and daily expect to die a heretic's death."
All that changed once Katharina von Bora landed on Martin Luther's doorstep.
After 18 years in a cloistered convent, Katharina, along with 11 of her fellow nuns, secretly fled the convent in the middle of the night, hiding in a covered wagon. So convicted were they by Martin Luther's writings, particularly those that condemned monasticism as works-based faith, the nuns left the only life they had ever known. Martin, feeling responsible for their livelihood, took on the role of matchmaker for the destitute former nuns, ensuring that each found a suitable husband.
Two years after their risky escape, only one of the nuns still remained single: Katharina. Refusing to marry the suitor Martin had lined up for her, she made a daring suggestion instead: She proposed that the great Reformer marry her himself.
Neither Martin Luther nor Katharina von Bora married each other for love. Each had an agenda the day they crossed the threshold of their home for the first time as husband and wife. Katharina wed in order to survive in a world hostile to women; Martin married out of a sense ...
1