The Great Female Commission
Mentorship expert Natasha Sistrunk Robinson on how to draw all women into the work of discipleship.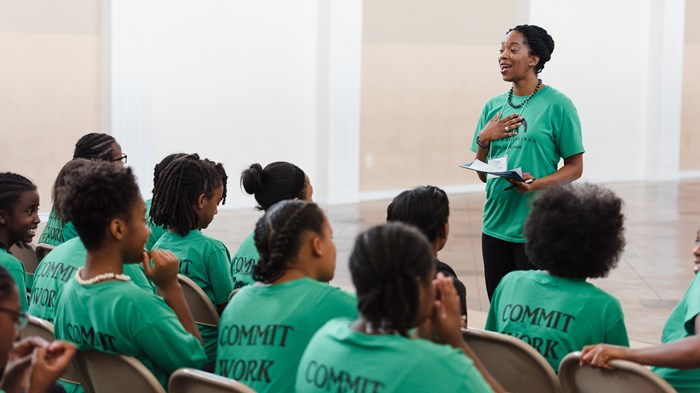 Image: Courtesy of Leadership LINKS, Inc
Next in our series on the state of women's discipleship, #AmplifyWomen, we hear from Mentor for Life author Natasha Sistrunk Robinson about how to fill in the gaps where Christians aren't being adequately taught, mentored, and equipped.
As a former Marine Corps officer and seminary grad, Robinson has dedicated her career to the command in Hebrews 5 that all believers should be teachers of God's Word. In Robinson's view, some Christians lack the opportunity—and sometimes the initiative—to pursue robust discipleship relationships, which means they miss out on spiritual growth for themselves and others. Women, in particular, often don't have access to the institutional structures that typically slide men into formalized mentorships. "Local churches have a great opportunity to create a leadership pipeline for men and women by pursuing an intentional model for discipleship," says Robinson.
Drawing on her own relationships with sisters in Christ, Robinson speaks here about how to empower women across cultural divides, how to mentor millennials, and how to learn from the legacy of the African American church, where discipleship relationships are more common.

You're a big proponent of "in real life" community and empowering women through close, intentional mentoring relationships. What challenges do social media and the blogosphere present to women's spiritual formation?
The purpose of leadership is to unleash people, to set them free to do the work that God has and to go out with the blessing and support of their local context. But that doesn't always happen. People get shut out. The systems that have been set up in local congregations are often marginalizing women, in particular. So people are using social media to build community with others who are likeminded—call it "their tribe"—people they may not have access to in their local context. And I think that's a good thing. For example, there are certain conferences I can go to where I meet people that I've met online, and they are my tribe of people. I can come back to my local ministry context, ready to work again.
But of course you can't live in the blogosphere. Most people online don't know you, and you're not accountable to them. That's where the local congregation comes in. You have to cultivate real relationships in real community with real people. Of course, God can use online teachers and their work, but discipleship and spiritual formation must take place with people with whom you have real relationship. I don't want to discourage people who feel called to blogging—I do some of it myself—and I don't want to downplay their gifts. We must understand, however, the online ministry has to be a supplement, not a substitute for what is happening in our local community and church contexts, even if we are the ones creating ministry opportunities where there are none.
Left to ourselves, we naturally gravitate toward people like us. What danger does homogeneity present for women's ministry?
I recently sat on a "Women Who Lead" panel, and this was one of the points I made there. If we're going to be for women, then we have to be for all women and not just women who look like us. It's such a beautiful thing when we see the history and learn the stories of people who are different. The triune God that we serve models unity and diversity. God the Father, the Son and Holy Spirit are one and they each have different responsibilities. And this is the unity that God calls us to. "Do nothing out of selfish ambition or vain conceit, but look to the interests of others." All of us, regardless of our ethnic affiliation, have to engage holistic discipleship. It's a sacred act to learn to see, honor, and love our neighbors in this way.
Who holds mentors accountable for the way in which they teach, mentor, and advise?
If we are studying the word of God, the Holy Spirit's job is to remind us of what Jesus taught. That doesn't mean we don't have accountability. If we are in community in a formal ministry, then accountability comes from within the local church.
However, I also want to encourage more lay people to take seriously their responsibility to make disciples. All believers are accountable to raise disciples. They won't do that if only church staff have authority. If they are being trained well, they need to be given the opportunity to practice making disciples. Christ's disciples said, "Rabbi, teach us how to pray." He modeled praying for them and also taught them how to pray. So in a small group setting, the mentor might ask a mentee: Who wants to lead us in this text? Who wants to lead us in prayer? That's how they learn to make disciples on their own.
In your book Mentor for Life, you explore the idea of intentional discipleship within the context of a small community. What's the advantage of focusing on the local, especially with small groups?
The beauty of mentoring in a small group is that it provides a safety net and a community for accountability; it's a community of people who can come around and offer prayer and support, wisdom and discernment. There are wonderful benefits to the small discipleship model, particularly for women. If a woman is single, if a woman is barren, if she's a professional woman, a widow, or a divorcee, all these women for various reasons often feel marginalized in the local church context and feel as if there's no place for them. So when you mentor them in a small group setting, you're saying to them, we see you, we've created a space for you.
You're spearheading an organization called Leadership LINKS Inc., geared toward mentorship of young adults. Tell us about it.
Leadership LINKS is a non-profit organization run by devoted believers, many of whom are African American. We have active duty and retired personnel, including a Navy admiral; small business owners; corporate executives; college and seminary professors; a lawyer, and a writer on our leadership team. Our mission is to offer leadership education that includes character and spiritual development. We want to raise up the next generation of leaders and prepare them to go out into the marketplace.
Our primary program is the "Walk in Purpose" Leadership Summer Program for Girls. By the fall, we will introduce our mentoring program to include boys, as well. "Commit, Work, Succeed" was the theme for last year's program. We focused on the teaching of Colossians 3:23, "Whatever you do, work at it with all your heart, as working for the Lord, not men." We're now exploring how to duplicate our programs across the US. Our goal is to advance the kingdom of God and to share Jesus with people.
You're addressing intergenerational discipleship. What do millennials, in particular, need from their mentors?
We're dealing with a biblically illiterate generation. Many of them are not studying the Word, not engaging the text. Instead they're spending a lot of time on cultural issues. So no doubt, there are challenges among this group, but we, the older generation, have to take some ownership for these problems. We haven't engaged millennials well, and we're often not willing to sacrifice our time to disciple them. So I don't buy the idea that young people don't care; they're often just waiting for someone to take the time.
For example, few weeks ago, I led a woman's retreat and, along with a mentee of mine, facilitated a workshop on mentoring and discipling millennials. In an audience of approximately 60 people, 10 percent were millennials. I asked them, "If someone offers to lead a Bible study, teach you how to pray, offer you food in their home, would you say yes? " To a person, all millennials present in the room said yes. My point is, don't be too quick to blame and judge that generation, and especially if you are not willing to put in the hard work to disciple them.
You just got back from speaking at Missio Alliance on the topic of black evangelical influence in the American church. How are black evangelicals leading the broader church in discipleship?
At the recent Missio Alliance conference, we had almost 1,000 people, mostly white, but we hosted the conference at Alfred Street Baptist Church, one of the oldest historically black churches in the country. The church is 214 years old, and they've only had six pastors and never had a church split. Do we think the evangelical church can learn from a church with a history like that, regardless of its ethnic composition?
The black church has a history of holistically discipling people. It's not just about Bible study and personal piety—that's a part of it, of course—but it's also about action and justice. We may have a pastor who will preach about mass incarceration and then implement a ministry, so we're taking action to respond. That's not uncommon in the black church. In discussions about the broader church, we often get this either-or dichotomy: theological work and Bible study versus action and justice work. My experience with the black church is that they do both well, and the combination of both is meant to benefit not just the church but also the larger community.
Is there a particular verse in Scripture that you look to as a mandate for discipleship?
Matthew 28:19–20, the obvious one! The imperative in this Great Commission passage is to make disciples. As you're going, as you're baptizing, as you're teaching them, you make disciples. Jesus said, "Because I have all authority, you can do this." That's the hope and the promise.
Amplify Women is a two-month-long series running on CT Women, designed to generate a new conversation about women's leadership and discipleship. The first article in the series launched last week: Who's In Charge of the Christian Blogosphere? In the weeks ahead, we'll address factors such as platform, race, privilege, orthodoxy, male support, and more.