Death and suffering are usually seen as downers. Not for the Christian. It's not that we enjoy such events—hardly. We can lament with the best of them. But we lament in the context of redemption, knowing that nothing can separate us from Love, and that all things work together for our good.
This issue is a happy accident, as two longer articles explore the "good news" about suffering. And the third article about wheat/bread, while not about suffering, does harken to one of Jesus' sayings, ". . . unless a kernel of wheat falls to the ground and dies, it remains only a single seed. But if it dies, it produces many seeds" (John 12:24).
This is a perfect theme for a magazine about wonder. What's more mysterious than strength that comes from weakness, and life that emerges from death?
—Mark Galli, co-editor
The Behemoth is a small magazine about a big God and his big world. From the editors of Christianity Today, these articles aim to help people behold the glory of God all around them, in the worlds of science, history, theology, medicine, sociology, Bible, and personal narrative.
Get full access to The Behemoth archives on any device when you subscribe to Christianity Today.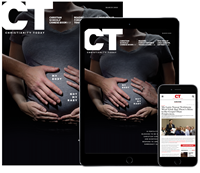 Unlock This Article for a Friend
To unlock this article for your friends, use any of the social share buttons on our site, or simply copy the link below.