This edition, we trust, will help deepen your devotion during Holy Week.
We begin with the glorious end of this week: The resurrection of our Lord. Ted Olsen helps us address a disturbing fact: Jesus isn't the only person to have come back from the dead. What's the difference between Jesus' resurrection and these other stories, some of which are in Scripture? The difference, as a reader of this digizine might suspect, leads us into another experience of wonder.
The article on seeds ("Seeds—Small and Mighty") is our science piece for the issue, a fascinating look at the crucial ubiquity of these little things. It subtly harkens Jesus' own allusion to his death: "Very truly I tell you, unless a kernel of wheat falls to the ground and dies, it remains only a single seed. But if it dies, it produces many seeds" (John 12:24).
An article on how God stoops to our level when he communicates with us—which helps us make sense of the scientific "inaccuracies" of some parables—and a moving poem about Good Friday round out this issue (with our regular exclamation point of Wonder on the Web at the end).
—Mark Galli, co-editor
The Behemoth is a small magazine about a big God and his big world. From the editors of Christianity Today, these articles aim to help people behold the glory of God all around them, in the worlds of science, history, theology, medicine, sociology, Bible, and personal narrative.
Get full access to The Behemoth archives on any device when you subscribe to Christianity Today.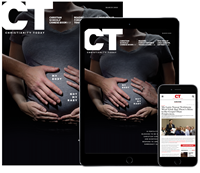 Unlock This Article for a Friend
To unlock this article for your friends, use any of the social share buttons on our site, or simply copy the link below.