Dec 22, 2007
Christmas with Rick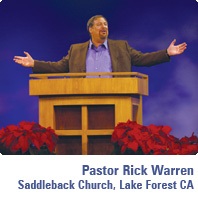 I still remember the day in 1998 Rick Warren called me and encouraged me to go to Southern Seminary to teach church planting.
In the early days, Saddleback helped start the Nehemiah Project, a program to help seminary students become church planters. His encouragement helped me to leave the church I had planted and and start a journey that would focus on training planters, and eventually pastors. I am not sure I would have done it without his encouragement.
Rick has been a friend at some key moments. He gave away all his resources to my students and provided resources and training at important times. When I was struggling with a decision a couple of years ago, he prayed with me and encouraged me. His name has been on several of my books and projects and I am honored he would lend his name. And, as he has become one of the leading evangelicals in the world, I have still found him humble and gracious-- and more concerned with others than with himself.
It is amazing to see how God is using Rick and Saddleback today.
I prayed for him last week as they had an important planning meeting at Saddleback and Purpose Driven.
I will pray again this week as God has given Saddleback some incredible opportunities, including these listed in a recent email:
-14 Christmas services at Saddleback

-Fox News will broadcast "Christmas with Rick Warren" multiple times on Christmas Eve and Christmas Day.

-The US Armed Forces Network will broadcast "The Purpose of Christmas" (last year's Saddleback service) for all troops around the world to watch.

-All Wal-Marts and Sam's Club are broadcasting "The Meaning of Christmas" a message by me, along with Christmas carols by the Salvation Army, on all their in-store TV screens.

-Good Morning America is broadcasting our roundtable about "The Good News of Christmas" on Christmas Day.
Viewers on Fox and elsewhere will be directed here. The pamphlet that is on the web page explains:
It All Starts with God.

It's not about you.
Support our work. Subscribe to CT and get one year free.