Dec 15, 2007
In Philly, Rob Burns, Real Life Church, and "Third Place" Churches
Yesterday I was in Philadelphia at a NAMB Missional Network event. It was good to see friends from many different churches there.
We had a morning dialogue with the pastors, church planters, and others at Real Life Church (more about them below).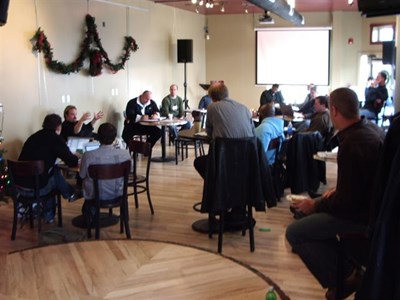 The setting was great for dialogue.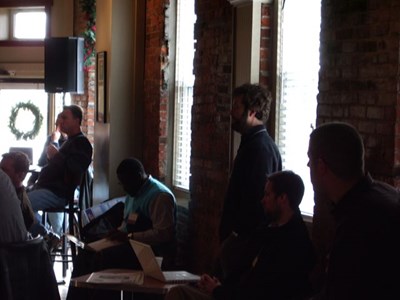 And discussion.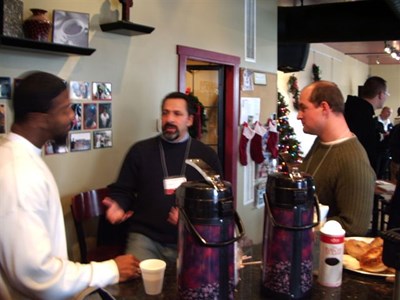 And community.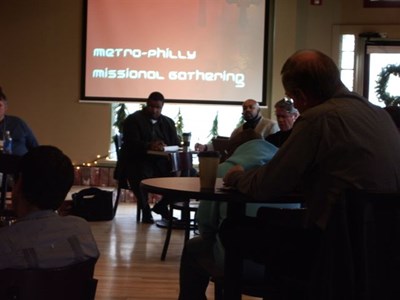 After the morning dialogue, we then went over to Nazarene Baptist Church for the afternoon meeting. Nazarene Baptist Church has the unique challenge that if you mix up the name, it changes denominations. Grin.
The church is a large African-American church, pastored by the state convention president, Keith Marshall Williams, Jr., who was recently elected to be the "President" of the State Convention Presidents Fellowship.
The contrasts between the two churches were fascinating-- and it was encouraging that we were able to meet in both places in one day. The meetings illustrate the kind of partnership evidenced in these churches.
Let me specifically mention Rob Burns and Real Life Church. They were gracious to host the event in Philadelphia. The church is a new SBC church plant, also networked with Acts 29.
They started their church by purchasing a former neighborhood bar. (In the Northeast, most urban contexts have a small bar that caters to the people who live nearby.) The bar serves as something of a "Third Place." Wikipedia explains:
"The Third Place" is a term used in the concept of community building to refer to social surroundings separate from the two usual social environments of home and the workplace. In his influential book The Great, Good Place, Ray Oldenburg argues that third places are important for civil society, democracy, civic engagement, and establishing feelings of a sense of place.

Oldenburg coins "first" place as our home and those we live with. Our second place is the workplace -- where we may actually spend most of our time. Third places, then are "anchors" of community life and facilitate and foster broader, more creative interaction. All societies already have informal meeting places; what is new in our day is the intentionality of seeking them out as vital to our current societal needs. Oldbenburg suggests these hallmarks of a true "third place": free or inexpensive; food and drink, while not essential, are important; highly accessible: proximate for many (walking distance); involve regulars - those who habitually congregate there; welcoming and comfortable; both new friends and old should be found there. (58)
As part of their mission strategy, Real Life Church bought the bar, extensively renovated it, and turned it into a coffee and snack bar. And, it is an intentional Third Place outreach and church.
There is a helpful article on Third Place ministries here. It is worth a read.
Pray for Real Life Cafe that is helping make Real Life Church possible.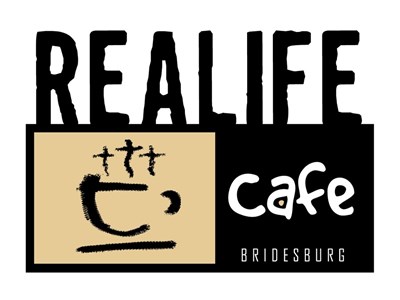 They are reaching Bridesburg, a section of the city that few know, but the church plant is already seeing 60 or so people attend each week. That is remarkable for a year-old church in a community like this.
Support our work. Subscribe to CT and get one year free.