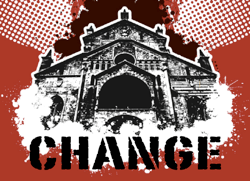 I just came across the National Congregation Study Wave II via the Christian Post and it's definitely worth noting. This study, directed by Mark Chaves, Professor of Sociology, Religion, and Divinity at Duke University, compared over 1,505 congregations in 2006-2007 with 1,234 in 1998 revealing some noteworthy changes American churches have experienced in the last 10 years. Here a few points worth thinking about.
Style
The study shows that our American churches have become less formal in worship style over the past 10 years. "More worship services include drums, jumping and shouting or dancing, raising hands in praise, calling out "amen," visual projection equipment, applause, and speaking by people other than leaders compared to 1998, the National Congregations Study shows."
These stylistic changes have not robbed or replaced the biblical components of worship. The Christian Post summarizes, "But the numbers for some features have remained about the same, including a sermon... singing, greeting time, silent prayer or meditation, reading or reciting Scripture." So worship tends to still include preaching, praying and singing while our churches adapt to a very interactive and tech-driven culture.
Tech
I've blogged on the issue of tech in the church on several occasions (here for example), and while we should always be intentional and careful when adopting new practices, as pointed out above much of what this study revealed was the embrace of tech culture-- not the abandonment of biblical components of worship.
In 1998, the number of congregations with Web sites was only 17 percent. The number has since risen to 44 percent in 2006-07. In other words, since 1998 another 10,000 congregations created Web sites and now 74 percent of service attendees are in congregations with Web sites.

Meanwhile, the number of those using email to communicate with members increased from 21 percent to 59 percent during this time period. Nearly 80 percent of attendees as of 2006-07 are in congregations that communicate with members via email.
While it's hard to imagine church life in 2009 without websites and electronic communication, 10 years ago it simply wasn't an issue.
Ethnic Diversity
Simply put, our churches are more ethnically diverse today than they were even 10 years ago. More specifically, "the diversity occurred mostly among white churches; the majority of black churches still remain predominantly racially homogeneous."
Age of Leadership
Yet while cultural diversity becomes more of a reality in our churches (a very good thing), leadership in American churches appears to be aging. With all the talk about younger leaders and church planters this is not what some would expect.
The median age of the head clergy has increased from 49 in 1998 to 53 in 2006. Furthermore, congregations across the religious spectrum have fewer younger leaders. Today, only 39 percent of congregations are led by someone 50 years old or younger, a drop from 48 percent in 1998.
Size of Congregation
Also worth noting, in the midst of all this change, is that the median congregation is the same size today as it was in 1998 (75 participants). Additionally, "the median person still attends a congregation that is the same size as it was in 1998 (400 regular participants)."
This study is broad, including all kinds of congregations. You can find more information at the Christian Post's article, or you can go directly to the study at Duke University.
I've spent some time with Mark and consider him a solid researcher and I believe the research is well done and helpful.
The Exchange is a part of CT's Blog Forum. Support the work of CT. Subscribe and get one year free.
The views of the blogger do not necessarily reflect those of Christianity Today.