It's Christmas Eve. The kids are in bed-- at least for now.
I thought I would write a few things related to today: one about Christmas, one responding to today's column by Michael Medved (where I get a gentle admonishment), and one about our Christmas Eve services tonight.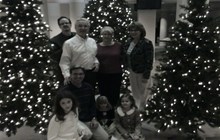 First, about Christmas. Tomorrow, we will get up early with our kids, my parents and brother will come over, and we will celebrate Christmas. It is a good time to have my family together (pictured right) and I am glad we can start the morning reading from Luke and talking about the birth of the Messiah.
I love Christmas.
Second, Michael Medved pushed back a bit at some comments I made last week.
I have great respect for Medved and always enjoy his writing. He was responding to an article in USAToday last week (print edition on Thursday) where Michael Horton and I are quoted (and he reprints those quotes with his commentary).
Medved says of Horton:
The article cites the work of Michael Horton, professor of theology at Westminster Seminary in California, who suggests that "Christmas without the specter of the cross, without awareness that this is a baby born to die for mankind's sins, is a fancied up fraud." Professor Horton warns that "Santa becomes a substitute for Christ. He'll give you presents whether you were good or bad. It's hard to imagine Santa returning to judge the human race and consign anyone to hell. But that is what Jesus came to save us from."
He says of me:
For some serious Christians, however, all the tinsel-trimmed traditions have begun to obscure the true meaning of the holiday. "The focus on peace and giving gifts allows you to safely focus on nice things instead of the idea that God sent his son Jesus to be Christ, who dies on a cross," says Ed Stetzer, director of LifeWay Research in Nashville. "It's human nature to want to take the 'nice' without the 'truth.'"
Medved closes the article as follows:
Secularist militants dislike the holiday because its religious trappings remain inescapable and it reminds them of the nation's deep Christian roots. Some faith-based enthusiasts may simultaneously resent the ecumenical, commercialized, gauzy, feel-good atmosphere associated with the festival in its American incarnation. But most citizens--including those of us who constitute the nation's small non-Christian minority - continue to value the properly revered "Christmas spirit" with its emphasis on eternal verities like kindness, community, continuity and new life that continue to characterize what the song rightly heralds as "the most wonderful time of the year."
Since Michael Medved is an observant Jew, I am assuming that his words tell us of his desire to participate in the joy of the season without, perhaps, the meaning as I see it, being a Christian.
Fair enough.
Let me say that I understand his concern, but I think he may have misunderstood what I was saying. My concern is that Christians share the message they have and not get so distracted by the celebration of the incarnation that they fail to explain the reason for the incarnation (i.e. this babe came to die). And, I should add, I would not want to force or pressure non-believers to participate in that which they do not affirm.
Just yesterday, I was sharing with my Jehovah's Witness hair stylist and I wish people would not snarl at her when she does not respond with "Merry Christmas."
Forcing non-believers to say "Merry Christmas" so they don't get boycotted is just silly.
The answer to any "war" on Christmas is not to force non-Christians to acknowledge a Messiah they do not accept. (I mentioned this on Sunday and you can find the message here.)
Thus, I do not believe that we Christians should impose Christmas on anyone. However, I am concerned when Christians do not see this season as an opportunity to tell the whole message of the gospel. For them to celebrate Christmas without telling of Christ is to miss the point of Christmas in the first place.
So, I want Mr. Medved to have a "Happy Holidays," enjoy the time off with family, and participate in the festivities that surround this time of year. However, when I can, I also want to tell the whole story as to why people should have a "Merry Christmas."
In my understanding of the gospel, "peace on earth and good will to men" comes through the work of Christ on the Cross.
No, I do not think that every Christmas party needs to end with a gospel message or a plan of salvation. Christians need to be sensitive to their contexts and respect the religious liberty and views of others. But, in my home, among my friends, and in my church, I want to share the whole redemptive plan, not just the tinsel and trappings, as good as they may be.
Medved has defended evangelicals many times and is a friend to our movement, so I am not sure he would disagree. But, a few sentences in USAToday do not often tell the full story, so I thought I would mention it here.
Happy Holidays, Mr. Medved, and thank you for your work! Enjoy the season.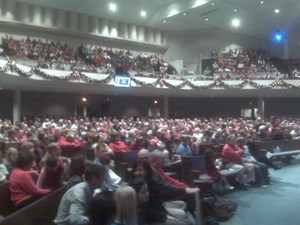 Third and finally, we had two wonderful Christmas Eve Candelight services tonight. Our music people always do a great job and tonight was no exception.
My message tonight relates to my comments above. The title was "The Babe Who Came to Die" from Matthew 1:18-25. We also took the Lord's Supper so we could celebrate both the birth and death of the Messiah.
Here are my notes from Sunday:
The Babe Who Came to Die (Matthew 1:18-25)

We can lose the meaning of the story when we become overly familiar with its telling.

Let me tell you a story again that is as wondrous as it is true. The story of the manger and the cross.

The Manger and the Cross

1. The Miraculous Birth (verses 18-20)

"The birth of Jesus Christ came about this way: After His mother Mary had been engaged to Joseph, it was discovered before they came together that she was pregnant by the Holy Spirit. So her husband Joseph, being a righteous man, and not wanting to disgrace her publicly, decided to divorce her secretly. But after he had considered these things, an angel of the Lord suddenly appeared to him in a dream, saying, "Joseph, son of David, don't be afraid to take Mary as your wife, because what has been conceived in her is by the Holy Spirit."

Virgin Birth but more accurately it is the Virgin Conception.

Jesus was fully God and fully man. He existed as God the Son for all eternity.

Betrothal is more than engagement. It is a one-year unconsummated marriage.

The Virgin Conception has to get your attention. Something big is going on here. And, when you understand it is God the Son being born fully God and fully man, it has to get your attention. It has to cut through the presents, dinners, and parties of this time of year.

Something big happened and you have to deal with it.

If you have heard the story a thousand times, this one is worth your attention again. It is SO fantastic that is demands us to hear and respond.

2. The Saving Death (verse 21)

"She will give birth to a son, and you are to name Him Jesus, because He will save His people from their sins."

This is pretty much an exact quote of Isaiah 7:14 "The virgin will conceive, have a son, and name him Immanuel." Here it is "name him Jesus." The names matter.

Why the "name"? Jesus is an English word from Yeshua. Yeshua means "Yahweh rescues" and Immanuel means "God with us."

Yahweh rescues by coming with us. And, that is evidenced in the birth of Christ.

How will he "save"? Hebrews 9:22 "without the shedding of blood there is no forgiveness."

What are "their sins"? 1 John 1:8-9 "If we say, 'We have no sin,' we are deceiving ourselves, and the truth is not in us. 9 If we confess our sins, He is faithful and righteous to forgive us our sins and to cleanse us from all unrighteousness."

John 1:12 "But to all who did receive Him, He gave them the right to be children of God, to those who believe in His name."
Have a Merry Christmas!
The Exchange is a part of CT's Blog Forum. Support the work of CT. Subscribe and get one year free.
The views of the blogger do not necessarily reflect those of Christianity Today.