On Sunday, I had the opportunity to be at two churches in Raleigh Durham. One of the things I like to do is to create a photo review of the churches and tell a bit of the story (Please excuse the quality of the photos, all I had was a camera phone and clearly I had too much caffeine).
I "preached" at 10 services, which sounds more tiring that it really is. I actually spoke only three times-- Saturday night at C3 Church and twice Sunday at the Summit Church. I spoke about the church and the Kingdom of God from Matthew 16 (at both churches).
First, I preached at C3 Church in Clayton, NC on Saturday night. The video of the message was recorded Saturday night during their evening service and then played Sunday morning.
The church is about 10 years old and Matt Fry, the founding pastor, asked me to challenge them not to do what most 10-year-old plants do-- start to slow down and plateau.
Matt is a great humble guy with a passion for the lost and for worship. Here he is Twittering (and, yes, I did convince him to Twitter a few months ago).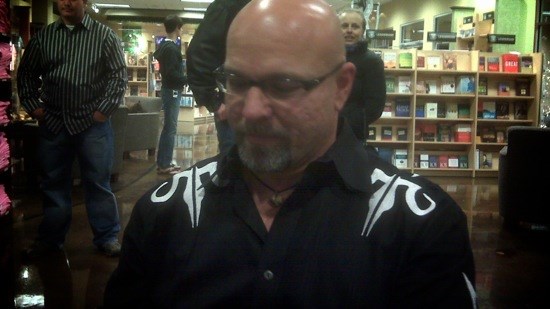 Matt grew up in Nashville, TN. and has been in full time ministry since his college days in 1985. Matt and his wife Martha moved to Clayton, NC in September, 1998 and began their ministry at Cleveland Community Church (C3) with a core group of about 50 people. The church's vision is to provide "real hope for real people in a real world." Be sure to check out his blog at mattfry.com. At C3 they have really thought through their mission, core beliefs and strategy. Front and center is an aim at being biblical while making Christ known and developing leaders. Much more can be said, so check it out on their website.
By the way, Matt is the only pastor I know who picks out his clothes from the Harley shop.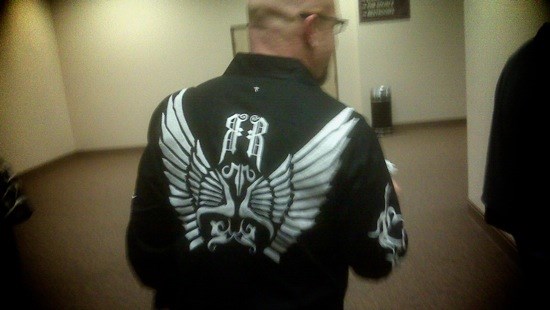 The church is not in the center of, well, much. You go down a two lane road far outside of town.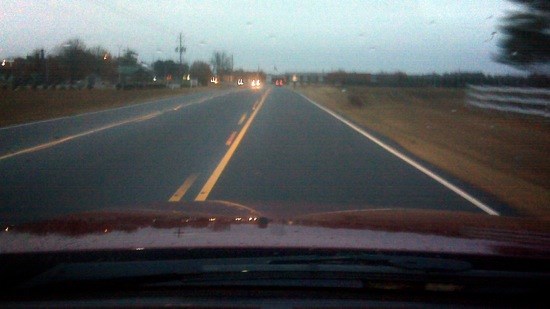 Then, in the middle of a field, you see their new building. They have been in the new facility for about a year.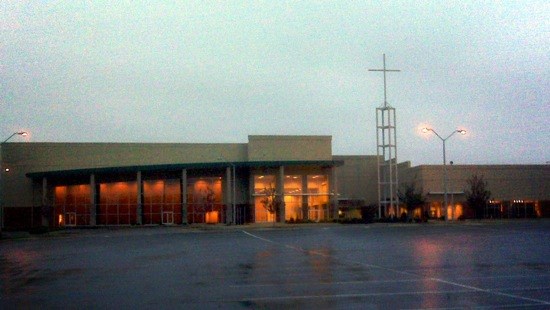 We came in the side door to see their coffee shop / bookstore. It is like a Starbucks and is pretty impressive. They had a sale that day, but I did brought no cash! (Jaclyn, in the pink, was not as impressed with the sale.)
The auditorium is impressive. I don't think I have seen so many screens on one stage-- and they use them well. One of their core values is excellence.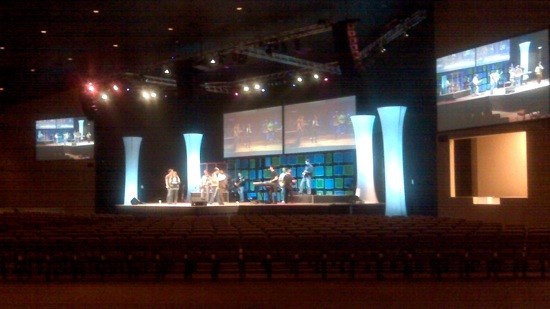 I really appreciate the fact that they all got together and prayed before the service. Their whole team got together, laid hands on me, and prayed for the service as a whole. I took this picture right after the prayer time.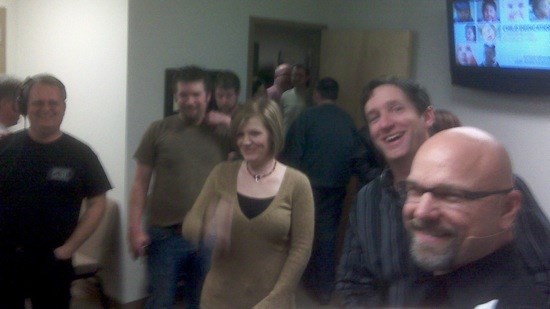 The worship was very high energy. It has a concert feel and a Hillsong flavor. Matt tells me about 60% of the songs are Hillsong music. They have three services and about 3000 people normally attend on a Sunday.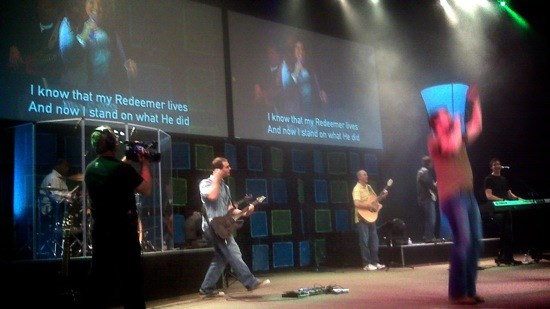 You can tell they have a deep appreciation and love for Matt (pictured here):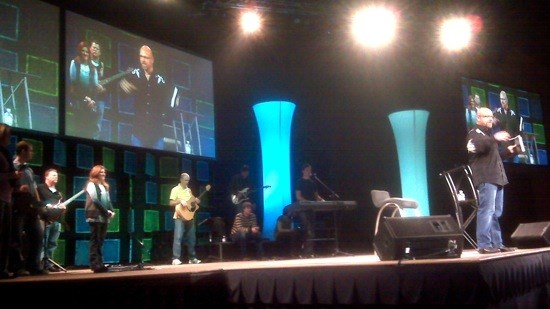 The service has a high energy / concert like feel. I told Matt that one of the more fascinating things to me was that the youth came up front during the worship time. Matt explained they started doing this right after a youth retreat and have been doing it ever since.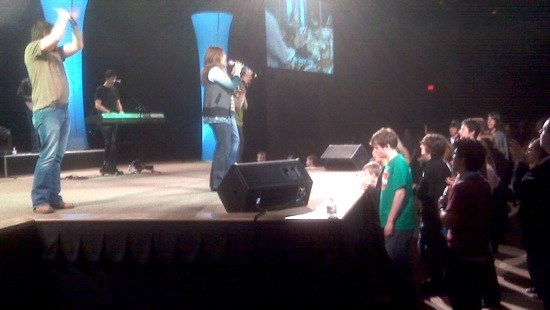 I was impressed with the fact that they immediately evaluated the service after we were done. They discussed everything about it, made changes, and sought to make it better. I don't see that much in churches-- and I think it made the services on Sunday better.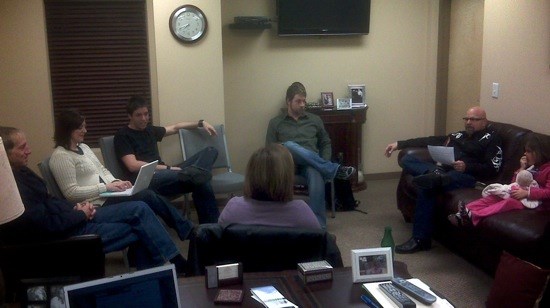 I was struck by the passion for worship and heart for the lost at C3 Church. As a matter of fact, those were the two things that blessed me the most. They are all about worship and making more worshippers through reaching the unchurched. They have grown rapidly (to 3000 in weekly attendance after 10 years) and have plans to continue to reach out and grow (including starting a new campus in Raleigh).
The next morning, I went to the Summit Church in Durham. I have written about Summit Church in a couple of my books. They were once Homestead Heights Baptist Church but changed their name, sold their building, and have experienced tremendous growth. (And, interestingly enough, Matt Fry from C3 was once the youth minister at Homestead Heights.)
Summit Church meets in a, well, pretty unimpressive facility. Lead Pastor J.D. Greear likes to say, "We keep it ghetto" so they can invest in the mission. And, let me say, they are doing a good job with both. Here is a pic of the warehouse where they meet-- with other businesses mixed into their space.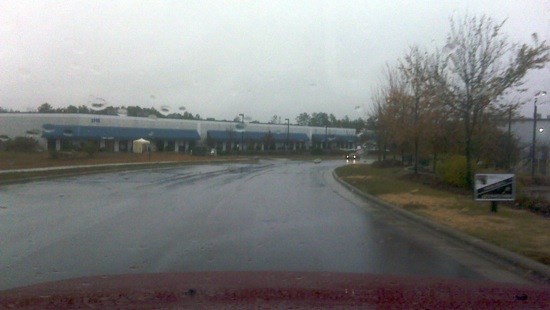 It was one of the few contemporary churches that I know with a choir and they do the choir (and the worship) very well.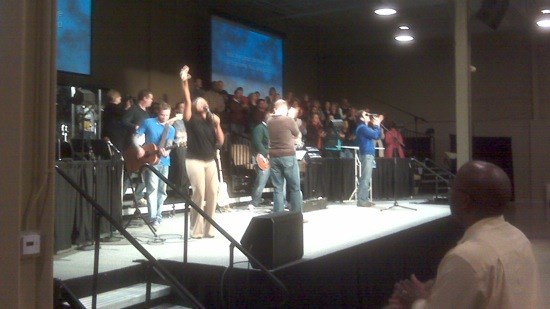 The worship team and the choir led us through worship in both services. J.D. tells me that the other campuses have their own worship team and then showed the video from the preaching with a slight DVR-like delay.
The worship was contemporary with a bit of a "gospel" sound to it. J.D. tells me that sometimes it is more "gospel" and sometimes more "passion," but it is high energy either time. (I have some video from C3 and Summit, but the volume setting must have been too high and I can't figure out how to lower the volume so it does not blow out your speakers.)
Their space is rented space in an office / warehouse type building. They rent parts, but not all, of the building, so the space seems to wrap around some other businesses. You certainly do not come to the church for the facility, but they have done a good job with the space they have. They have also recently purchased land and are looking to build a building (in addition to expanding some of their campuses). They have about 3000 people attending.
Also, their children's ministry was pretty impressive-- I love that I could not get my child out of this room without a security card (that guy looks hard core).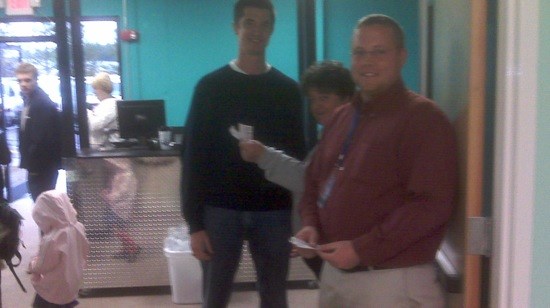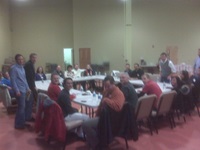 The Summit Church has a Church Planting Center and some aggressive church planting plans. I had lunch with some of the church planters after the service.
I have a great appreciation for J.D. He has worked among Muslims in Southeast Asia, and has a doctorate in Systematic Theology from Southeastern Seminary. All of this has helped him become a great communicator who takes the often deep and complicated truths of Scripture and preaches them in a way people can understand. J.D. is a serious theologian, and funny. We need more people like him. Check out his blog here.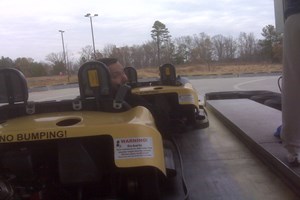 He also can race a mean goKart with his daughter Karis. (For the record, Jaclyn and I said it was a "tie.")
Thanks to Matt and J.D. (both pictured here) for allowing me to open God's word in their churches. Thanks for your passion to make the name and fame of Jesus more widely known. I look forward to spending more time with both of them and their churches when I am teaching at Southeastern.
The Exchange is a part of CT's Blog Forum. Support the work of CT. Subscribe and get one year free.
The views of the blogger do not necessarily reflect those of Christianity Today.