Facebook for Pastors

My friend Chris Forbes from MinistryMarketingCoach.com has put together a handy guide to "Facebook for Pastors" you might like to check out. Download the pdf (E-book page, direct link here). The 31 page e-book makes a case for why pastors should consider using the social networking site in their ministry and has tips and ideas for making the most of having a profile on Facebook. Chris is a ministry media strategist and marketing consultant based in Oklahoma who works globally with missionaries, churches, and ministries in reaching people of all kinds.
Robert Morgan and The Promise
Robert J. Morgan is pastor of The Donelson Fellowship in Nashville where the stated goal is simply "to become disciples." His new book from my friends at B&H Publishing Group is called The Promise, and its goal is to show readers how God guarantees goodness to come from even the toughest situations. If you, or someone you know, need a reminder of God's good intentions for his people this book could be a great resource. You can download it for free here.
Piper and Negative Calvinism

Does becoming a Calvinist make you angry? John Piper recently shared his thoughts concerning the negative tone among many Calvinists.
So the intellectual appeal of the system of Calvinism draws a certain kind of intellectual person, and that type of person doesn't tend to be the most warm, fuzzy, and tender. Therefore this type of person has a greater danger of being hostile, gruff, abrupt, insensitive or intellectualistic.

I'll just confess that. It's a sad and terrible thing that that's the case. Some of this type aren't even Christians, I think. You can embrace a system of theology and not even be born again.
Sobering words. John gives a two more reasons Calvinists have, or are perceived as having, a negative tone. Be sure to check it out.
ABWE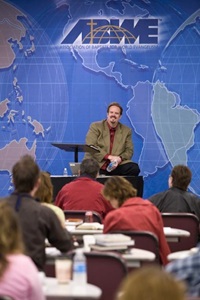 I enjoyed my time with the people at ABWE, and this photographer can follow me around anywhere if he can always make me look this cool. (I have no idea how me made the halo appear around "ABWE.")
The Exchange is a part of CT's Blog Forum. Support the work of CT. Subscribe and get one year free.
The views of the blogger do not necessarily reflect those of Christianity Today.