Oct 30, 2008
Haunted Houses and Meaningful Conversations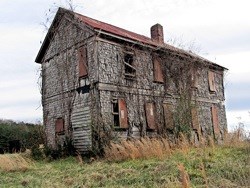 While we survey on a lot of serious topics here at LifeWay Research, we thought we would mix it up a little with a question touching on a topic that comes up during Halloween (or, as we call it around my office,
Reformation Day
). The topic: "haunted houses."
The belief that such places exist seems to be widespread (just watch the cable shows to catch the ghosts therein). Many churches have seen this as an opportunity, planning their own "house," calling it (subtly) "Hell house."
It is very interesting to me that people are still quite superstitious and regularly report a high level of belief in things such as haunted houses. (Of course, secular people would consider me superstitious for being an evangelical.)
On to the research...
As part of another project, we surveyed 1580 Americans with the following question: "I would be willing to spend the night in a house that was widely reported to be haunted." We were interested in the fear level that people have towards the "haunted," much like there are tribes throughout the two-thirds world who fear a hex or a curse.
Overall, 44 percent agreed they would be willing to spend the night. However, a remarkable high 47 percent disagreed. In other words, almost half of the random Americans we surveyed would be unwilling.
A few interesting results standout:
54% of males either somewhat or strongly agreed they would be willing to spend the night while only 34% of females agreed.
Interestingly, the age group most agreeable to spending the night in a "haunted house" -- those age 65 or older with 51% indicating they would do so. The age group least likely to do so was the 25-34 year olds with only 38 percent agreeing with the statement.
African Americans (72 percent) and Hispanics (53 percent) were disagreeable to the idea with 38% of Caucasians indicating they would not be interested in spending the night.
Region of the country seemed significant in that those in the south were significantly less likely than those in other region to "agree":
-South - 39 %
-Midwest - 46 %
-Northeast - 47 %
-West - 49 %
Marital status, education level, and income did not seem to influence a person's response to the question. But age, gender, culture and region all appear important when answering this question. Feel free to share your theories in the comments.
It is remarkable to me that so many are afraid. Perhaps we are more like the hex-fearing tribe in the two-thirds world than we like to admit. Anthropologists tell us that superstition is a universal trait and (like religion) it is found in almost every culture.
OK, since it's Halloween here is a polling question for my blog readers (with a small twist on the question): If you knew a house in your neighborhood was widely reported to be haunted, would you be willing to spend the night there? Post your votes (yes/no) and your comments on why or why not in the comments section. And, how would you deal with its reputation as a believer in your community? Is there a way to help people who believe in the supernatural (but respond in fear) to instead know the one who conquers fear, death, hell, and the grave? How do we (or can we) move from superstition to meaningful conversation?
[If you are interested in more (serious) research on church and culture, check out LifeWay Research's subscription email newsletter at www.lifewayresearch.com/insights. It is a twice monthly email with first release research with practical ministry application tips. Today's email introduces data and analysis on what Americans said when asked if they agreed with the following statement: I believe it is possible to communicate with someone after they are dead.]
Disclaimer: LifeWay Research, Ed Stetzer, the trustees of LifeWay, Thom Rainer, Johnny Hunt, and other people walking by the building today in no way endorse, promote, or believe in Halloween, haunted houses, and other things associated with this holiday that churches call everything but the H-word. Also, no animals were harmed in the writing of this blog post. And, it was made with recycled electrons.
Support our work. Subscribe to CT and get one year free.