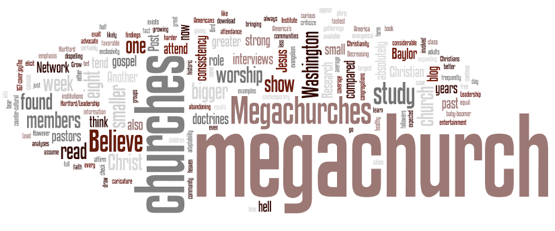 Have you ever wondered about the terminology of megachurch and gigachurch? I did-- and I asked around.
The first term that was widely used was actually "Superchurch." Elmer Towns was the most common user and popularizer of that term and most early megachurch research used that term.
Thanks to Warren Bird, Director of Research at Leadership Network, who wrote his Ph.D. on the megachurch phenomenon, I know the origin of the word "megachurch."
meg•a•church n. A church averaging 2,000 or more people in attendance during weekly worship gatherings.
Frequent readers of this blog will know of my appreciation for Francis Dubose as the first person to use the word "missional" in the manner we do today. My "Meanings of Missional" series spends much time with Dubose.
Well, quite to my surprise, his is the first printed reference to the word "megachurch." You can find that in Francis DuBose, How Churches Grow in an Urban World, Nashville, TN, USA: Broadman Press, 1978.
But, it was megachurch uber-researcher John Vaughn who first used the term to refer to churches over 2000 in weekly attendance. (The 2000-mark is the standard today thanks to John's influence.) And, he is the first to use it in a book title, Megachurches and America's Cities: How Churches Grow (1993).
Also, in 1991, Prepare Your Church for the Future (by Carl George with Warren Bird, Revell, 1991) helped popularize the word megachurch. The book was based on some popular training Carl had done with pastors from America's largest churches for the 3 prior years. That book quickly sold over 100,000 copies, which no doubt helped popularize the word
What about gigachurch?
gig•a•church n. A church averaging 10,000 or more people in attendance during weekly worship gatherings.
Well, actually, I first saw the term used by Missouri Synod Lutheran and World Magazine editor Gene Edward Veith in an article here.
Veith expressed great enthusiasm for his newly coined word, explaining:
I realize that I have just coined a new word--the giga-church--deriving from a parallel with computer technology, in which megabytes of memory grew exponentially into gigabytes. The word "gigachurch" for metastasizing megachurches deserves wide currency. Use it and let's see if it catches on. If you hear the word elsewhere, please report, and remember that you saw it first on the Cranach blog.
But, in his comment section, one of his astute readers pointed out that it was Bill Easum who first used the word. I emailed Bill to be sure and it was the case, and he confirmed it.
The first mention I could find was in a Washington Post story that explained:
Where megachurch refers to congregations with an average of 2,000 or more worshipers every weekend, gigachurch refers to those with 10,000 or more, said Texas-based church consultant Bill Easum...
Special note: most researchers who use the word "megachurch" don't like the term "gigachurch."
Come back later today for one more megachurch interview.
(The graphic about is a Wordle of my first post of megachurch week.)
The Exchange is a part of CT's Blog Forum. Support the work of CT. Subscribe and get one year free.
The views of the blogger do not necessarily reflect those of Christianity Today.