Right now, I am meeting with the Church Planting Leadership Fellowship. In this picture, Todd Wilson is teaching about starting churches through servant evangelism ministries.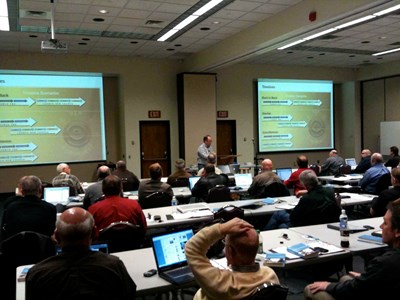 Other presentations included Rick Howerton on Small Groups in church plants, David Garrison on Church Planting Movements, Gary Rohrmayer on denominational influence, Hutz Hertzberg on church planting assessment, and John Bailey on church planting systems. (I will post the available presentations on the blog later this week. Not all will be available.)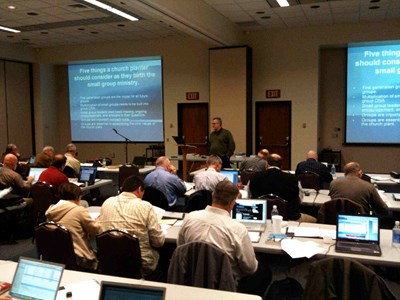 We have 45 people here from about 30 denominations committed to planting evangelical churches. Here are some of the groups here learning from each other:
-Assemblies of God
-Baptist Missionary Association of America
-Christian and Missionary Alliance
-Christian Reformed Church in North America
-The Greehouse Church Planting Network
-Churches of God General Conference
-Conservative Congregational Christian Conference
-Evangelical Covenant Church
-Evangelical Free Church
-ReachMore, Foursquare Church
-General Association of General Baptists
-Grace Communion International (formerly the Worldwide Church of God)
-International Pentecostal Holiness Church
-Church Multiplication Ministries Evangelism USA
-Southeastern District
-Missionary Church/Church Multiplication Training Center
-Mission American Coalition
-Growing Healthy Churches Network
-Stadia (Independent Christian Churches)
-Vision Ministries Canada
-Mission To North America, Presbyterian Church in America
-Southern Baptist Convention, NAMB and several state conventions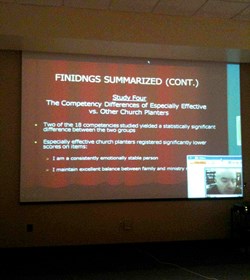 -Outreach North America
-United Methodists
-Church of the Nazarene
-Fellowship of Evangelical Churches
-Mission America Coalition
-The Wesleyan Church
We talked research and a couple of the presentation were via video, including this research (see pic on the right) on assessment from Hutz Hertzberg's Ph.D. dissertation on church planting assessment.
---------------------------
You might find my opening words from the first meeting to be of some interest. In some ways, they relate to comments I made at the Advance09 panel a few months ago.
It is a bad idea theologically, with bad results historically, for us to partner and jointly plant churches. But, it is a bad stewardship and irresponsible missiology for us not to find ways to learn from each other.

When it comes to church planting, it is not really the same as evangelism. In church planting, we need to plant our own gardens. But, we will consider this an agricultural co-op where we learn to do it better by learning from one another.

So, that is why we are here: to learn and share best practices with other Christian denominational leaders committed to plant churches.
We had a great meeting with much helpful interaction. The groups also break down into peer settings for idea sharing and prayer.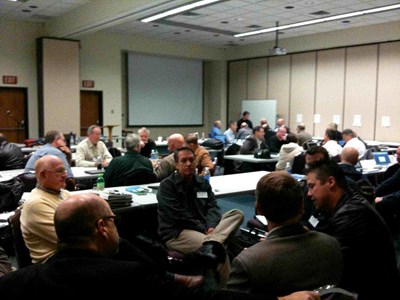 We are also undertaking two research projects with different denominations participating in each. One will focus on urban church planting and the other is on church planting assessment. We have now officially committed to do the assessment research and several denominations have signed on to co-sponsor.
I am thrilled we could convene them and gather them together for this mutual learning.
More soon...
The Exchange is a part of CT's Blog Forum. Support the work of CT. Subscribe and get one year free.
The views of the blogger do not necessarily reflect those of Christianity Today.