A few days ago, I traveled to Phoenix. When I arrived, I walked past the counter to where they put the cars for the "Gold Club." For those of you who don't travel, that's where they have the cars ready with your name on them, and you just hop in and go. Most frequent travelers bypass the counter.
When I got there, I found out that although I had reserved a rental car, Hertz did not have a vehicle to go with that reservation. And, not just me. At the time I took a picture, there were over 30 folks in the Gold line while the sign up top still said, "Cars Available."
The disappointing part was that nobody ever communicated to the folks at the end of the line (and out of the building) that they did not have cars. I walked in and asked... then let the people know. Lots then left.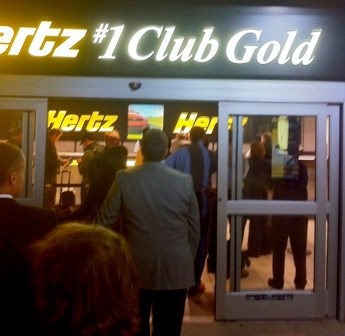 I went to Alamo and got a car for $20. Who knew they were that cheap?;-)
I usually have a good experience (I am "President's Circle," which makes me a travel nerd). But, I think the whole thing was handled poorly for several reasons:
1. The sign saying, "Cars Available."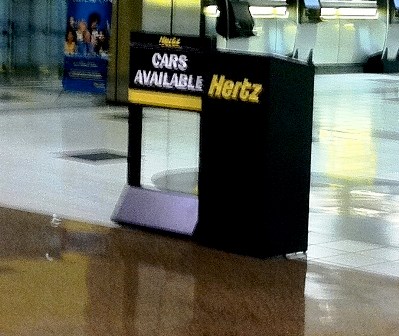 When you have no cars, maybe it is time to take that down.
2. The fact that there were so many reservations without cars.
Every car company overbooks... but 30 in the Gold line just shows poor planning.
3. The lack of communication and apology.
The employees were standing around (warm) inside the Gold booth. They were waiting for more cars to be returned-- fair enough. However, it would be a great opportunity to go out to the customers, apologize, and even bring some coffee while everyone waited in the cold.
Although there is much more I could say about this, I think this video clip accurately makes my point (and, yes, the counter does look remarkably similar!).
I know that Hertz, like most companies, uses Google Alerts and will read this. My encouragement is simple. Most companies have system breakdowns, but well-trained employees manage the crises with good planning, apologies, and action. That is true in almost all fields of work-- treat those you serve well, communicate clearly, and deal with problems. It creates loyalty. On the other hand, act in uncaring and unresponsive ways, and soon you have no one to care about anyway...
The Exchange is a part of CT's Blog Forum. Support the work of CT. Subscribe and get one year free.
The views of the blogger do not necessarily reflect those of Christianity Today.