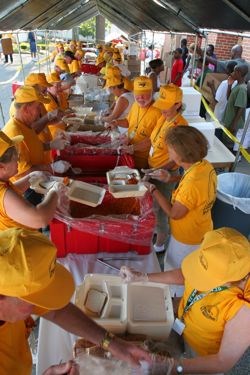 One of the best days I had in my former job involved Hurricane Katrina. I headed up research at the
North American Mission Board
. When the Hurricane hit, the entire agency focused on disaster relief. My small part was to lead our team to track the disaster teams by "type" and location. We used GPS to do this.
One afternoon, I stood in the Day Auditorium and looked at all the red dots (each representing a team of volunteers) moving on three giant projected screens as they surrounded and entered on the Gulf Coast. To be honest, I was moved to tears and thankful of the partnership and service represented by those dots.
I learned a lot about what disaster relief is, and is not, during that time. I also learned some important things about disaster relief agencies and the best ways to become involved.
Here are six good things to remember when thinking about disaster relief.
1. The time to prepare is BEFORE a disaster strikes. Rushing off to a disaster zone without training or support may make you feel better, but it won't make the situation better. The Lutheran Disaster Response ministry says this,
It is nearly impossible to predict when or where a disaster is going to take place. It is possible, however, for communities to prepare for what may happen. Disaster preparedness readies us for the unexpected, and it allows for a more organized, timely, and efficient response when disaster strikes.
If you want to help, get your church involved by training in disaster relief now. For example, Samaritan's Purse has a volunteer network with a list of projects where they are currently involved. Many state conventions affiliated with the SBC provide disaster relief training in a variety of service areas. The Georgia Baptist Convention, for instance, provides training for feeding, childcare, chaplaincy, communications, and cleanup and recovery. Some conventions even have chainsaw school!
2. In most cases monetary donations are more helpful than volunteers. Yes, we live in a world where some want to DO more than they want to HELP, but at the end of the day that is more selfish than helpful. Ministering to disaster victims should be about meeting their needs, not fulfilling our need to feel helpful. The Salvation Army is blogging regularly about their disaster relief efforts. In a recent post, they explain how you can give:
$10: Will feed a disaster survivor for one day.

$30: Provides one food box, containing staple foods for a family of four, or one household cleanup kit, containing brooms, mops, buckets and other cleaning supplies

$100: Provides snacks and drinks for 125 survivors and emergency personnel at the scene of a disaster

$250: Provides one hot meal to 100 people or keep a hydration station operational for 24 hours

$500: Keeps a Salvation Army canteen (mobile feeding unit) fully operational for one day
It's not as exciting as delivering a warm meal in a storm shelter, but it is an effective way to help.
3. The best way to support is through established, reputable relief agencies. Relief agencies, or denominations with disaster relief agencies, are already at work before storms like Hurricane Irene even make landfall. Organizations like the North American Mission Board are already connected and coordinating with other disaster relief agencies (the big three, after the government, are The Red Cross, The Salvation Army, and the North American Mission Board. NAMB tweeted yesterday, "3 million w/out power on East Coast. Southern Baptists asked to prepare up to 285,000 meals a day. "
For another example, the Assemblies of God has an agency called Convoy of Hope. They explain its activity this past weekend in preparation for Hurricane Irene:
Convoy of Hope has deployed members of its disaster response team to North Carolina as Hurricane Irene bears down on the East Coast as a Category 2 storm. Disaster response team members will work with the local Emergency Operations Center and rendezvous at the state's pre-staging location...

"Convoy of Hope strives to maintain the ability to respond quickly and effectively to disasters," says Jeff Nene, senior director - public relations for Convoy of Hope. "Because of our logistical expertise, partners and strong relationships with government agencies and local organizations we can quickly get help to those who need it."
In other words, they are already on site making The Weather Channel look late.
4. By giving to agencies already in place, you minimize inefficiency and get resources to the areas of need. For example, Southern Baptists have assigned disaster relief coordination to the North American Mission Board. The NAMB disaster relief site explains, "When you give to Southern Baptist Disaster Relief, 100% of what you give goes directly to disaster relief efforts so your donation goes further. We do not pay salaries or overhead out of those funds."
Giving directly can be helpful if you have friends and relationships in an impacted area, but it is almost always better stewardship to give through a disaster relief organization. During times of extreme devastation like the Japanese and Christmas Eve tsunamis, the Haitian earthquake or Katrina, relief opportunities pop up all over the place. It sometimes reminds me of "Whack-A-Mole." The problem is that some of them are bogus, set up on the fly by hucksters using a coffee shop wifi and their black-ops PayPal account. Others are rife with overhead expenses creating what amounts to an organization of jobs where much stays home and little relief is accomplished.
5. Avoid the temptation to load up a tractor-trailer with supplies unless you are connected with someone on the ground meeting a specific request. In the days and weeks following Katrina, so much bottled water was needed we could have exhausted aquifers all over the country. But often a supply trailer becomes a receptacle for "guilt giving" with the resultant broken furniture, dirty clothes and perishable food. It does no good to barrage disaster areas with more stuff that winds up being added to the debris piles. Disaster zones do not need junk brought into them. Again, contact with people on the ground is very helpful to inform what items need to be brought into the area.
In a phone interview, Jim Richardson (Disaster Relief State Director, SBTC) responded to the question of "Why is it important to listen to the people on the ground regarding needs in the affected area?"
After a disaster, people have immediate needs, so donate only those things which are requested. Everything else has to be move to warehouse storage, many of which have been lost to the available infrastructure. Most of that gets thrown away.

In the Texas wildfires earlier this year the firemen badly needed baby wipes to get the soot off their skin and out from around their eyes. However, they got cases of bottled water because people sent what they assumed was needed rather than listening to the people on the ground.
6. Be willing to be part of a long term commitment. As long as we live in the sin scarred world, "natural" disasters will be a part of our existence. Local destruction like the recent Alabama tornado and national devastation like the Haitian earthquake require specialized training and a long-term view. While every volunteer is not likely to serve at every disaster, a long-term commitment is beneficial. Says pastor Alan Cross of Gateway Baptist Church in Montgomery, Alabama, "A long-term commitment is needed because it is a long term disaster. When people lose their home and community, it is good when someone can be onsite to coordinate efforts." Gateway established a permanent presence in Waveland, Mississippi following Hurricane Katrina through two members who moved there. "We went back again and again over the course of the next two years," remembered Cross. "When someone stays or when repeated trips are taken into the same area, relationships are made, you get to see the progress unfold and you get to pray for and with the same people regularly."
Finally let me encourage you to get involved with disaster relief if you can and lead your church to be involved even if you can't. According to Jim Richardson, "For most of the people, for the first time in their lives they cannot handle things. This is especially true for men. Then, when the people who have come to help are focused on the gospel as much as serving a meal, people who are not normally receptive to the gospel will respond." It isn't just that you'll get a cool hat and shirt to wear into the melee, it is one of the best hands-on ministries you in which you can be involved and people are incredibly receptive to the gospel after disaster strikes. Being the hands and feet of Jesus is a demonstration of the gospel sorely needed for people whose world has just imploded.
The Exchange is a part of CT's Blog Forum. Support the work of CT. Subscribe and get one year free.
The views of the blogger do not necessarily reflect those of Christianity Today.