A week ago today we began a discussion on missiology around the definition of mission. The main essay was written by Chuck Van Engen and included responses from Keith Eitel, Enoch Wan, Darrell Guder, Andreas Köstenberger, and me. It was an amazing conversation, and approximately more than 6000 people watched the dialogue online.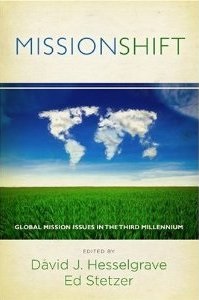 In the last post, Keith Eitel (one of the contributors to MissionSHIFT) weighed in with an article and with more information in the comments. Be sure to read his thoughts (and dialogue about them) here.
On last Monday's post, I received a lot of responses and shared excerpts of some responses in a separate post. A lot more came in after that post, so I'm putting up a few more here. Be sure to read each response in its entirety by following the links back to their own blog posts or comments. These are not all of the interactions, just a few highlights.
Brad Jordan expressed a similar concern to mine. As a conservative evangelical, my views of scripture line up very well with Eitel and Köstenberger, but I am challenged by some of the missiological views written by some of the others. Brad explained:
I find myself in much the same position as Ed, while theologically I fall in line with Eitel and Köstenberger, missiologically I align in many ways with Van Egen and Guder. I fully believe that biblical authority is the basis for all that we do, that without retaining the complete gospel as presented in the scriptures, we are failing those and are as Jesus says of the Pharisees "twice the son of ghenna". At the same time, based on the biblical scriptures I believe that it is imperative to be contextual relevant. We need to be prepared as Paul was at the Archipelagos, to be relevant to them, to personalize the gospel so that in all areas it is clear, biblically based and complete.
Lance Crawford wanted to keep us focused on keeping focused in the midst of the discussion. Lance explained.
The mission of the Church has never changed: disciple, baptize, and teach (Matt.28:16-20). Unfortunately, disciple and teach are very open-ended verbs. Even less fortunate is that baptize is often a verb of greater debate among denominations, but I digress. Christian leaders have been given a bit of creative freedom in disicpling and teaching, but have managed to, yet again, corrupt something pure (Can we blame it on our depravity?). Here is the problem: our execution of mission has become our definition of mission. In other words, our method has become our focus.
Brad Sargent wrote a long post that is fascinating to read. In a sense he indicates that we might be asking the wrong question. Or, perhaps we need to consider and additional one. He explained:
I don't believe our answer to the dilemmas of mission will be found in reconfiguring our missiology or even our larger theology. I argue that epistemology - how we process and organize information - dictates our theology. So, if we're going to succeed in implementing a holistic paradigm shift, it's got to be first and foremost at the even deeper level of epistemology.
Chris Williams brought a refreshing (and dare I say Piperian, focus on worship and its tie to mission. That would have been a helpful addition to the book, I think. Chris said,
I am struck by the fact that the disciples in Matthew 28:16-20 were drawn to worship (v. 17) and then they were commanded to go. These two ideas are better together. A church cannot say that because they are focused on God they have no responsibility to go and connect with the lost world around them. Nor can a church say that because they are going to a lost world that they can skip the worship piece. Worship fuels going and going brings more people into the worshipping community.
Spencer Sweeting pushed us toward embracing the mission. He said,
While I would agree with all of the qualities Van Engen identifies as being displayed by a missional church, my concern is that it's far too easy for a church to consider themselves in concert with this list while never actually carrying out God's mission beyond their own doors. So in what ways can we discern if we're truly embodying a missional church by these standards alone? How can church leaders give themselves a gut check and evaluate how their churches are living out mission? One might think that it should be a fairly obvious critique, but I don't think it's that easy. How can we help churches rethink their strategy for carrying out God's mission and better understand how to embrace their "sentness?"
And, Donny gave us some shift to help us embrace the mission.
Before all, missions must remain practical, which denotes being created by people who have practiced missions in order to be able to others that will practice the ministry mission. If ministry is the practice of the Kingdom, missions is its outposts far beyond the walls and the borders where things are but practical. Only when missional thinking is practice oriented, can become a practice of mission. My practical advice for Missions in the 3rd Millennium follows with several characteristics of the ministry of missions in the 21st century. Our missional approach must be:

1. More mission minded than agency structured

2. More missionary focused than leadership centralized

3. More operational than organizational

4. More result oriented than self and strategy containable

5. More praying than thinking while more feeling, than cognitive

6. More giving than fundraising oriented

7. More focused on the Dominion of the Kingdom, than the denomination.
Many of the commenters kept pointing to practice:
Caleb, my favorite commenter, wanted more from the mission field. A fair concern. Caleb wrote:
My concern is that so little of this discussion is informed by what we're seeing God currently doing on the mission field. I know that "missions in the present" is the next section of the book, but part of our difficulty in defining the mission has to do with the fact that the "old" definition (the one many of us agreed on) wasn't lining up with what God seemed to be doing (and not doing) around the world today.
Kelly Rhoades wants this to be down at the local level. He explains:
As a pastor I see my role as not so much defining mission to our people, the Word of God does a good job of that in many places. Rather it is to equip our people to participate in their call to missions as they are gifted for it and to follow the guidance of the Holy Spirit as he guides them into it. Of course solid theological teaching based on a strong hermeneutic are essential to that task as authors Eitel, Wan, and Kostenberger point out. For me the question is how do we best contextualize the mission to our ever changing culture?
Feel free to weigh in with your own thoughts.
The Exchange is a part of CT's Blog Forum. Support the work of CT. Subscribe and get one year free.
The views of the blogger do not necessarily reflect those of Christianity Today.