Yesterday, I was in Hilton Head, SC with the Senior Chaplains at their annual Strategic Leader Development Training. The senior chaplains are the leaders of the service and come from many different faiths. I almost always put a picture of where I am speaking on Twitter, but in this case I asked for permission first!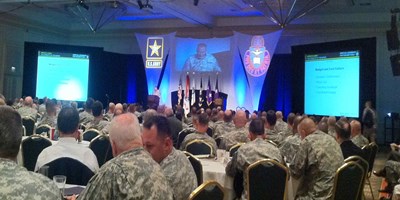 You will note the phrase "Pro Deo, Pro Patria." That is the slogan of the Army Chaplaincy core and means, "For God and Country."
I spoke in the afternoon session right after greetings from the Chaplains General from Canada and the United Kingdom.
I have always been so appreciative of the commitment these chaplains make. I thought I would take a moment to explain a bit what they do and how it works.
Wikipedia explains:
The Chaplain Corps of the United States Army consists of ordained clergy who are commissioned Army officers as well as enlisted soldiers who serve as assistants. Their purpose is to offer religious services, counseling, and moral support to the armed forces, whether in peacetime or at war.
The meeting covered many topics, including much discussion about the repeal of "Don't Ask, Don't Tell," but my focus was on understanding the ministry focus group among whom these chaplains minister. I presented data from Lost and Found, a book I co-authored, and The Millennials, by Thom and Jess Rainer.
I found it challenging to speak in that multi-faith setting. However, I just finished an article for a forthcoming issue of Christianity Today that deals with the need to be honest about what we believe, but to do so in a multi-faith world with respect for others' views. It was an interesting experience to put this into practice as I was speaking.
When one presents research, it is right and appropriate to explain the agenda of why you choose certain research items. Thus, in our case, we do research to help churches to help them know and reach people for Christ. I explained that we do this research because we believe that Jesus' death on the cross, for our sin, and in our place needs to be communicated well. They were most attentive and gracious. For what it's worth, the first two questions (and, among the best) came from two Jewish rabbis.
The Exchange is a part of CT's Blog Forum. Support the work of CT. Subscribe and get one year free.
The views of the blogger do not necessarily reflect those of Christianity Today.