Thanks again to John Piper for the invitation to teach at Saturday night's session of the Desiring God National Conference. All the main session videos will be posted later at their Desiring God site. You'll want to watch or listen to the messages from Louie Giglio, David Platt, Michael Ramsden, Michael Oh, and John Piper. If they release the break out seminars and panels, there is some excellent content from some thoughtful leaders there as well.
Here is an iPhone picture of one of the worship times from behind the stage.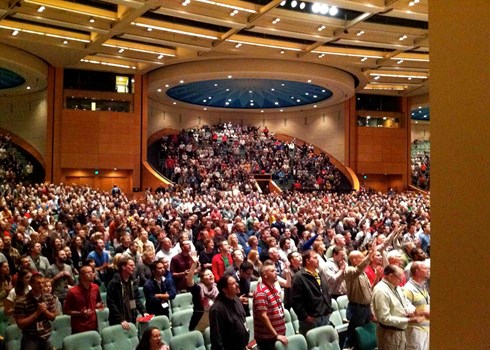 My assignment from John was clear: consider how we tie together the concepts of missional and missions. I treasure such an assignment because it should be obvious connection, but often these concepts are seen as competing. So, we walked through the concepts-- together.
I wrote a series of posts (linked below) on the relationship between missional and the Great Commission. In the intro to that series, I wrote:
Missional is a way of being that leads to a way of acting. The missional church is made up of Christians who are called through God's gracious redemption to live for Him and His great mission throughout the world and who are sent out to be co-laborers with God to accomplish His mission in the world. This is the mission that God sent His Son on, and it is the mission that He sends His people on. So, missional Christ-followers and missional churches are joining Jesus on mission. They care about the things that Jesus directed us to care about: serving the hurting and loving others (the Great Commandment), and seeking to proclaim the gospel to the lost (the Great Commission).
In my Desiring God talk, I walked through the commissions of Jesus and help up this goal: being a missional (John 20:21), mission minded (Mathhew 28:18-10), gospel centered (Luke 24:46-48), spirit empowered (Acts 1:8) church so that his name and his fame would be more widely known.
The John 20:21 passage included a longer focus on "sentness" and Mathew 28 was a longer focus on "nations." "Sentness" points us to "missional" and "nations" points us to "missions."
Several people asked, so here is the definition I used from Avery Willis clarifying "mission" (and its tie to "missional") and "missions."
By mission, I mean the total redemptive purpose of God to establish his kingdom. Missions, on the other hand, is the activity of God's people, the church, to proclaim and to demonstrate the kingdom of God to the world. The word mission comes from the Latin word mittere meaning to send. God is both the sender and the sent (in Christ). The church is sent by God on mission and cooperates with God to send missionaries. Missionaries are set apart by God and the church to cross natural or cultural barriers with the gospel.
Yet, as I mentioned, mission is not always so easy to define--MissionShift, a missions "issues" book that David Hesselgrave and I recently released, takes 1/3 of the book to debate the term among evangelical missiologists (and the other 2/3 deals with the implications of that definition). It's a big issue-- I encourage you to wrestle with the definition and implications of "mission," interacting with missionaries and missiologists who have spent their lives learning and living what mission is and why it matters.
Also, be generous to those who disagree on the definitions since they are, after all, extra-biblical. As I pointed out, John Piper would disagree with the Charles Spurgeon quote, "Every Christian is either a missionary or an impostor." Yet, I like them both pretty well! (For the record, I would say that Christians and churches should live LIKE missionaries, not quite that they ARE missionaries-- though in an occasional moment of enthusiasm I might agree with Spurgeon.)
I will post more from it later, but (if you are interested in more) let me encourage you to look at these posts where I deal with the connecting between missional and the Great Commission.
I pray that our time at Desiring God was an encouragement to many to live out and in the mission of God.
The Exchange is a part of CT's Blog Forum. Support the work of CT. Subscribe and get one year free.
The views of the blogger do not necessarily reflect those of Christianity Today.