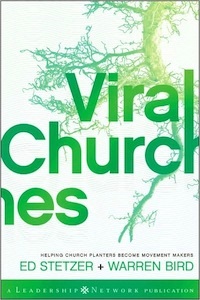 Several years ago, a denomination launched an innovative and formidable initiative: to plant big churches with a big plan. Several planters were chosen to start a church in various places around the country and they were each given $500,000 to do so. (I'm thinking, "Here I am, Lord! Send me!") It would seem that with such a significant investment that nothing would stand in the way of each church's success.
However, looking at the results showed that the survival rate was not much different than if the planter was given a lot less. There are some of these churches that are thriving and doing really well today, and several that just aren't there anymore.
What's more, I found in my own Ph.D. dissertation research (2003), that initial funding had no correlation with the survivability of a church plant. A later, larger study Warren Bird and I cite in Viral Churches showed the same thing. Funding is not the magic pill for church planting and in some cases it can be a poison pill.
In our research, we found that funding DOES have an impact on the rate of growth. If a plant was going to survive, it would often grow faster with more resources. Yet, every time there has been a Church Multiplication Movement (see part 1 for the definition), it hasn't been from funding. I'm not opposed to funding. I want planters to get all the funding they can get, but we need to think seriously about the issues here.
Simply put, you can't buy your way into a Church Multiplication Movement.
This is evident in studying the Vineyard movement, a group that exploded back in the early 1980s. They did not have money, they just had a vision and a call. The same was true about Methodists and Baptists in the late 1700s and Pentecostals in the 1920s. They did not think they needed funding alone to plant churches--they knew they needed willing planters and a God-given passion. The professionalization of church planting and the growing demand for church planter funding has created some unintended negative consequences.
Now, don't think that I don't value funding. I do. But, funding is a double-edged sword. It can help a planter but hinder a movement. We need fully-funded church planters AND those who are not funded, are bivocational, are volunteer, etc. As Roland Allen wrote earlier last century, we need a new conversation about The Case for Voluntary Clergy.
For those in denominations with "higher polity" (where there is a more centralized recognition/credentialing of pastors), the key will be to create alternative tracks for credentialing without compromising a high value on orthodoxy. Many denominations are already incorporating some form of this for immigrant candidates. Why not also open it up to church planting candidates regardless of whether they just moved from another country or not?
Just last week, I talked to my friend Archbishop Bob Duncan. He and the team at the Anglican 1000 recently launched an aggressive church planting campaign plan. They have made a goal to plant 1,000 Anglican churches in the next five years--and have already passed 200. Perhaps because they must, they are finding creative ways to accomplish this within their high polity structure. If they can do it, so can other churches and denominations.
One of the tenets in their tradition is the need to have a pastor/priest handle the sacraments in the church service. This could make planting churches difficult, as an ordained minister would be required to be a part of each one. However, William Beasley, an Anglican pastor in Chicago, has generated a new answer to this potential problem by creating a Lay Catechist Strategy. He has developed a network of about a dozen churches, all recent plants being led by people who are not ordained as pastors. Beasley functions as a circuit rider of sorts, overseeing the various locations each week to perform the functions that they see as required for a church. (You can see his strategy documents here.)
I love the ingenuity of Beasley, and when I heard about his strategy, I had to ask, "If an Anglican church planter, with his high church and high polity background, can find a way to plant numerous churches through non-paid pastors, why can't my denomination (and others), with its low church and low polity background, do the same?"
I have to recognize that we have a functional polity in many denominations that causes people to think the ONLY way you can plant churches is if the pastors are full-time and seminary trained. I'm not anti-seminary--I'm on faculty of a few. I just realize that we're not going to have a Church Multiplication Movement if we have to pay for it like we are now. We are getting the exact amount of church planting we have budget for--and that means our budget is not enough.
We need to change our thinking and creatively innovate solutions within our theology and polity, to make church planting happen in a big way once again. We need to plant by multiplication and not by funding.
The Exchange is a part of CT's Blog Forum. Support the work of CT. Subscribe and get one year free.
The views of the blogger do not necessarily reflect those of Christianity Today.