Last year, I tweeted that I had a free Sunday and wanted to preach at a "normal" church. I described "normal" in this way: "A normal church has under 100 in attendance each week, might have a bivocational pastor, is probably plateaued or declining, and the pastor is tired."
I received an invite over Twitter and the normal church I preached at was Progressive Primitive Baptist Church in Murfreesboro, TN.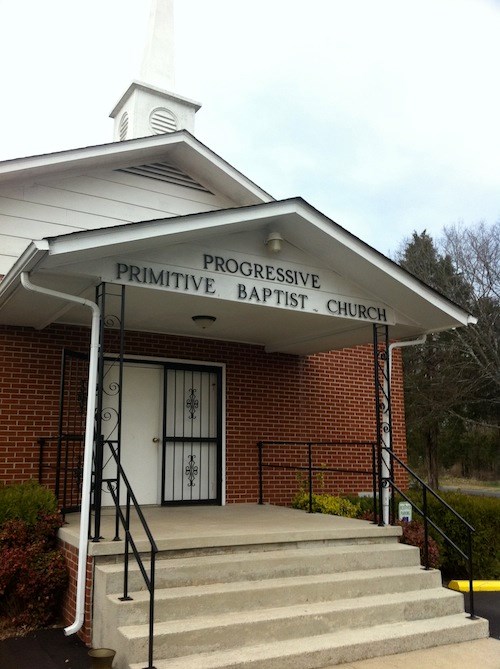 Progressive Church has been called that since it was founded almost fifty years ago. So although the name may sound trendy, it's actually been around a very long time. The church is predominantly African American. Actually, there was one visitor who wasn't, but everyone else was African American. The church is part of the Primitive Baptist Convention.

Primitive Baptists are found predominantly in the South and were founded in the midst of the controversy over whether or not to send missionaries. It was Primitive Baptists who thought you shouldn't send missionaries, and they split off of the Missionary Baptists who were present in the other denominations. Progressive Primitive Baptist Church is unique in that it shares some historical and theological roots with Primitive Baptists. However, the predominantly African-American churches of the movement formed their own convention during the time of slavery. Unlike the predominantly Anglo Primitive Baptists, they have an annual meeting and organization. Some distinctives about Primitive Baptists were that they did not believe in sending missionaries, and they practiced foot washing in addition to the typical beliefs Baptists would hold.
I found my time at Progressive Primitive Baptist Church to be fascinating and illuminating. Let me share some details, and know that I am going to catch up and share from some of the other places I have preached where there are fascinating things along the way.
When I arrived at Progressive Primitive Baptist Church, you could tell that they took great pride in what they were doing as a church, and you could notice it in the little things. For example, they had a brand new parking lot that they had installed at the beginning of the year. One of the deacons met me at the front door and escorted me to the pastor's office where I met him. I will tell you that I was generally under-dressed for the audience. In this context, clearly people worked hard to wear their Sunday best as a sign of honoring God in their worship. And, for the record, I did wear a blazer but not a tie.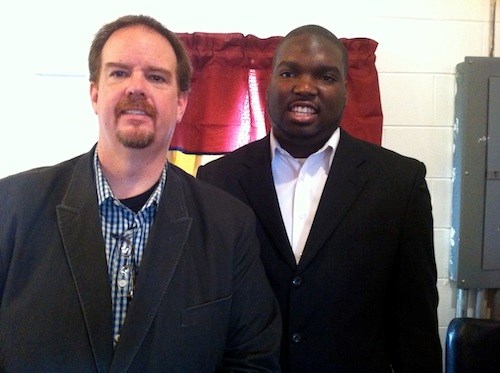 The worship was led well and with great passion. It was led by a young couple and their child in addition to a keyboard player and a drummer. They did a wonderful job. Some songs I knew, and some songs I didn't. But people participated enthusiastically. There was clearly a sense that worship was a priority of the church. I would say that we worshiped for about an hour before we got to the time of preaching.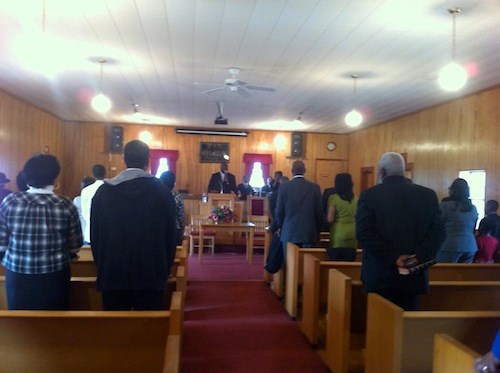 Some of the more interesting elements of the service explain the reason for the time given to congregational worship before the message. For example, on the second Sunday of every month they recognize the grades of the students and even in today's case, recent graduates at a Master's level. So each of the kids was called forward, his or her grades were read out loud to the whole congregation. Now, all of the children had A's and B's, and people applauded for each child in turn. I do not know if (perhaps, like my childhood grades) there was an occasional C and those were not celebrated, but all the kids had high grades and they were affirmed by the congregation.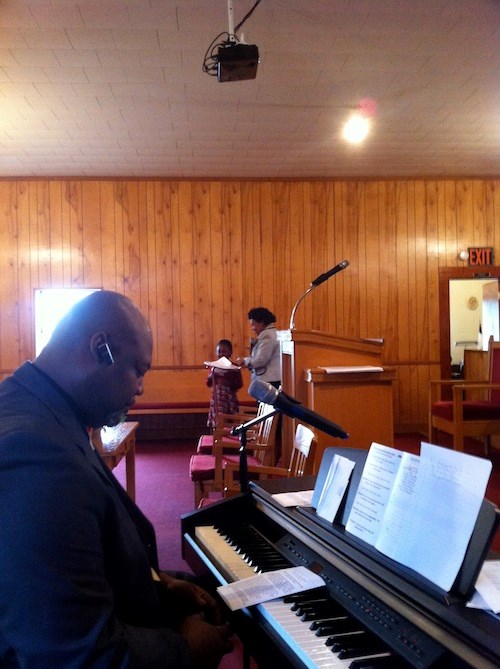 What I found particularly interesting was that one of the ladies of the church asked a young adult man to come up-- my guess is that he was in his mid-twenties-- and she listed his academic achievements and grades through high school, college, his associate's degree, his bachelor's degree, and now his recently completed master's degree. I was incredibly encouraged to see the affirmation that this church wanted to give publicly to those who were pursuing and achieving academically. I've often said to denominations and churches, "What you celebrate you become." It was clear that this was a value in this church.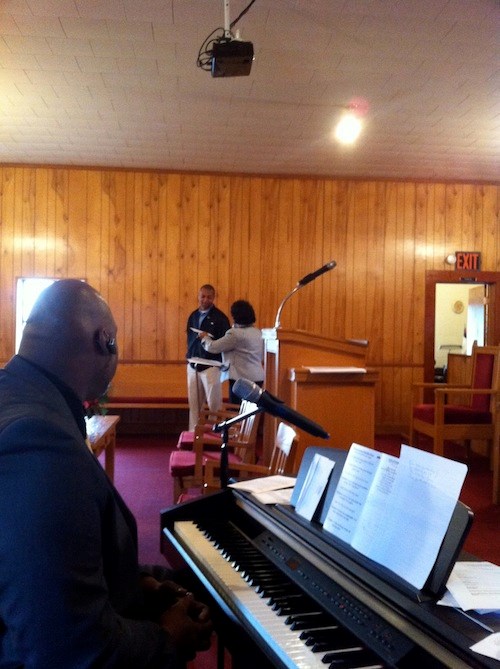 One of the more interesting aspects of the church was the welcome that it gave to visitors. Typically, when you talk about welcoming visitors the exhortation is to not single them out. Yet, that tends to be in predominantly Anglo and larger churches. The reality is, when you're in a church of fifty people, you can't help but notice visitors. At Progressive Primitive Baptist Church, one way they did that is the woman who read the grades of the students also asked if there were any visitors. Of course, I raised my hand but no one else did. I thought it was interesting that later on, Pastor Mooney recognized visitors again, and those that didn't raise their hand he actually pointed them out and said, "So and so, you brought somebody with you. Introduce them." The pastor also pointed out that he had someone he went to high school with in service as well. But it was all done in a very friendly and appropriate manner because the reality is, when you have a church of fifty people in many cultural contexts, anonymity and not pointing out visitors just doesn't work.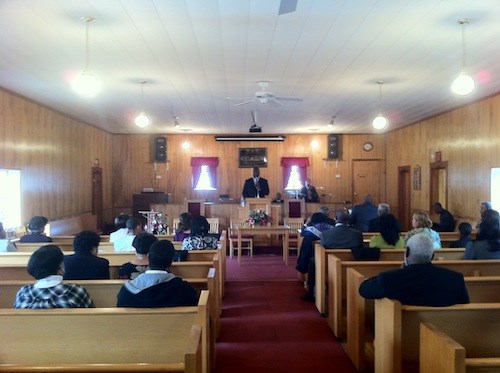 I found the time of fellowship to be heartfelt and encouraging. In many of the churches I've served, you typically shake the hands of three or four people but in this case I shook hands with everyone in the congregation. There was was a clear focus that they were excited to see one another. I also noticed that there was actually a song that was sung during the whole greeting time, which lasted about five minutes. And the song was called simply, "Welcome to Progressive." You could tell this was a family that was excited to be together.
There were also some other things I found interesting in worship. For example, there were actually two offerings-- one earlier in the service to go to disaster relief and missions in Japan (this Primitive Baptist church no longer holds an anti-missionary stance). I also found the invitation particularly unique.
The invitation, for those of you not in traditions that use that, is a time usually at the end of the message when people are invited to come forward to pray to receive Christ or to pray for other needs. After I preached, Pastor Mooney did an invitation. Yet, what happened was that two elders or deacons came up simultaneously as Pastor Mooney called for the invitation, and they put chairs in front of them. Those who responded to the invitation would actually come and sit in the chairs to be prayed for. Those chairs were then put back after the invitation. I asked Pastor Mooney about that and he said that's a traditional African-American custom as well.

Another African-American custom Pastor Mooney explained to me is how the offering is received. In this case, people actually bring their offering up front while those pastors and elders who a few minutes earlier had prayed for the invitation, would put the offering plates on an altar/table. The people would come forward, drop in their offering, and then go back to their seats. So the offering plates were not passed. Instead, the people were.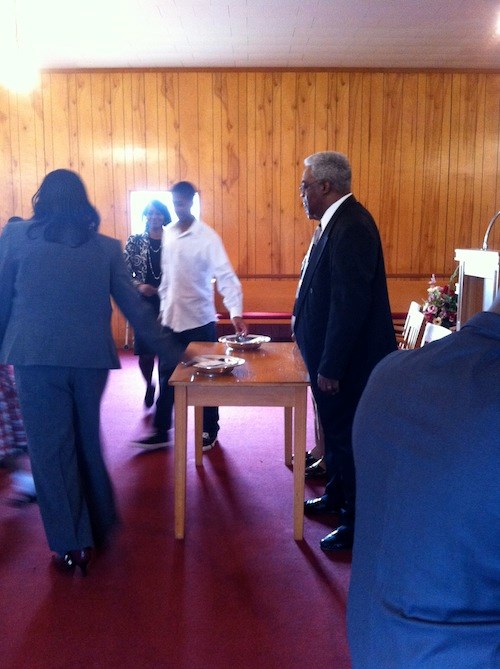 A couple of things I found interesting in the music itself were some things that are probably more traditional in the African-American context. For example, I mentioned earlier that there was a song -- "Welcome to Progressive." But also, at the end of the service, everyone sang together "Amen, amen, amen," the song that sometimes we hear even on secular music CD's. Also, the pastor actually ended the service by singing "Amen" to encourage the people as the service was completed.
The church is pastored by Pastor Jaymes Mooney. Jaymes is a bivocational pastor, and is in their tradition called "elder," though we did smile afterward at the irony due to his age. He is twenty-two years old and was called as the elder of the church a year and a half ago, and he prefers to go by pastor. He is engaged to be married, excited about the ministry and has great plans. The church has already planned for expansion of another site in 2013 in Antioch, TN.
Thanks, Pastor/Elder Mooney, for the invitation.
The Exchange is a part of CT's Blog Forum. Support the work of CT. Subscribe and get one year free.
The views of the blogger do not necessarily reflect those of Christianity Today.