PREVIOUSLY
Jackie Mills Fernald, Director of Access Ministry at McLean Bible Church, shared on special needs ministries and the church as a place for all.
THIS WEEK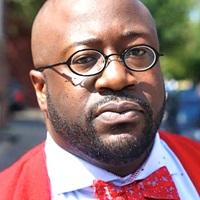 Please welcome Eric Mason to the blog.
Eric resides in Philadelphia with His wife (Yvette) and two sons (Immanuel and Nehemiah). Dr. Mason is co-founder and lead pastor of Epiphany Fellowship in Philadelphia, PA. In addition, to his role at Epiphany Fellowship he serves as President of Thriving. A ministry dedicated to aiding ethnic minorities to be resourced and trained for ministry to the urban context.
Below, Eric shares why he wrote this book, and I've included an excerpt from the book as well. Eric will be hanging around the blog today, so if you have any questions, feel free to leave them in the comment section below.
Manhood Restored by Eric Mason
I feel like I have thousands of books or things to say inside of me. I have talked to several people about writing on urban ministry, missiology, or preaching. I will probably get to those at some point, however, as I sought the Lord and other good counsel, and when looking back on my experiences through almost 40 years of life, MANHOOD just jumped out.
While I believe there is already great material for men out there, as I surveyed the Bible and the culture of manhood (cross-ethnically), musical art, media, movies, magazines, the state of the church, urban dwellings, global cities, and the political climate of our country on gender, I continued to find the issue of manhood needing to be engaged.
My desire with Manhood Restored is to transcend the normal, "being a better husband" or "avoiding porn" route. Those subjects are important, but I wanted to broaden men's scope to larger, keener issues that relate to the idea of comprehensive transformation of the man. I wanted men to know that our problems far exceed these issues. What we really need is to be totally restored through Jesus Christ.
My prayer is that Manhood Restored would connect with men of different ethnicities and socio-economic backgrounds who understand the common need for men to be renewed from the inside out verses outside in. As men see the big picture of God's restoration through Jesus Christ, they can apply the truth of God's word through the gospel to both the small areas and the big needs of their life.
Download the first chapter • Purchase Manhood Restored
Jesus, the Prototype Man
I used to collect vintage action figures. DC, Marvel, G.I. Joe, Masters of the Universe--I had them all. As I got deeper into collecting, I discovered that as part of the manufacturing process these companies typically created a prototype of the action figures prior to creating the others. This prototype acted as the mold or standard by which those coming after it would be created and judged. Because it was the first, and therefore set the standard for the others, the prototype over time became recognized as the most valuable because from it all others were made.

Jesus is the prototype man for men. All of us men are only as manly as it relates to the standard set by Jesus. Romans 8:29 helps us to understand this point: "For those He foreknew He also predestined to be conformed to the image of His Son, so that He would be the firstborn among many brothers." God's design--His divine intent--is for those who are in Jesus to look like Jesus.



God predestined his people to be conformed to the likeness of his Son. We are to become like Christ (cf. 1 John 3:1), which, as Hendriksen points out, means sanctification. It is God's plan that his people become like his Son, not that they should muddle along in a modest respectability. We should be in no doubt as to the high standard that Paul sets for Christian people. We have been admitted to the heavenly family; we are brothers in that family and we call God "Father." We are accordingly to live as members of the family, and that means being made like our elder Brother. This is all part of God's predestination; he predestined us not only to be released from an unpleasant predicament, but in order that we might become like his Son.

This is an incredibly high calling. Trace it back with me: It's God's intention that we become like Jesus. And Jesus is the image of the invisible God (Col. 1:15). You start to see, yet again, the greatness of God's original intent for humanity. Jesus, then, is the true prototype man--the second Adam-- coming to restore men to the image that was lost through the first Adam.

I once knew a phenomenal artist whose medium was sculpture. I was fascinated when I watched him work--by the hand control and skill it took to chisel stone into a smooth and clear image. I asked him once about his technique, and his response has stuck with me: "When you look at this stone you see a rock, but when I look at it I see an image in the rock. All I am trying to do is get to the image by removing everything else in the way." That is what God does through the process of restoration. We have been restored already, and yet we are still being restored. The image is there, but a lot is left around it. Sanctification, then, is God's work, through the Holy Spirit, to chisel us into the image He sees in us. This isn't so much a physical conformity (although we will be "like" Jesus in our new glorified bodies); rather, this is soul work. Furthermore, it is the work, particularly in men, that has been neglected.

Growing up in a city that was riddled with violence, crime, and fatherlessness, there were very few images of manhood that reflected the Lord Jesus Christ. Even when I went into the church, the paintings of Jesus I saw showed a soft-skinned man with long flowing hair whose clothes were always clean. That didn't really connect with a young man like me, growing up in the Black-Power/hip-hop era.

More and more, I found myself being influenced in those days by Black Nationalistic rhetoric from sources like Malcolm X, Farrakhan, and Elijah Mohammad. They presented something different from those pictures at the church. I saw in them a form of disciplined manliness. They even presented Jesus as a masculine black man with some fight in Him. They railed against the white and feminized images of Jesus in the American church. Their understanding of Jesus might have been ethnocentric, but there was something appealing about it nonetheless. Now, looking back, I think what I finally saw was Jesus as a man--real man. And that was something new for me.

Years later, the church is still primarily built on engaging issues that are more pertinent to women. Somewhere along the line, we recognized in the church--either consciously or subconsciously--that men are often harder to reach, and we didn't put forth the time or effort to do so. As a consequence, more and more men began to see church as a place for the women. Like it or not, men view the church as irrelevant because much of what concerns men is either not addressed or when it is talked about it is done so in a feminine manner. Dr. Carl Ellis writes,

Core concerns come in three categories: personal, social, and cultural. Personal core concerns include things like loneliness, anxiety, and fear. These tend to be unchanging and universal. Social core concerns include things like education, health, and family. Cultural core concerns are directly related to particular situations and tend to be unique to each people group.

It's important to understand this because it holds the key on how to most effectively communicate to men. As Ellis says, you can't communicate with men at a core level by going straight to personal concerns. Rather, it's much more effective to address cultural concerns, then social concerns, then personal concerns. In other words when we deal with the outer rim issues in the life of men we get to the inner life of men. If you compare that to the way that most churches operate, you see that we simply aren't set up to reach men. But Jesus was.

Jesus was able to engage men at all these levels. He dealt with cultural concerns by engaging issues related to the nation (John 8; 10). He dealt with social concerns through healing and teaching on the family (Matt. 8; 19). Jesus also got down to very personal issues with men (John 3). He was, and is, able to engage men on every issue and every level.

Perhaps, then, men are so unclear about who they are supposed to be because we in the church have failed to give them a true picture of the ultimate man Jesus Christ. This man alone was unflawed and untouched by the destructive properties of sin. Yet this man was still born with all of the limitations and temptations of humanity (Heb. 4:15). Jesus, and Jesus alone, has exemplified manhood. If we want to be conformed to His image, most especially as men, we need to understand this example more deeply.
The Exchange is a part of CT's Blog Forum. Support the work of CT. Subscribe and get one year free.
The views of the blogger do not necessarily reflect those of Christianity Today.