Image: Courtesy of Christian Focus Publishers
How does family worship help teach children the gospel rather than just religion?
As we think about the difference between the gospel and mere religion, it is not that we obey and therefore are accepted, but are accepted and therefore obey. Maybe one of the greatest challenges in parenting is the temptation to raise our children to be religiously-minded little moralists. We want well-behaved children. Children that say, "yes sir," "thank you," and "please." But as Christian parents, this isn't enough. Our greatest desire for our children has to be that they know God, what He has done for us in the person of His Son, and be gripped by that truth.
Family worship provides one of the greatest contexts in which we can teach this reality to our children. They will see and hear the story of redemption unfolded each night as we read the Scriptures. They will hear this truth in song and confess it as they sing. Our prayers will testify to it. And that story is one of God's acting on our behalf. As we read the Scriptures, pray, and sing, our families will continually be reminded of who God is and what He has done.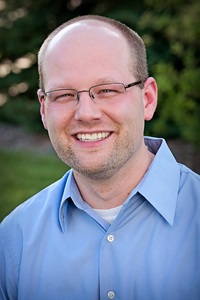 What are the practical benefits of family worship?
For the sake of brevity, let me note just two practical benefits that I most consistently hear from families, who practice family worship. The first is that it centers the home upon Christ. All of our homes are centered upon something. We may not know it or recognize it, but nevertheless, it is there. If we are Christians, it should be Christ. And daily family worship shapes our orientation and provides a continual reminder that we are worshippers of the risen Savior. The second is that it encourages our children in Christ. They will see from Mom and Dad that worship is not just something they do on Sunday mornings. It is something that is at the very core of their being and frames every day and every sphere of their lives.
How can a pastor help promote the practice of family worship in his church?
First, we would want to encourage pastors to practice family worship in their own homes. This isn't a given. In fact, it is as much a struggle for most pastors as it is for the person in the pew. Second, if the pastor's family is participating in family worship on a regular basis, then they should think about inviting members of the church over to share a meal with an invitation to join them in family worship afterwards. Modeling family worship is one of the best ways to encourage others to engage in it. Third, it would be helpful if pastors would disciple, preach, and teach that it is the joyful responsibility of husbands, fathers, and mothers. It is foundational for the Christian home and something we want to be sure we don't neglect.
What are some examples of how parents can conduct family worship?
I always tell parents to start slowly. Expecting your family to read through the book of Leviticus the first night may be a little over-zealous! In fact, don't expect too much. Rather, let it be a joyful time in which the family gathers together to read the Bible, pray, and sing. Remember that you are responding to God's magnificent grace. Keep it simple, brief, and flexible. A short narrative portion of Scripture, a familiar hymn, and a brief prayer for the family is a good start. Just be sure to make it a priority by being consistent in the time, place, and attitude with which you approach family worship. And above all, persevere. Keep at it. There will be difficult nights and even weeks, but don't give up!
What elements should compose family worship?
There are three cardinal elements we want to include in family worship: reading God's Word, praying, and singing. These are gifts God has given to His people. There are other elements that can be helpful like catechisms, confessions of faith, children's books, and biographies. However, we need to make sure that they never take the place of the cardinal elements.
How is family worship different than a house church? And how does it supplement weekly corporate worship with one's local church body?
Many who practice family worship will begin to see the benefits and grow to love it. However, as much as we may thoroughly enjoy our time of family worship and though there may be much fruit born from it, this cannot lead us away from the church gathered together. Family worship is not a replacement for corporate worship with the diverse and multi-gifted body of Christ. We error if we think of it as a substitute. Rather, it compliments corporate worship. As a Christian, I should find that my life is marked by secret worship (daily quiet times), family worship (gathering with those who live in my home), and corporate worship (gathering with the larger body of Christ). Neglecting any one of these spheres of worship has detrimental effects upon my worship in the other spheres. They all inform one another. Conversely, they also encourage one another.
With so many mixed or broken families in our society today, how can the practice of family worship help restore and strengthen relationships in those families?
I guess I would start with saying that family worship is not a silver bullet. It doesn't guarantee that our homes will be Christ centered, our children will come to saving faith, peace will reign in the home, or any other outcome that we would like to calculate. It is a means of grace, so there are benefits, but no guarantees.
However, having made this caveat, family worship does help to restore and strengthen relationships within the family. One of the ways it does this is by encouraging peace in the home. As an example, it is awfully hard for a father to lead his family in worship when he has just yelled at his children. He will want to ask for forgiveness before beginning family worship or it can be helpful to use the prayer time to confess sin. It is incredibly healing not only for the offender, but the offended.
It has the added benefit of binding the family together. In our fast-moving and ever-busy society, there are few things that a family does together daily. Even eating a meal together these days seems like a feat. When a family gathers daily for worship, this becomes the most important and central aspect of its common life. And there is incredible strength and restoration that happens through this.
The Exchange is a part of CT's Blog Forum. Support the work of CT. Subscribe and get one year free.
The views of the blogger do not necessarily reflect those of Christianity Today.