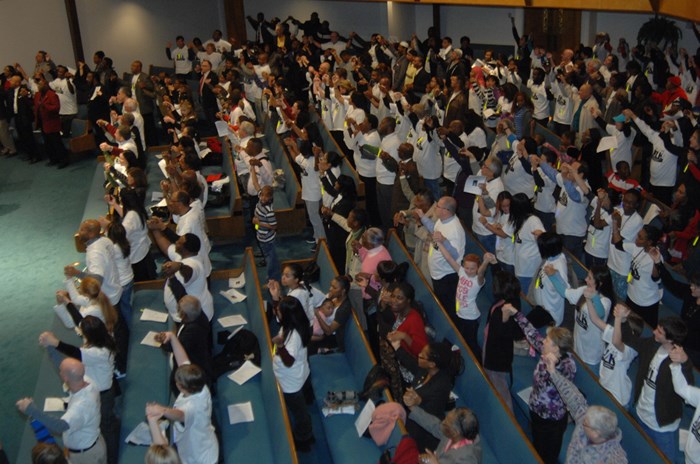 Image: cityoforlando / flickr
I recently returned from Mosaix' 2nd National Multi-ethnic Church Conference in Long Beach, California I was struck by a few things about the conference that I thought were worth sharing.
Probably the main "news" (as in the newspaper kind of news) out of that conference was Thom Rainer's apology for LifeWay's stereotyping in LifeWay's Vacation Bible School curriculum ten years ago. However, as you can imagine, there was so much more that took place at the conference. As such, I thought I would share a few of my own observations about multicultural church.
My first church was a multicultural (or as some say, multi-ethnic) church, though we were not thinking in those categories. We just reached our poor neighborhood.
My church today would not fit the standard definition of multicultural. It's not because that's not the desire for us to be so. But more, it is impacted by the location where we meet (Hendersonville is 93% Anglo). However, having just recently opened a campus in Gallatin, which is substantially more diverse than Hendersonville, we are excited about the opportunity to seek to become a more multicultural church.
With that in mind, there are four things from the conference that I will keep in mind as we move ahead.
First, just because your church looks diverse doesn't mean it is diverse.
One of the things I have said is that often pastors who say they have multiCULTURAL churches really have multiRACIAL churches. Both are good, but being multicultural is much harder than being multiracial.
You can be multiracial if you simply have "persons of color" who attend your church. They may work in the same places, go to the same movies, eat in the same restaurants, but they happen to be persons of African-American, Asian, Anglo, or even Latino descent. They are not necessarily steeped in a culture, but have assimilated to a common culture (or Orange County, or Manhattan, for example).
However, a multicultural church is not simply about skin tone, but about the intentional engagement of cultures. So a multicultural church will not simply have people who are African-American, but will engage to some degree in African-American cultural contexts. You will not just have people who are by their background from Latin America, but who will intentionally engage Latino culture(s) and context(s). You will not just have people who are second-generation Asian immigrants, but you will to some degree engage Asian cultural norms. And so on…
Now, in places where culture is already blended, it will actually be easier to be racially diverse. Asians, African-Americans, Latinos and Anglos who already eat, work, shop and share a common culture in Los Angeles and then come to church together are simply already adapted to prevalent culture. In multi-cultural settings, however, it means that we seek to celebrate, encourage, accommodate and even engage those cultures.
Second, the multi-cultural ministry is a recipe for conflict.
One of the recurring themes of the conference, and rightfully so, was that if you're going to engage in multi-cultural ministry you're going to hurt somebody's feelings or have your feelings hurt. I think a perfect example was Thom Rainer's apology.
There's no question that LifeWay didn't intend to offend anyone (that's not how publishers work!). Furthermore, there is no question that most people weren't offended. I'm not sure that most Asians were offended. However, the fact of the matter is that a significant number were, and it remained an ongoing point of contention between LifeWay and many in the Asian-American context. What is interesting is that we actually received complaints for apologizing—not many, less than you could count on one hand. But those complaints are quite consistent that we should not have to apologize because our intentions were originally good.
Yet, that would be a pretty bad way to live in a marriage, and it's certainly a bad way to live in the body of Christ. The fact of the matter is, when you do something that causes people offense, you have to take responsibility for that offense. You could spend all day long parsing the percentages of people who were and who were not offended. Or you could say, we should have done better. So it will be in any form of a multicultural ministry. People will get their feelings hurt and apologies should flow quickly (and forgiveness should flow quickly as well).
Third, multi-cultural ministry slows down ministry.
In my own presentation at the conference I talked about the reality that a multi-cultural church will grow slower than a mono-cultural church. It's simply a statistical reality that when everyone thinks similarly, they can engage others more quickly and more effectively and churches will grow. One reason for this is that healthy multicultural churches are built on cross-cultural relationships of transparency and trust; and these take much more time to form and develop than do those relationships with people of similar backgrounds. Furthermore, trust is not a commodity so easily assumed in a room full of people not like you.
Thus, if your only goal is growth, the best way to grow your church is to keep it homogenous. This has been a fact recognized in missiology for a long time, something called the homogenous unit principle.
However, perhaps we might consider that there is also a value in going deeper, building relationships and affecting the kingdom of God more through multicultural churches. If that's the case, it might remind us that God has not called us to go fast but he has called us to run deep.
Fourth and finally, being a multicultural church takes a lot of listening.
I decided to focus my presentation on communication. Since I was the 15th speaker at the conference, I thought that the theological basis of multiculturalism and some of the other issues of multiculturalism would have already been covered. After some due consideration, I decided that nobody would have covered Aristotle's view of communication, Berlo's modification thereof, and finally the basic model that Hesselgrave modified in cross-cultural communication. So, I gave a classical missiological communication lecture (with some humor thrown in). But I explained in my talk just how complicated communication can be, particularly when you cross cultures.
I shared a bit of my experience when I served as English service pastor of a Chinese church years ago, how what I was saying and what they were hearing were quite different. And at the end of the day, the responsibility for communicating well is at the source AND at the hearer, but I had to focus as the source (since that was me). Beyond my talk, I heard over and over again presenters talking about the need to communicate well, preparing for miscommunication, and growing together accordingly.
Some Conclusions
My field is missiology, so I love talking about culture. So, conferences like this challenge and "provoke me to love and good deeds" (Hebrews 10:24).
The church is called to be both a sign and an instrument of the kingdom of God. It's an instrument in the kingdom of God, and it's God's agent in the world showing and sharing the word of Jesus to a broken and hurting world. But it's also a sign in the kingdom of God, a draw to the kingdom, a credible witness to the kingdom, etc., because people are supposed to look into the church and say, "That's what the kingdom of God looks like." In this sense, it's a window into the kingdom that compels others to come be one in Christ with us.
Even as we shop at a window, we know there is much more inside. The fact of the matter is that Revelation chapter 7 says men and women will gather around the throne of God for eternity, and they will be from every tongue, tribe and nation.
Scripture goes to great lengths to point out the diversity around the throne. Thus, it seems only right and perhaps pleasing to God that our churches might be signs of the kingdom of God today in increasing multiculturalism. I am encouraged by the efforts I see, and challenged to move forward in my own life and church as the conference theme suggested, For the Sake of the Gospel.
The Exchange is a part of CT's Blog Forum. Support the work of CT. Subscribe and get one year free.
The views of the blogger do not necessarily reflect those of Christianity Today.