Jun 12, 2013
Roundup
Morning Roundup 06/12/13
Same-Sex Marriage; Mental Disorders; Late-Term Abortion |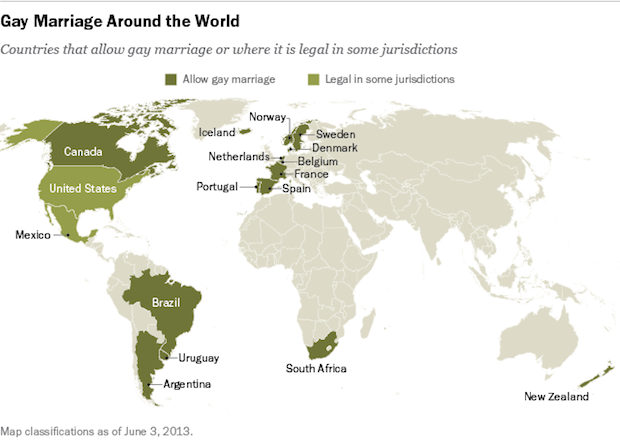 Image: Pew Research
Same sex marriage is an issue in many parts of the world. As you will see, the minority of states and a small minority of countries legally allow such marriages, but the number is growing (and, I would say, the momentum, at least in the West, is on the side of growing acceptance of gay marriage.
A global snapshot of same-sex marriage — Pew Research Center
Uber-blogger Adrian Warnock is, much to many people's surprise, not a pastor (we talk about that here). He is actually a research psychiatrist. He explains some important issues around the DSMV here.
Are Mental Disorders real illnesses? What of the DSMV controversy? — Adrian Warnock
Jonathan Merritt point us to "another Gosnell." On a side note, I recently sat with a national (very liberal) religious leader, on the board of several national pro-choice organizations, who explains that this is what third trimester abortion looks like. Mind you, he was pro-choice and had all the reasons it was necessary even as we disagreed. But, his point was worth considering-- if this is reality (and much of it is), why are we even debating late-term abortion. For that matter, why did President Obama vote against the ban on late-term abortion. No civilized society should tolerate this.
Karpen case will reveal if media learned lesson from Gosnell — Jonathan Merritt
Today's clip from The Exchange is from a recent episode with Joey Bonifacio. In the show we talked a lot about discipleship. Be sure to join me every Tuesday at 3:00 PM Eastern for The Exchange.
Discipleship is Something You Do Without Thinking - Joey Bonifacio
Support our work. Subscribe to CT and get one year free.