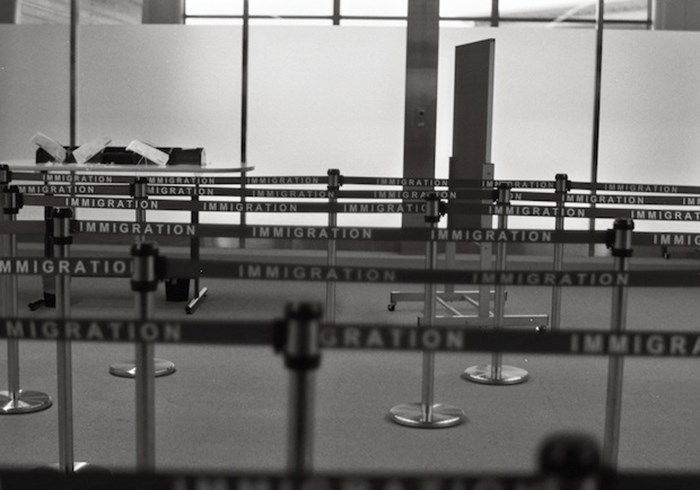 Image: Icars / flickr
LifeWay Research has just released data on Protestant pastors and their stance on immigration reform, and the data is interesting.
Jonathan Merritt proposed that the reason immigration reform was not working (and now is on hold) is that it was not a grassroots evangelical endeavor. I don't think the data here is conclusive, but it appears that pastors ARE pro immigration reform, but perhaps not as pro-immigration reform as their denominational leaders.
Regardless, when you do research, you need to also reveal your biases. I am a supporter of immigration reform, which is why I had my team develop the questions and limited my involvement. Regardless, I believe that Christians are called to speak out for the care and protection of the sojourner and immigrant among us regardless of any political debate.
Before last year's election, I joined dozens of evangelical leaders in signing a statement calling for reform to our immigration system. The Evangelical Immigration Table explained:
Evangelical Statement of Principles for Immigration Reform

Our national immigration laws have created a moral, economic and political crisis in America. Initiatives to remedy this crisis have led to polarization and name calling in which opponents have misrepresented each other's positions as open borders and amnesty versus deportations of millions. This false choice has led to an unacceptable political stalemate at the federal level at a tragic human cost.

As evangelical Christian leaders, we call for a bipartisan solution on immigration that:
Respects the God-given dignity of every person Protects the unity of the immediate family Respects the rule of law Guarantees secure national borders Ensures fairness to taxpayers Establishes a path toward legal status and/or citizenship for those who qualify and who wish to become permanent residents
We urge our nation's leaders to work together with the American people to pass immigration reform that embodies these key principles and that will make our nation proud.
Now that the caveat is out of the way, here are some of the most notable results from a poll of just over 1,000 senior pastors conducted in September of this year:
Fifty-eight percent of Protestant pastors agree with the statement: "I am in favor of immigration reform that includes a path to citizenship for those who are currently in the country illegally."
Just over half (51 percent) agree that, "Immigration reform will help our church, denomination or movement reach Hispanic Americans." Among pastors in favor of immigration reform that includes a path to citizenship, 67 percent agree it will help their church, denomination, or movement reach Hispanic Americans.
Only 15 percent of pastors say members of their congregations are hurt by the immigration system. Strong disagreement that their church is negatively impacted by the current immigration system is highest among pastors in the Northeast (57 percent) and Midwest (49 percent) compared to the South (42 percent) and West (33 percent). About a quarter (27 percent) say immigration reform would help church members.
Mainline pastors are more likely to support reform (82 percent) and to say reform would help church members (42 percent). By contrast, 54 percent of Evangelical pastors support reform, while 21 percent say it would help church members.
About one in five Hispanic Americans (22 percent) identify themselves as Protestants, according to the Pew Hispanic survey.
Pastors who disagree when asked if the immigration system has "negatively impacted" church members are quite open to reform. Of that group, nearly six in 10 (58 percent) say they still support reform.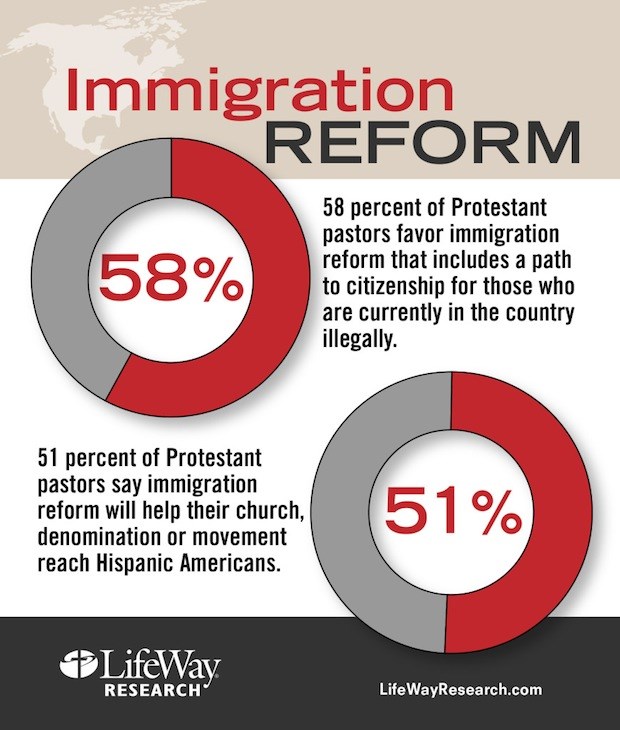 You can learn more about the Evangelical Immigration Table at their website.