This past summer, my family and I were in Myrtle Beach to meet my extended family. While there, I stayed at the Hampton Inn & Suites Oceanfront Resort at Myrtle Beach. Why would I want to write a blog post about it?

Well, this plaque demonstrates how this hotel operates as an extension of the owner's faith and provides an example, along with other more well-known company leaders, of how an individual can serve God with their business.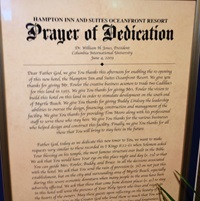 The plaque was from a prayer given by my friend Bill Jones, President of Columbia International University. The prayer reads, in part:
"Father God, today as we dedicate this new tower to You, we want to make requests very similar to those recorded in 1 Kings 8:22-61 when Solomon asked Your blessing on his temple, the most famous structure ever built in the Bible. We ask that You would have Your eye on this place night and day (v. 29) so that You can guide Mrs. Fowler, Buddy, and Bruce in all the decisions associated with this hotel. ... We ask that those that come from distant places (v. 41) to stay in this hotel will sense the presence of Your Holy Spirit who lives and reigns in the hearts of the owners."
I think this is a helpful example for all of those in business. In the case of Buddy Lindsay, he is a lawyer, accountant, and investor. However, he is first a Christian and that is demonstrated not only through this plaque, but also his actions.

In addition to his accounting and law degrees, Buddy earned a Master of Theology degree from CIU and a Ph.D. in Theology from the London School of Theology. In 2011, he was elected as a board member at Columbia International University.

He not only has dedicated the hotel to Christ, but he uses the profits to encourage pastors by inviting them to stay there for free during the off seasons.

I love when we see businesses that are unapologetic in their faith connection. I think of companies like Chick-fil-A and their founder Truett Cathy, along with David Green, the founder of Hobby Lobby, both of whose businesses are closed on Sunday.

Chick-fil-A has as their purpose statement:
"To glorify God by being a faithful steward of all that is entrusted to us and to have a positive influence on all who come in contact with Chick-fil-A."
In the past three years, Chick-fil-A and their franchise operators have given more than $68 million in contributions to over 700 educational and charitable organizations. They concentrate on three areas: youth and education, local communities, and leadership and family enrichment. Their WinShape Camps, which began in 1985, exist "to impact young people and families through experiences that will enhance their Christian faith, character and relationships."

Hobby Lobby, which continues to use its profits for Christian ministry, has adopted this as their statement of purpose for their Board of Directors:
"In order to effectively serve our owners, employees, and customers the Board of Directors is committed to:

Honoring the Lord in all we do by operating the company in a manner consistent with Biblical principles.

Offering our customers an exceptional selection and value.

Serving our employees and their families by establishing a work environment and company policies that build character, strengthen individuals, and nurture families.

Proving a return on the owner's investment, sharing the Lord's blessings with our employees, and investing in our community.

We believe that it is by God's grace and provision that Hobby Lobby has endured. He has been faithful in the past, and we trust Him for our future."
They also recently increased the minimum wage for their stores for both full-time and part-time employees. Hobby Lobby's part-time minimum wage is $9.50 per hour, which is well above the national rate of $7.25.

Both of these men, along with Buddy Lindsay, have not only used their businesses to promote and give to Christian causes, but they also operate them from a biblical perspective.

As Dutch theologian Abraham Kuyper explained, "There is not a square inch in the whole domain of our human existence over which Christ, who is Sovereign over all, does not cry, 'Mine!'"

Pastors, exhort your people to dedicate all of their lives to Christ—including businesses they may own. Encourage them by blessing them—speak well of business leaders and their roles.

Thank God for Buddy Lindsay and for those who promote the mission of God through their businesses.