Morning Roundup 10/29/13
Prince George Baptism; Multiethnic Ministry Conference; Small Group Commitments
Ed Stetzer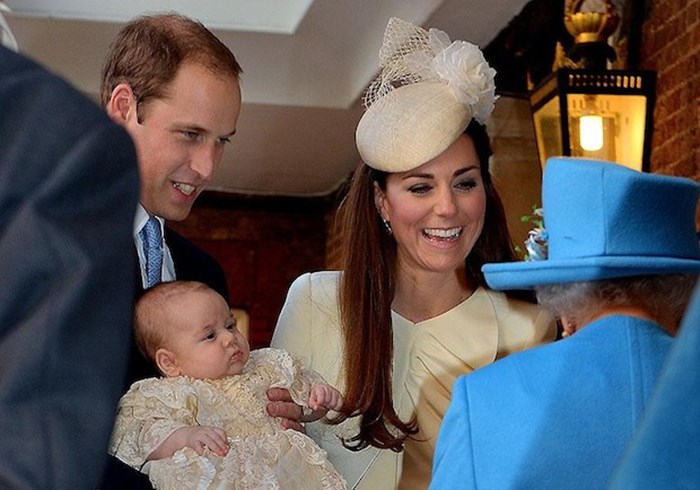 Image: The British Monarchy / flickr
The Church's Spiritual Message in Prince George's Baptism — Elizabeth Dias
It's been fascinating to see the coverage of the royal baptism, but many of the stories are rather weak on theology. Elizabeth Dias does a good job in her story.
Wednesday is a big day for Britain's little Prince George. Celebrity photographer Jason Bell will be snapping his picture, sixty close family members and friends will gather in his honor, he will gain seven godparents, and the world will be anticipating a glimpse of his three-month-old self—all because the newest member of the royal family is being christened in the Church of England. Archbishop of Canterbury Justin Welby will baptize Prince George Alexander Louis at 3pm at the 16th-century Royal Chapel of St. James Palace. Select guests will then join grandparents their Royal Highnesses Charles and Camilla for a celebratory bash next door at Clarence House.
Welby is previewing what he says is the deeper meaning of George's christening. Rather than just a royal ritual, he says, it is a religious act and rite of passage, one that ties George to the House of Windsor and the Christian church. "Most of all we are celebrating baptism, and baptism at its heart is about the gift of God, about God's gift of life, just ordinary physical life, but also the offer of spiritual life to all of us, so life forever," explained Welby in a video released by Lambeth Palace on Tuesday. "All through Christian history, for 2000 years, being baptized meant you joined the family of the church, and that's what it means today. What a family."
Infants in the Church of England are baptized in a symbolic assertion that God's grace precedes even a person's ability to choose faith. Like all priests who perform a baptismal service, Welby will mark Prince George with the sign of the cross on his forehead. He will also splash water Prince George's head three times, in the name of the Father, Son, and Holy Spirit. "It is an extraordinary moment, because that is the sign by which we understand that this person belongs to God," Welby explained.
Leading the Multi-Ethnic Church Conversation — Linda Lowry and Mark DeYmaz
Mark shares about the upcoming Mosaix conference. I'm excited to be there.
Recently, Exponential sat down to talk with Mosaix Global Network Executive Director Mark DeYmaz to learn about the Second Annual National Multi-Ethnic Church Conference in Long Beach, Calif., including potential takeaways for church planters attending the conference with hopes of launching multi-ethnic congregations. The upcoming gathering (one week away Nov. 5-6) marks the second year for the Multi-Ethnic Church Conference, the first held in November 2010. This year, the speaker lineup includes John Perkins, Choco De Jesus,Soong-Chan Rah, David Anderson, Eugene Cho and many more.
Mark, tell us the basics. How many tracks, workshops, sessions?
The conference features 15 tracks (including one track which will be translated into Spanish and French on site); 60 total workshops; five plenary sessions plus an additional worship service for the city of Long Beach on Wednesday night following the conference; and 68 speakers (19 plenary, most of who will also lead a workshop).
How many people are you estimating being on site?
As of today, we have just crossed 800 in registrations. We were hoping for 600, maybe 700 at the outside. The tremendous response with still more than a week to go has us considering what to do if in fact the conference in essence sells out.
It's been three years since Mosaix hosted the National Multi-Ethnic Church Conference. This upcoming gathering will be the second one. What made you say, "We need to do this again"?
The first conference was an overwhelming success, and looking back is now recognized as marking the midway point in the pioneer stage of the multi-ethnic church movement. Coming out of it, there was a natural assumption that we would make it an annual event. However, the movement needed more time to develop. Consequently, Mosaix returned in 2011 and 2012 to grassroots organizing by creating web-based resources, publishing its first eBook, hosting two national retreats in the United States and a national conference in Sydney, Australia. In partnership with Mosaix, Leadership Network launched a two-year learning community focused on the multi-ethnic church involving 12 churches and 30 leaders. With growing interest, receptivity and practitioners engaged, we determined like a ship approaching land to do another sounding in 2013–thus, the second National Multi-ethnic Church Conference.
8 Commitments for Small Group Leaders — Mark Howell
Mark Howell, small group guru, drops some good stuff here.
Whether you use a low or high bar of small group leadership, I think all of us have hope that our leaders will do more than open their home, facilitate a discussion or convene a meeting. And…I think some of us have begun laying the foundation for a kind of leadership pathway. See also, Raising the Bar, Lowering the Bar, or Open Bar and Steve Gladen on Saddleback's Leadership Pathway.
Not long ago I noticed a post on Thom Rainer's blog on the 8 Commitments for Bible Study Leaders. As usual, it was very well thought out and extremely helpful, but it seemed to be primarily focused on the role of a Bible study teacher. Important…but not targeted to the small group leaders many of us are identifying, recruiting and developing.
Here are the commitments I'd like my small group leaders to make:
1. I will make my daily, living connection with Jesus Christ a priority—being in community with Him is the foundation for all community. How will a new leader know what this means? It will have to modeled by a coach or mentor. Remember, whatever you want to happen at the member level will have to be experienced by the leader first.
2. I will lead an exemplary Christian lifestyle—group members watching me will see an obedient servant of Jesus Christ growing in maturity. How will this happen? The expectation that this will happen outside of ministry leadership modeling servant leadership is pure fantasy.
Priscilla Shirer was my guest on The Exchange a few weeks ago. I asked about her story, her Gideon Bible study, and her new webshow called The Chat with Priscilla. This is a great part of our conversation on the "risky place" of faith. Don't forget to join me every Tuesday at 3:00 PM Eastern for The Exchange.
The Exchange

(Weekly)
The Exchange newsletter is a weekly digest of coverage, research, and perspective from Ed Stetzer.
CT Books

(Weekly)
Each issue contains up-to-date, insightful information about today's culture, plus analysis of books important to the evangelical thinker.
The Exchange is a part of CT's Blog Forum. Support the work of CT. Subscribe and get one year free.
The views of the blogger do not necessarily reflect those of Christianity Today.