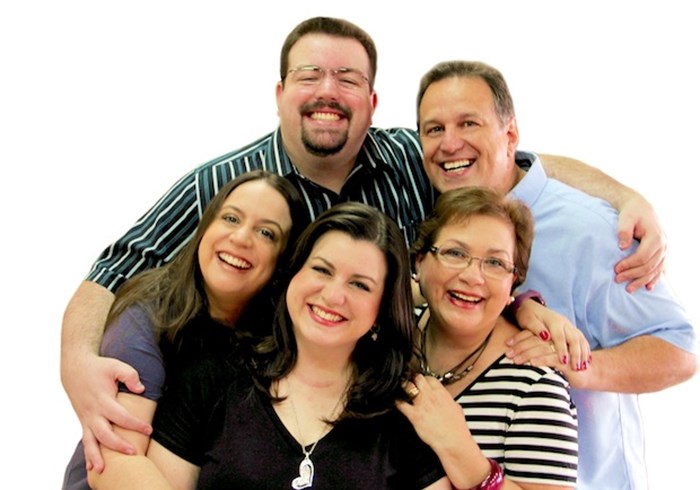 Image: Courtesy of Ebenezer Bittencourt
During a recent trip to Brazil to work on our research partnership with the Cidade Viva Foundation, I had the opportunity to meet with Ebenezer Bittencourt, Director of the Haggai Institute in Brazil. The Haggai Institute is doing some great work in leadership and evangelistic development worldwide. We were both speaking at the C3 Conference in Northeastern Brazil, and then we both preached to a beach outreach service (a picture of that service is now the Facebook banner on my Facebook Page. So, while sitting backstage during the CaliRock concert, I asked Ebenezer to share more about the Haggai Institute. I've been very impressed with the work of the Haggai Institute and think it is worth your time to learn what they are doing.
Soon, LifeWay Research will be releasing this groundbreaking research—both on churches experiencing transformation and the views of the unchurched toward things of faith in Brazil. Today, Ebenezer explains more of their vision, development, and future direction below.
Ebenezer, tell me a little bit about the Haggai Institute's history and values.
Dr. John Edmund Haggai, our CEO and founder, had wanted to be a missionary in China since he was ten. After his studies at the Moody Bible Institute, however, China closed their doors to missionaries and he became a pastor instead. As he was completing his tenure at his fourth church, one of his sermons was published in a newspaper. After it was republished in newspapers across America, he had 420 invitations to preach elsewhere. He saw this as God's direction to become an evangelist and began conducting crusades in America and across the world.
During a visit to Beirut, Lebanon, in 1964, he met with several national Christian leaders. He was shocked to hear them speak critically of several missionaries in the region. Dr. Haggai was initially very upset about their critique. These missionaries, after all, had sacrificed everything to preach the Gospel in a foreign land.
The nationals went on to explain, however, that they were not allowed to hold any positions of leadership in various ministry venues; the missionaries claimed that they needed to maintain control in order to justify their work to supporters in America.
It was a significant moment for Dr. Haggai. On the plane ride home, he realized that the world was changing and that the strategy for missions and evangelism had to change too. Shortly thereafter, he developed a personal mission statement that would subsequently become the mission for the Haggai Institute as well.
And what is that mission?
Our mission is to advance the skills of qualified Christian leaders to more effectively evangelize their own people and to train others to do the same.
It was birthed out of the vision to ensure that the Gospel is presented in the power of the Holy Spirit with biblical fidelity and cultural sensitivity to all peoples, especially in non-evangelized nations of the world.
That's a great mission and vision. How would this be accomplished?
The idea was that we would find national Christian leaders in various fields (media, business, law, education, churches, etc.) who had already proven to have key leadership qualities. They would go through an intensive 25-day training that would not be taught on American soil nor taught by American faculty. Instead, third-world established leaders would have the authority to teach others how to lead and evangelize so that they could do the same. Dr. Haggai conducted the first International Seminar for Advanced Leadership in 1969 in Switzerland. There were nineteen participants from five different nations. Two years later we moved our training to Singapore because of its proximity for most of our third-world leaders in the most unreached places of the world.
Our International Seminar for Advanced Leadership is offered today in English, Mandarin and Arabic. They last from 15 to 25 days and are comprised of up to 30 different participants from more than a dozen different nations. We conduct separate sessions for men and women. Also, the Alumni Associations offer the National Seminar for Advanced Leadership.
So you have this intensive training session. Tell me more about what that looks like. Who are your average participants? What do they do during the sessions?
Well, most of our participants are not pastors. Initially, 60 percent of our training groups were lay people and 40 percent were pastors. Now, the statistic is more like 73 percent. Please, remember that we do not train people to become leaders. They already are experienced, established leaders in their field. They have influence, followers and budget. The average age of our participant is 42. So it is a very mature group of people who get together. Their potential for spiritual, biblical and powerful accomplishments for Jesus Christ is enormous.
They know how to find ways to go through barriers that their peers may have in receiving the Gospel.
When these men and women come to stay with us, we strive to inspire them with a powerful vision to reach their own people for Christ. They know the language. They don't need a visa. They are already respected by their countrymen and know how to communicate well. They know how to find ways to go through barriers that their peers may have in receiving the Gospel.
So, we challenge them to use creativity and cultural sensitivity to evangelize their own people without compromising the essence of the biblical truth. We also strive to develop their qualities of leadership, so that they are able to train others to do the same. Today, our participants commit to pass along their training to at least 100 other leaders in their spheres of influence within two years after the seminar. This way, our evangelistic training literally has an exponential impact to local communities around the world.
In Brazil, as in other 104 nations that have Alumni Associations, we promote the National Seminar for Advanced Leadership, with the same quality standards and objectives than the International Seminar. Here in Brazil, specifically, we have added a new item to the program: participants must complete a four-page project development sheet. Each participant produces a particular evangelistic project. Some choose to evangelize on television. Others choose reaching the people who go to their corporations, university, hospital or gym. It doesn't matter how big the project is, only that it's about evangelism.
And we get really practical about this project. We ask questions like, "What is the objective? What are the needs of these people? How will you communicate? What subjects will you use to talk to them? Will you use a particular invitation as a tool for reaching them?" They work individually, in small groups and get paired with a mentor so that they can formally organize the way they're going to evangelize when they get home. There are specific goals setting. Then, they present it to the whole class on the last day.
What does it look like when the graduates return home?
Pick up the English word introjection, a psychoanalysis term. It has a really strong meaning, almost literally "to put in one's mind." It's the idea that's conveyed in Deuteronomy 6 when Moses charges parents to impress teaching on their children. This is our goal for our graduates. We don't want them to just listen to good teaching. We want it to go into their minds and hearts. They need to be committed to not just listen, but to commit to evangelize in every aspect of their life.
They simply have to evangelize their own people and train others to do the same.
When we send them back to their homes, there are no strings attached. Dr. Haggai does not require graduates to be part of the Haggai Institute team or to start the Haggai Institute in their own country. They simply have to evangelize their own people and train others to do the same.
If our graduates choose to start an Alumni Association and promote the National Seminar for Advanced Leadership in their home country, they need to go through a strict certification process in order to have their course recognized by the Institute. Today, we have more than 92,000 alumni in 186 countries and Alumni Associations in 104 countries.
Dr. Haggai is not a missiologist, but the Institute seems to be built on solid missiology. How would you say that Haggai's leadership training relates to missiology?
When referring to Haggai Institute, many people say that we are "dedicated to leadership". This is a misunderstanding. Leadership for us is just a tool for evangelism. We want to train leaders to use their influence, from the top down, to evangelize their own people and train others to do the same.
Historically, leadership training has also been a great tool to allow the Haggai Institute access into closed countries. Governments were very excited about allowing their people to be a part of leadership training whereas they would never allow their people to be in an evangelistic seminar. Even today, in the age of the Internet, when closed country authorities can easily know what we are about, evangelism is still a core aspect of our missiology.
We use national faculty to teach the subjects. We focus on the "how" of evangelism. We do not subsidize our alumni projects in their own countries. We teach them to do their own fund raising and encourage them to use their influence for evangelism.
All of these aspects together combine to build a program that is indigenous, self-supporting, self-governing, and self-propagating. This is missiology at its best.
I can see where the Haggai Institute model can apply in nearly every culture. Give me some background about the spiritual culture in Brazil.
In general people say that there is revival in Brazil right now. We have a population of 200 million people in the country and 42 million declare themselves evangelicals.
In the midst of this culture, however, there is a contingent of people who are abusing their power. Many pastors and churches make us ashamed to wear an evangelical label. They prey on lost, naive individuals by twisting God's Word for their personal gain. One guy, for example, used Joshua 1:3, "I will give you every place where you set your foot." He was teaching that his church members needed to walk everywhere in a geographical area to claim land for Jesus. To do that, however, they needed to wear a special kind of socks, ones that he happened to sell for $75 each. He prayed over a mountain of 300,000 pairs of socks on TV and them sold them out. Do some quick math and he made over $22 million. These guys make American prosperity preachers seem tame by comparison.
Yes, evangelicals from every tradition (from Neo-Pentecostal, Pentecostals to Traditional) are thriving and growing in our country. From an outside perspective, it seems that we live in the midst of revival. However, how you define a movement that brings many to faith in Jesus Christ, but also brings shame to His Name due to lack of integrity, holiness and fidelity to biblical principles?
That's a pretty diverse group indeed. How has the Haggai Institute training helped the alumni to make an impact in the midst of such diversity?
First of all, we believe that God builds some unity in the midst of diversity. We bring people to discuss three primary subjects in our seminars: leadership, Christian character, and evangelism. This focus unites us. As you know, Christian leaders have deep convictions, follow their conscience, start new movements and strongly defend their viewpoints. I think that these differences, somehow, are aspects of the multi-faceted grace of God at work. However, when we talk about leadership, goal setting, discipleship, integrity, priorities and evangelism, we promote an environment of fellowship around essential subjects. After all, we believe in Bible's final authority, in the same Lord Jesus and are committed to the same mission of world evangelization.
Secondly, we believe in continuously growing in quality. The Haggai Institute first started in Brazil in 1978 under the leadership of Presbyterian minister, lawyer, and statesman Dr. Benjamim Moraes. After him, the executive directors have been Rev. Guilhemino Silva da Cunha (1979-1985), Rev. Abrahão Soares da Silva (1986-1994) and Pr. Reginaldo André Kruklis (1995-1999). These men laid a foundation of credibility and commitment to excellence for the ministry and I have been building on their foundation.
Thirdly, we believe in being fully nationally supported. When I took over as director in 2001, my international leaders oriented me to change the bylaws of Haggai Institute Brazil so that Board Members had the obligation to support financially our organization. This small change made all the difference for the ministry in these last thirteen years. Our budget of $12,000 in 2001 grew to $425,000 in 2013 and the board members and donors are responsible for 46 percent of this budget. These resources make growth possible in so many areas.
Lastly, we believe in multiplication. Leaders are busy people and have little time to work outside their own organizations. However, I am so proud to observe that, in Brazil today, 554 of our 7,730 graduates became fully accredited faculty members who voluntarily multiply our local seminars in all types of churches around the country. Praise God, they have trained more than 51,150 church leaders in evangelism and leadership through our local seminars since 2001.
And all those alumni certainly have had an impact in Brazil. It seems to me, from what I've been told by the leaders here, that you are one of the most trusted evangelical connection points in the nation, drawing such a broad cross-section of Brazil's evangelical community.
I know that these good friends admire the Haggai Institute, but say that "we are one of the most trusted evangelical connection points in the nation" is an exaggeration. I thank them for their enthusiasm, but we must keep an honest perspective. Our alumni are strong leaders, have convictions, and serve their denominations. There is some unity, of course, but it comes with effort, respect and difficulty.
We are a diverse community with all its idiosyncrasies.
About 46 percent of our alumni are Baptists. All the Pentecostals make up another 35 percent. Presbyterians are about 13 percent. The remaining six percent is made up of a mix of other evangelical groups. We are a diverse community with all its idiosyncrasies.
However, I must acknowledge that the tagline under our logo brings a strong message, "Training Leaders Globally To Impact Their World Locally". Praise God, yes, we are doing something good for our nation through our alumni.
How can people who read this interview find out more information about Haggai Institute globally, and also Haggai Brazil?
Our main webpage is www.haggai-institute.com. The specific page for the Haggai Institute in Brazil is www.haggai.com.br—it's in Portuguese so the reader must use a website translation tool.
Good to know. Thanks. Is there anything else that you would like people to know about your ministry?
First of all, I would like to praise God for my family. Marta and our three adult children (Ana Ruth, Cristiane, and David) have been great supporters and very much involved in every aspect of ministry we have developed in the last 38 years. They are my great joy.
Also, I praise God for bringing me to work with Haggai Institute. I love what I do and I believe in what I do. I was a pastor for twenty-five years before accepting this ministry. And I must recognize that the Holy Spirit brought me to a place where my gift mix is better used to serve Him and His people.
Finally, I also thank you for the opportunity to share this vision with your readers. My prayer is that this may be of encouragement to God's people elsewhere.
The Exchange is a part of CT's Blog Forum. Support the work of CT. Subscribe and get one year free.
The views of the blogger do not necessarily reflect those of Christianity Today.