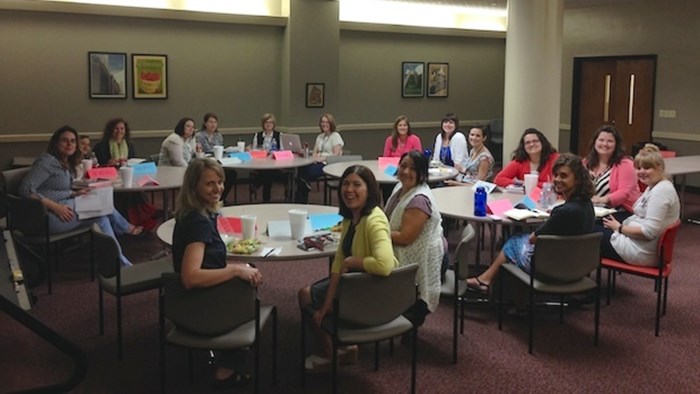 Too often, we can miss the gifts of others. That's human nature, I guess.
The fact is, God has gifted all His people, and the work of Christ is benefited when we acknowledge and engage different people and their different gifts. I thought it was worth a moment to share something I am doing and, perhaps, in doing so, to encourage you to do something similar.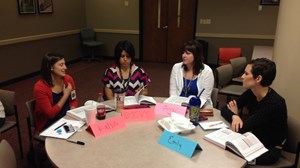 I've tweeted a couple of times about the group I gathered at LifeWay. It's a group of LifeWay employees—all of whom (except me) are women—that are meeting together over the next year to be better connected, more informed, and better leaders.
We started the gatherings with a look at Tim Keller's Center Church.
We are focusing on three areas: theology, leadership, and connecting. We will follow up with books and discussion that address these issues.
The obvious question is why? What does a man seek to encourage a group of women leaders?
Well, I think I was influenced to do so by Andy Crouch and his article on power, in which he said:
Power is not given to benefit those who hold it. It is given for the flourishing of individuals, peoples, and the cosmos itself... Power is not the opposite of servanthood. Rather, servanthood, ensuring the flourishing of others, is the very purpose of power.
I recognize that there is a certain amount of "power" in my professional role, and perhaps in opportunities to influence as well. Power, Crouch asserts, is neither good or bad—power is neutral. However, I was reminded and challenged by Andy's article that we should use the power we do have to empower others.
When you work in a large evangelical organization and/or you work with pastors, you will notice that women leaders have unique challenges—just ask them and they will tell you. Yet, like you, I have encountered many women with great leadership gifts, and I'd like to to raise up more.
Women and men are different and they lead differently.
To be honest, the idea came from a conversation with Lizette Beard and Carol Pipes. Lizette is a project manager at LifeWay Research, now finishing up her Ph.D. in missiology. Carol is the editor of Facts and Trends, our flagship magazine. They both are on my team and both have a concern that we would raise up more women leaders.
So, we are. They put together a list-- mostly people they know-- and we added a few others at the request of some colleagues. In other words, it's made up of relational connections, like such groups often are.
Here are some principles that we are operating under:
First, theology matters. When you work in an evangelical context, you need a solid understanding of theology, particularly as new ideas emerge. As such, we are looking at mission, gospel-centered ministry, theological integrity, and much more.
Second, leadership matters. It is a pretty common understanding now that, in some ways, women and men lead differently. Obviously, I'm not a woman, so Selma Wilson, the president of B&H Publishing (and the only woman to lead a top-ten Christian publishing house) will be coming in to speak into some of those issues. I have tremendous respect for Selma and love to see her use her considerable gifts to teach others.
Third, networking matters. As Lean In and other books explain, it's important to find ways to connect. The participants aren't just there to learn from me, or from Selma. They are there to learn from each other, and to give professional support. As much as I want to encourage them, I want them to practice regular encouragement of others. I hope that this will give all of use that opportunity.
Fourth, empowering others matters. It's easy when you are in a position of leadership to only think about your own goals, and to assume others are only there to help you achieve them. That's a mistake. Leading also involves helping people to develop their own gifts, and if you do your job well, they will grow to flourish on their own. Because even the best leaders are sinful and can get easily distracted by their own interests, this kind of investment has to be deliberate.
I think that when we have power, we should empower.
In addition to our larger group setting, I'm also hosting lunch meetings with the participants in smaller groups to follow up on questions or other conversations.
Long story short: I think that when we have "power" (as Andy helped me to define it more clearly), we should empower others. That's why I have the Thursday is for Thinkers series on the blog. You might not have noticed, which is great, but through that series I seek to highlight a woman or person of color. In fact, tomorrow, we've got Selma Wilson, who leads B&H Publishing, who will share some of the benefits of being a woman executive.
My suggestion for my readers is simple: don't forget the emerging female leaders around you—find them, encourage them, use your privilege and influence to raise them up. Don't miss out on the gifts that half of the body of Christ offers.
Amy Whitfield, formerly on our team here at LifeWay, and now the awesome communications director at Southeastern, contributed to this post, though I wrote this description of her! :-)
The Exchange is a part of CT's Blog Forum. Support the work of CT. Subscribe and get one year free.
The views of the blogger do not necessarily reflect those of Christianity Today.