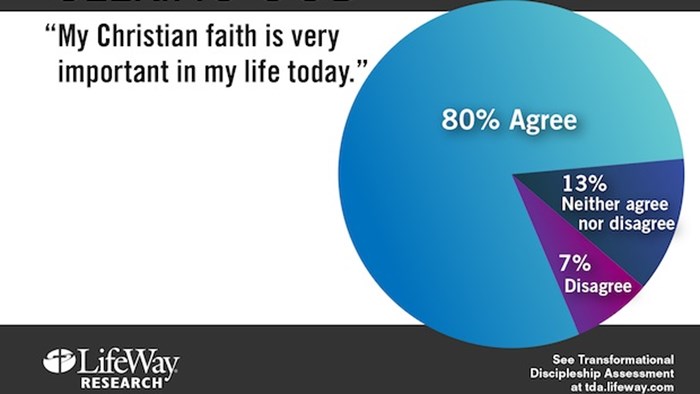 Today I am speaking at an event in Vancouver, BC that is being broadcast all over Western Canada. so I thought it would be appropriate to share some of our recent research on Transformational Discipleship in Canada.
LifeWay Research surveyed a representative sample of 1,086 Canadian adults as part of the Transformational Discipleship study. Participants attend a Protestant church at least once a month. The sample included churchgoers from a range of Protestant denominations, including mainline and evangelical churches. Interviews were conducted in English, Spanish and French. A demographically balanced online panel was used for the interviewing. Surveys were conducted Oct. 14-22, 2011.
80% of adult Canadian churchgoers agree that, "My Christian faith is very important in my life today."
A couple of days ago we released the results of a survey regarding spiritual maturity. Here are some key statistics from the survey:
Among 1,068 Canadian adults who go to church at least once a month:
29% say they set aside time daily to pray.
22% say they pray at a set time a few times a week.
18% say they rarely or never set aside time for prayer.
55% say they pray at the spur of the moment throughout the day.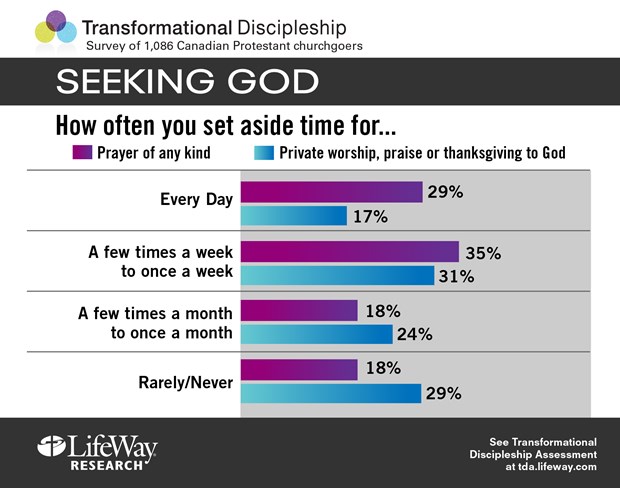 Spiritual maturity is not an accident; seeking God speaks of intentionality—the believer who desires to know God in a deeper way and strives toward that goal.
When Jesus invited disciples to follow Him, it was a call to intentionally seek Him, to know Him, and to live for Him. This involves spending regular time with Him.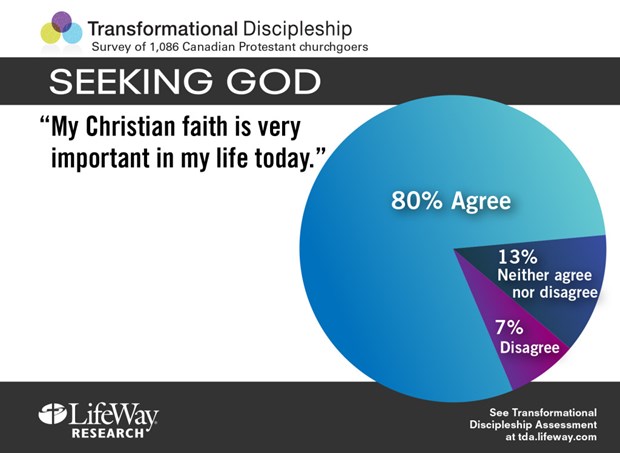 Click here to read the full article, and click here to read about our Transformational Discipleship Canada project.