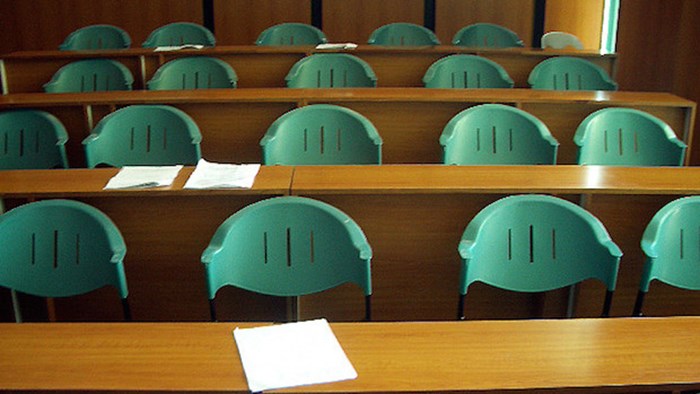 Image: Eric James Sarmiento / flickr
I've been focusing on how denominations might facilitate church planting—being a part of what might be (or become) a Church Multiplication Movement.
A denomination must hold to the value of multiplying churches for a multiplication movement to occur in-- rather than in spite of-- that denomination. Part of that is having seminaries be an effective partner. In the past, I've written about the importance of seminaries equipping students to live on mission.
Now to be fair, seminaries are not tasked exclusively-- or even primarily-- with the role of making church planting pastors and missionaries, but it is certainly part of how they can participate in the Great Commission. Furthermore, many are indeed doing these very things, so this is written more toward those who are not yet significantly involved.
What Seminaries Do
Seminaries are often shaped to produce theologically-formed scholar/pastors who may very well serve in a church planting or other ministry context. Yet, it is an unfair expectation to ask any seminary to specifically become a church planting school unless that is why it was founded. However, I do think it is very appropriate to ask a seminary to be a partner in training and creating a church planting ethos, which can lead to an effective Church Multiplication Movement.
To review, there are five elements a denomination needs to help facilitate a Church Multiplication Movement:
Today, in the final post of the series, I want to focus on the value in having seminary support and promote involvement in church planting.
I've written a journal article related to this already, but it is almost ten years old. In the coming days, I will be sharing some additional ideas presented recently at Asbury Seminary. For now, here are some broad thoughts on how it relates to seminary involvement.
Starting a church planting discussion on campus
Seminaries are not always the best place to teach leadership-- that's usually the role of the local church. Seminaries should, however, cultivate serious partnerships with churches that would send and create leaders who the seminary could help theologically shape. In that educational setting, the leaders can become well-formed and well-informed, particularly as it relates to church planting and multiplication.
The same can be true with church planting.
A seminary should have a church planting emphasis, and I will share some suggested applications of that emphasis in a forthcoming post.
However, in general, seminaries need to care about planting, and that should be evident in the emphases of a seminary.
Seminaries are not always the best place to teach leadership—that's usually the role of the local church.
This emphasis on the seminary campuses should be part of a larger push from the denomination. Therefore, key leaders of a denomination can (and should) encourage their seminaries to place a greater focus on church planting—even when that is not where seminaries would naturally lean.
We value who we are-- most seminaries are led by theologians, rather than missionaries, so they tend to lean that way in seminary programs. Denominations can help exhort seminaries to make space and place for church planting emphases as well.
As church planting has replaced mass evangelism as the most popular evangelistic strategy in North America, seminaries could promote multiplication within required evangelism courses. In this way, every student would be exposed to church planting as a popular, effective evangelism strategy. Mission courses could include one session on North American planting.
There are many options-- if the willingness is there.
One difficulty in leveraging seminaries to promote church planting is that most of the people teaching in seminaries do not have experience planting churches or serving on the mission field. One strategy to remedy this would be to get a church planter to come in and work with the missions and/or evangelism professors. Professors could set aside a day in class to interview the church planter and let him field any questions students may have.
While church planting may not work as a required course, it could definitely be offered as an elective. When I was a seminary professor, I taught a church planting course every semester. I brought in people to talk about church planting—people the students really wanted to hear. Having dynamic, passionate and effective individuals promote church planting proved to be fruitful.
Establishing a church planting and multiplication emphasis week
Because often times the seminaries cannot simply eliminate one class and add a church planting course in its place, they could have a week dedicated to church planting to help advance church multiplication. Use chapel services to highlight church planters, successful plants, and other real-world manifestations of a Church Multiplication Movement.
The seminary can play a strategic role to form and inform students with the vision to multiply God's Kingdom through the local church.
During those days, related classes could take one hour to present information about church multiplication and church planting, as well as opportunities for students to get involved-- both during their time on campus and after graduation.
Denomination and movement leaders could also provide church planting resources for professors. They can serve as the conduit to connect instructors with local church planters who can have a presence on campus during the emphasis week and beyond. With on-site resources and readily available planters, seminaries will spark a greater interest in church multiplication among their students.
After graduation, students will take their seminary-endowed passion for church multiplication to the established churches they will pastor and various ministries in which they will serve. Some may even decide to become a church planter themselves, or even lead their church to become a sponsoring or planting congregation.
The right role for seminaries
It is not the job of the seminary to create the right elements for a Church Multiplication Movement. But, the seminary can play a strategic role to form and inform students with the vision to multiply God's Kingdom through the local church.
Movement leaders and seminary leaders can partner together in training and creating a church planting ethos and praying for a multiplication movement to erupt.