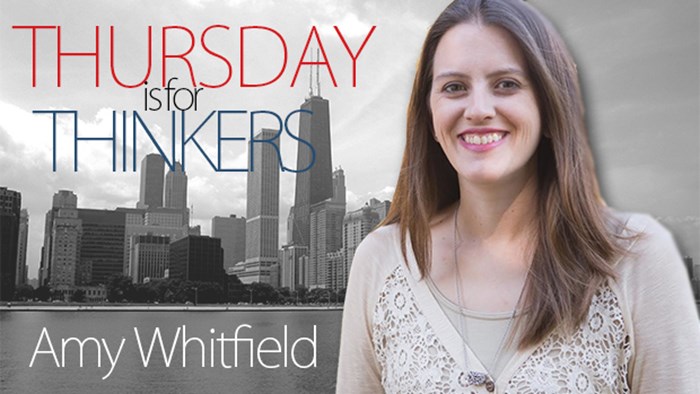 When I entered freshman year at a women's liberal arts college, I heard a great deal about the benefits of single-gender education for females. One piece of evidence was interesting. We were told that in a classroom with both men and women, the men were statistically quicker to respond, and therefore the women did not get as much opportunity to interact in class. This advanced the idea that in our particular classrooms we would be freer to participate.
I never heard the source of that data, and had no proof that it was true. But it had an effect on all of us. First, it settled us in our environment and made us glad to be there. But second, it empowered us to speak. Perhaps it freed us from feeling we had to fight for the floor, but it also gave confidence that the thoughts within us were worth verbalizing. From day one I hit the ground running to jump in and make my ideas known. But I quickly learned a lesson.
Just because speech was empowered did not mean inarticulate or ungracious speech was welcome.
Just because speech was empowered did not mean inarticulate or ungracious speech was welcome. If I spoke up in class without adequate preparation, without clarity, or without kindness, my professors would quickly shut me down. I suppose I could have responded by withdrawing, but in small seminar-style classes that wasn't an option. Even as I maintained my views, I had to learn how to be articulate and respect my conversation partners— listening to them and responding with grace.
This is a lesson I return to time and again, particularly in a new day where conversation happens in a form I never imagined. Social media has changed everything—it is a two-sided coin, capable of beauty and horror.
Social Media and the "Speaker's Corner"
Social media has taken the concept of the famous "Speaker's Corner" in Hyde Park and expanded it to a world-sized stage. It has leveled the playing field. We all have a platform and a microphone, a chance to throw our ideas against the same wall with everyone else. We can speak without thinking with very little consequence.
What I am saying is not new. Many are noticing our latent incivility exposed by vehicles like Twitter and Facebook. There is much to consider about where this comes from, but I think one particular trend brings insight.
Social media has changed everything—it is a two-sided coin, capable of beauty and horror.
The Fear of Missing Out
An interesting phenomenon in this age is the "fear of missing out." It's been talked about so much lately that it has its own acronym— FOMO. Mostly, this is ascribed to feelings of jealousy over the perceived bliss of others, something seen in a one-second, seemingly perfect Instagram (that actually exists within an otherwise average day). But I think the "fear of missing out" goes beyond feelings and can lead us to regrettable action.
FOMO has extended to sharing one's opinion, and the concern that a conversation might pass us by. If we don't speak up, we may be forgotten, right? Like children on the playground who find it easier to join the crowd than to ignore it, we fear being obsolete more than we fear the mouth overflowing the heart's sin. When we don't have to fight for the floor, we find it easier to join the crowd. Like sharks in the water we can't resist the circles that form— we're so afraid to miss out on the fun that we have forgotten the alternative of being slow to speak.
This happens in many ways, but the two that are most concerning are knee-jerk criticism and mockery. Don't get me wrong—criticism can be appropriate at times, and even necessary for rightly dividing the word of truth. But when we call people out publicly, sometimes without all the facts, we take a risk. There is nothing noble about not listening to the full story or not having the patience to use a medium that allows for more than 140 characters. It takes work to speak clearly, but given the discussions we are having these days, the work is necessary.
We live in challenging days to be sure. The times for tough conversations are here. But we don't have the luxury of speaking without nuance and care for others. In the end, we may well conclude that we wholeheartedly disagree with others on fundamental issues of orthodoxy. But it is imperative that we not be so quick to take it upon ourselves to divide the sheep from the goats that we forget shepherding—not butchering—is the biblical metaphor for care.
When we call people out publicly, sometimes without all the facts, we take a risk.
Priscilla and Aquila could have rejected Apollos outright, pointing fingers and calling for the body to abandon him en masse. Instead, they patiently bore with him, guiding him with careful explanation.
Of even greater concern is mockery through which some of the darkest parts of our beings come out. I remember a time when I encountered a presentation from a Christian that had nothing with which I disagreed, but the presentation itself left something to be desired. We didn't differ on truth, but rather on style. I looked at my phone and the Twitter stream was filled with jokes and sarcasm. My first instinct was to join in, because I wanted to be noticed; I wanted to be funny. Just like the desire to be part of a clique in high school, I wanted "the cool kids" to like me. And then, before I could type anything, one thought crept into the back of my mind: "What if this person looks at this stream? They will see fellow believers making fun, minimizing and maligning their offering, and I will be among the scornful." I realized where my heart had gone, and I quickly put my phone down. I was disheartened and convicted that I had wanted to join the chatter. Sometimes I think we are so eager to be a part of something, to be accepted, that we will unite around our shared meanness without even seeing what we have done.
In a day when the pressure tightens with each moment, we should be ready to grapple with questions and answer with clarity. Graciousness and care with our language isn't just required when engaging the lost. It's also required when talking with each other and living out our faith. And it is certainly required when we find in our own hearts the desire to win favor at an innocent person's expense.
The gospel has freed us to love, and the stakes are high. Every word counts. The fear of missing out may make it easy to assemble a crowd, but angry mobs do not become us.
The Exchange is a part of CT's Blog Forum. Support the work of CT. Subscribe and get one year free.
The views of the blogger do not necessarily reflect those of Christianity Today.