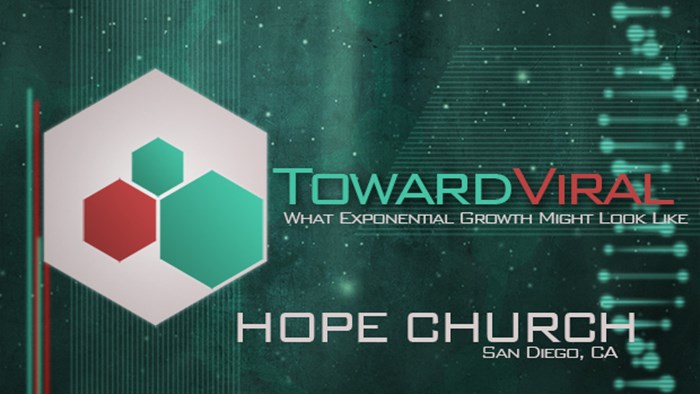 Hope Church San Diego has planted five churches to date—three in 2012 and two in 2014. Two of the five are Spanish-speaking churches.
Their church planting strategy is to see urban, multi-ethnic churches thrive in neighborhood contexts. Hope Church is committed to a network-style planting strategy that has no "main campus." Each of their churches seeks to fit within their respective neighborhoods both in size and make-up, with attendance around 200 members each.
Hope Church sacrifices financially in a couple ways. First, they are committed to a low-cost, sustainable model that can be replicated almost anywhere (no large buildings or numerous staff). They also assist new plants by handling administrative tasks like budgeting and payroll at one of their campuses for the first few years, relieving newer churches of the need for administrative staff. Hope Church has also blessed new plants with gifts of up to $10,000 to help with start-up costs.
Hope Church sacrifices of their time to see leadership staff equipped through focused mentoring. They also sacrifice their pride (and clout, you might say) by making no hierarchical distinctions between full-time, part-time, and volunteer staff. All are equal and worthy to be poured into.
They do not send large amounts of members to new church plants. In some sense, they cannot because there is no large, main campus from which to send (remember, each is ~200 members). Although, they do encourage members who live in a new plant area to be involved. So, Hope Church would normally only lose about a dozen members to a new plant.
Hope Church's original (or, central) campus has, in the past, sacrificed of its vision for the sake of its new plants. That is to say, they spent large amounts of energy, time, and vision casting for new churches while neglecting their own. However, they see that as an error and have since corrected the practice.
They have church planters on deck, preparing to plant two more churches in 2015 and one in 2016. Hope Church feels that its strategy is reaching full-stride and that they may have the opportunity to plant as many as 50 churches in the greater San Diego area in the coming years (averaging three or four per year).
The Exchange is a part of CT's Blog Forum. Support the work of CT. Subscribe and get one year free.
The views of the blogger do not necessarily reflect those of Christianity Today.