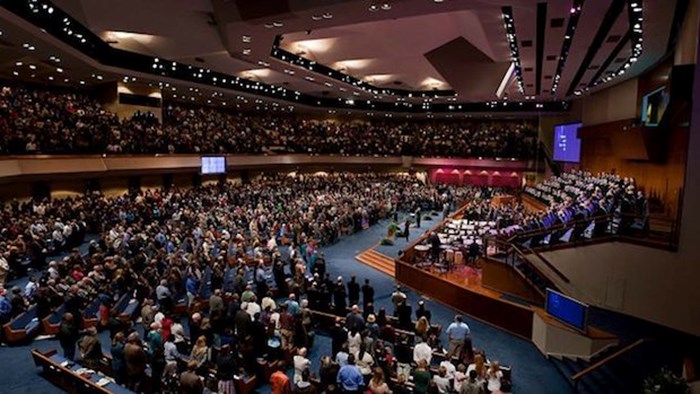 Image: FBCJax / Wikimedia
Some people are passionate about the debate between megachurches or house churches. This can be good, but passionate people tend to be enthusiastic to the point that they can exaggerate their position—even when research and data do not back up their claims.
For example, some assert that people are leaving megachurches in droves and are headed toward house churches en masse.
Statistically, there is no real evidence of that.
I was recently asked about house church critiques of the megachurch, recorded what I said, and my team turned it into this brief (and narrowly-focused) article.
So, let me share some thoughts on how that conversation might be made better—from a friendly outsider's perspective.
House Churches Matter
I'm a house church encourager, want more of them, and want to make space for this newly engaged expression of church and mission.
But, is the house church movement the new trend?
Well, no, it's not.
In fact, the biggest movement in U.S. evangelical Christianity, as far as a statistical trend, is towards contemporary, non-denominational large churches. Though many may not like it, that's the biggest trend (not to house churches, not to liturgical churches, etc.). You may hate large contemporary churches, but you can't make up a whole new set of facts because you don't like them.
In the United States, about every 10 years the number of megachurches doubles. It's not just growing—it's been doubling. Multisite interest is making that even more possible and even more rapid.
Good or bad, it is true. I want many more house churches, and will advocate for them, but want us to be factual in our debate.
While we should avoid unsubstantiated opinions, there are perfectly healthy and helpful ways in which you can advocate different approaches to church and mission.
So, other than saying that megachurches are dying and house churches are booming, is there a better way?
House churches matter, and how we encourage people toward them matters as well.
1. Be Passionate
People who are passionate about the way they do church are great for the kingdom. I want house church proponents to think their way is the best way because then they'll go out and work like crazy to plant house churches that reach lost people with the gospel.
I'm for passion—even if it criticizes (fairly) those with different views. (There are many REAL and important criticisms of the megachurch approach. I'm just trying to frame how house churches might promote the approach without misusing facts.)
So, house church—and, I will add, small churches though this is not my main focus here—critique the large church. Just do it graciously, speaking of them as a partner in the gospel. Show a better way. Show it with life change, conversions, kingdom work, and more.
People who are passionate about the way they do church are great for the kingdom.
In other words, passion is helpful, but over-exaggerated claims about a particular church style's reach, influence, and number are not. Mean spirited criticism and questions of motives don't help.
Large, contemporary churches ARE the largest trend right now.
Unfortunately, some prominent proponents of the house church movement have made some really unhelpful, over-inflated claims that completely collapsed under the scrutiny of research. (Now, I am not talking about the mainstream leaders—just some fringe voices I have seen lately and I thought needed response.)
But, I don't think anyone will be involved in house churches if people are not passionate—just be passionate with honesty and integrity.
2. Keep Planting the Kind of Churches God is Calling You To
We need members and leaders of every church style to focus on Christ and reaching the lost.
I desperately want a booming house church movement to exist. I'm all for them. I want those people who are in house church contexts to plant more house churches.
Push out away from the establishment. Break down the unbiblical clergy barriers.
If I were a denominational leader, I would make sure I had some "eggs" in the house church "basket" (though I think they generally thrive outside of the system). I would continuously be developing leaders who can teach, train, and multiply non-vocational missional leaders within house churches. Denominations and networks need to be empowering and encouraging house and organic church movements in cities, rural areas, and everywhere else.
We need more, not less, organic churches!
The impact of house churches in the Western world is just not as great as it is in China or many other parts of the world. Making claims contrary to fact don't encourage engagement, they undermine the case. There is not a major house church movement here in the West, but that does not mean it cannot be an important aspect of church planting here. Furthermore, they can, perhaps, take off in the future.
While house churches are currently being planted, calling this the next big movement in Christianity is just missiologically premature. By overstating the current growth and impact of house churches those who are passionate about this style of fellowship hurt their cause.
3. Share the Goal of Kingdom Growth
If leaders are not cautious, house church expressions can become a confluence of disgruntled former members of evangelical megachurches. That's not what we want—that's not what house church leaders want. Focusing on what was wrong with the institutional churches will limit the influence of a house church—we need to celebrate sister churches with methodological diversity where God is at work.
Here is what I shared about the subject with the Vinyeard national magazine a few years ago:
[W]hat does it look like as methodological diversity increases? There will be Vineyard church plants that are planted similarly to how Johnny Crist planted the Atlanta Vineyard. However, my guess is that there will be communities of faith, house-church-like congregations, that are spread out over areas, not unlike the Nashville Vineyard. So, how can a network that was birthed by planting large, Spirit-filled, multiplying churches expand and embrace new expressions?

Therefore, I think it will be necessary for the Vineyard's future to have a common theological belief with a diverse methodological expression. That expression will include house churches, missional incarnational communities, multi-site megachurches, and different expressions in between.
Kingdom growth will result when house church advocates (and large church advocates) are more passionate about the gospel, the mission, and the community and less about tearing down those of a different type.
God uses the house church to impact China and the megachurch to impact Korea. We need to hold our models loosely, Jesus firmly, and speak honestly about one another.
The Exchange is a part of CT's Blog Forum. Support the work of CT. Subscribe and get one year free.
The views of the blogger do not necessarily reflect those of Christianity Today.