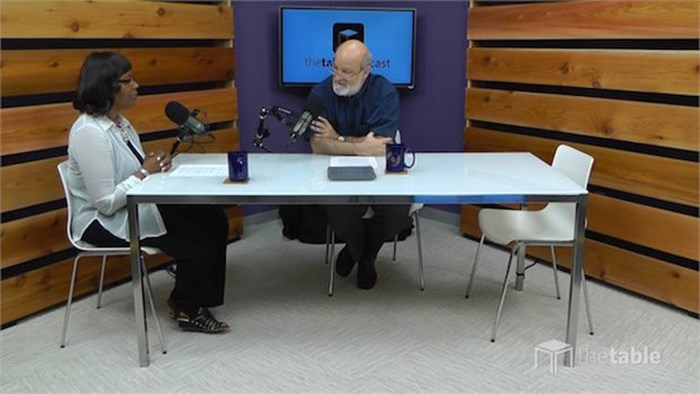 Ed Stetzer: You often talk about tone and culture. Why is that so important?
Darrell Bock: We are convinced that the mission of the church is to take the gospel into the world. That ultimately involves extending an invitation to consider what God has done and is doing through Jesus Christ in the face of also challenging people about the way they live. This tension between invitation and challenge means that even when you disagree with how someone sees things or how he or she is living, your ultimate goal is to extend to them a hand and invite them to consider seriously the grace of God.
The mission of the church is to take the gospel into the world.
So we see, for example, Paul can be quite direct and saying what he dislikes about the world in a text like Romans 1:18-32, but when he addresses that culture directly in Acts 17, he is amazingly gracious when he invites them to consider Jesus while challenging their idols. Paul seems to have figured out that the best way to share the gospel is to be sure that the good news comes with an extended invitation even as one is asked to consider the direction of their lives. i am reminded of the passage in 2 Corinthians 5:20 that says, "We beg you on behalf of Christ, be reconciled to God." This verse, which comes in the midst of discussing the church's mission and our role in it as ambassadors for Christ, sets the tone for all cultural engagement.
This does not mean that there is no role for confrontation. However it does mean that that confrontation should never forget that the ultimate goal is to call people to consider entering into the grace of God. God's own style of engagement was to send His Son to die for those who stood opposed to Him. I think the church in its effort to fight the culture wars has forgotten that the goal is not to conquer in a beat them down kind of victory, but to win the person over who we are engaging. This means that our love for those we challenge should never be absent. We are appealing to people made in the image of God to reconnect with Him. That core goal should lead to a tone that knows how to challenge while extending the opportunity for invitation. In doing so we also need to be clear that people are accountable to their Creator. Nonetheless he is a Creator who has gone to great lengths to show that he cares. We are to model that combination, being sure to show that the grace of God welcomes a person who humbly acknowledges his or her need for what only God can provide.
ES: Angry voices tend to get attention more than winsome ones. Why is that and what can we do?
DB: It is all too easy for Christians to get frustrated or even angry with the way many people choose to approach life. But we must never forget where we have come from. All believers are beneficiaries of God's grace that drew us towards Him with the same needs that we now ask others to face up to and see. It is His grace that caused us to see life differently than we did before. It is God's love as seen through the cross that drew us to Him. It is the hope of a renewed life that motivates us and that process is ongoing in all of us until God finishes that task in glory. So we are still learning and growing and being corrected by a caring God. Our model seeks to focus on a grace that is both caring and shaping.
It is God's love as seen through the cross that drew us to Him.
If a goal of our mission is reconciliation, as the passage in 2 Corinthians 5 shows, then our actions and words need to work toward that goal. It is all too easy to fall into a kind of contentious tribalism in the way we interact and in the process lose sight of the goal that seeks to draw a person into thinking differently about God and life—to win them to a different worldview through a style of engagement that mirrors God's character. Luke 6:35-36 tells us to love those opposed to us and uses God's own example as our model.
This change in direction another is asked to make is rarely accomplished through anger, belittling, or sarcasm. It is done through caring, service, and communication of respect towards a fellow human being whose need matches what God can give, depending on God's Spirit to bring a change of heart. When a person knows I care about him or her, then I am in a better place to confront what needs attention.
ES: How did the ideas of a supportive podcast get started? Why the name the Table?
DB: The origins of our podcast go back to Steve Jobs in the day he announced the iPod. I was in Germany listening to his announcement and immediately wrote to our administration that we should use the Internet to update people on current issues. We started a series of rather random podcasts. At a meeting of alumni in South Africa at the third Lausanne conference, Mark Bailey, our President, and I heard from our alumni that they loved these podcasts and found them very helpful.
It became clear that we needed to be more intentional and more consistent in our production of these discussions on key topics. The alumni made it clear that these podcasts were terrifically helpful in keeping them up-to-date. So in December 2012 we began a weekly 30 minute podcast designed to cover an array of topics from week to week. The topic areas include culture, sexuality, politics, other religions, theological issues, work and faith, college campus interviews, and issues tied to media and movies.
Our goal is to be real and to show that theology has relevance in every sphere of human activity.
We call the podcasts The Table because we see them as conversations where listeners are invited to the table to hear the topic treated by experts, hopefully asking questions they would ask if they were present. We have studiously avoided the attempt to have prearranged questions and answers. Those interviewed know they are coming to participate in a conversation and are having to respond as they would if they were sitting discussing these issues over lunch. That tone of conversation in the midst of life is important to our entire philosophy.

We have done over 75 hours of material in the last 2 1/2 years. And the response has been overwhelming in terms of people telling us how they have benefited from these podcasts. We have even had foundations send us checks of support saying simply they appreciate what we are doing. I take that as a positive recommendation.
ES: Explain the array of topics you cover and why you've taken on such a wide range of subjects.
DB: Well, our topics do run the gamut. We have discussed everything from the Ancient Near Eastern background to the early chapters of Genesis all the way to issues involving same-sex marriage, human trafficking as well as domestic abuse. We have looked at hospital chaplaincy as well as ministry to our servicemen and women around the world. We have covered other religions with a special focus on Islam. We have looked at the new atheism as well as explaining how Protestants and Catholics differ in doing theology. Our podcasts are designed to reflect the array of issues one encounters in life.
Our goal is to be real and to show that theology has relevance in every sphere of human activity. I like to say that seminaries often teach leaders to go from the Bible to life, but most people, when they come to Scripture or think about theology, go at it by starting with life and then looking at what the Bible has to say about it. The podcasts are sensitive to this kind of switch hitting with the Bible. Our hope is to model how reflection about life, God, and scripture go together. We are especially concerned to focus on the difficulties of life in a fallen world and to face up to the tensions and possibilities this life has.
Each Tuesday we release a new podcast that runs for about 30 minutes. We think people can listen as they commute to and from work. What they will hear involves discussions of issues they face and reflection on how to engage those topics from a Christian point of view.
ES: Tell us about what you are doing at the Hendricks Center for Christian Leadership and Cultural Engagement to help with that.
DB: A core goal of our podcasts involves discussing controversial topics with the tone that models the way those conversations should go theologically and yet faces up to the relational and emotional complexities that often come with challenging people in a fallen and broken world. So, for example, we take a frank look at sexuality and how it has gone wrong in our culture while holding out hope for a better way of relating to one another than simply what people think feels good.
Our goal is to consider the choices people face and the tensions life in a fallen world raises, to discuss the difficult situations in life people encounter or have thrust upon them. We want them to be better prepared for what they are facing. We ask how scripture helps us to see better so we can negotiate our way through the maze of choices, emotions, and perspectives life often offers. Our podcasts are designed to help people engage better and reflect more about the choices they have. We want them to consider how God can be more honored by the way they carry out that engagement.
ES: What is your hope?
DB: Our hope is that people will find our podcasts beneficial as they reflect on an array of issues at the center of life. We hope people will listen to them individually, that pastors and other church and lay leaders will benefit from the updated discussions they represent, and that small groups might find them useful for their own collective reflection. If we can help people engage better then we will have achieved our major goal.
We are so committed to these goals that we offer the podcasts at no charge. It is a way of seeking to serve the community God has called us to encourage. In that we hope to model what it is we are teaching- God's grace for those made in his image. So let me invite you to The Table with the hope that the conversations you find there will enrich your own spiritual journey. You can find us at www.dts.edu/thetable. We hope you can join us in the conversation.
Click here to download The Table podcast on iTunes.
The Exchange is a part of CT's Blog Forum. Support the work of CT. Subscribe and get one year free.
The views of the blogger do not necessarily reflect those of Christianity Today.