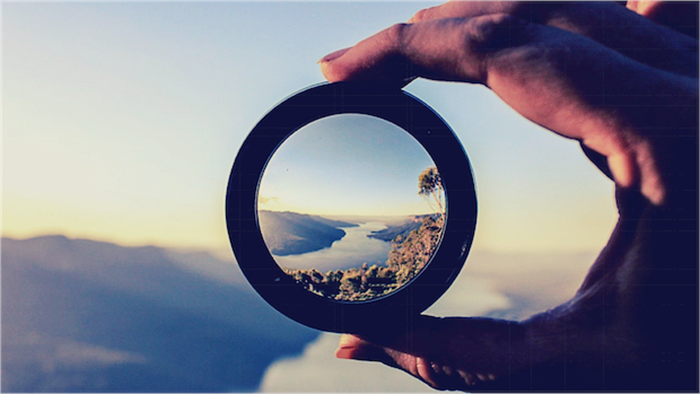 Vision is an odd thing.
Some Christian leaders find vision to be elusive. Others have great ideas about vision but are unable to apply them. And then there are leaders who think vision isn't important as long as they are faithful and work hard at ministry.
Vision isn't something I was taught in seminary, but after 30 years of vocational ministry I have found it to be essential in the church. Vision matters deeply. The right vision can transform the life of a church. However, vision may be one of the most neglected areas in the local church.
That said, I don't think vision is the answer to everything.
If you don't have a church that focuses on the gospel, values scripture, or follows Jesus and relies on the power of the Holy Spirit, you can have a compelling vision that takes you to the wrong location. But on more than one occasion, I have seen the difference between two churches filled with people who love Jesus, one that has caught and held the vision and the other that has not.
Casting vision is one thing, but vision without the ability to back it up ultimately becomes a pipe dream. When vision is correctly applied to a church body and is undergirded by biblical values, integrity, and authenticity, it becomes a powerful motivator to mobilize people and ultimately to change the world.
Shawn Lovejoy has identified one of the biggest challenges any leader faces: how to gather people around a vision and stay true to that vision. I met Shawn over a decade ago. We visited with one another, shared common friends, and grew a friendship as we served in the same town. Shawn loves Jesus, his family, and the church. He has a passion for leading people closer to God and then sending them out to live on mission every day. He genuinely cares for people. I'd go as far to say that there's not a mean bone in his body. Although, Shawn might disagree with me and say there's at least one mean bone. As he often says: "You should be mean about one thing; be mean about the vision."
I've quoted Shawn about this on more than one occasion. But as I began to observe Shawn, I noticed his meanness wasn't meanness in the sense of being unkind. It was simply firmness, and his firmness was essential to his success of growing a great church and mobilizing a people for a great purpose.
You see, that's what vision does. Vision gathers people together for a common purpose so they might be focused on something greater than themselves. Vision is essential in so many areas of life. In business, CEOs cast vision around a product or resource to bring satisfaction to the customer and profit to the business. In government, politicians cast a vision for a better tomorrow around themes of change and hope. In the military, generals rally their troops with a vision of victory. In all of these places, resources, tools, and training exist to help leaders more effectively cast that vision. Yet, those same resources are often lacking in the church.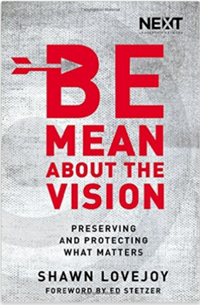 Shawn's book Be Mean about the Vision helps remedy that situation. In it, you'll be encouraged
Every church member and staff who comes through your doors has a vision for your church. Those visions aren't all bad. And as your church grows and leadership multiplies, the vision will become more collaborative and shared across a large organization. But the reality is leaders cast vision. You should be equipped to not only develop and articulate a vision for your church, but also to hold fast to that vision.
When we look at Exodus 18, probably the most famous passage on leadership in the Bible, certain things were delegated to the leaders of tens, fifties, hundreds, and thousands, but the teaching and the direction stayed in the hands of Moses.
Shawn points us to a model of leadership that calls us to cast a compelling vision, evaluate and modify as necessary, to guard that vision against those who might hijack it, and lead people forward in that vision. It is a challenge to recognize that as leaders God has gifted us not only with a role but with a responsibility—to be mean about the vision.
The Exchange is a part of CT's Blog Forum. Support the work of CT. Subscribe and get one year free.
The views of the blogger do not necessarily reflect those of Christianity Today.