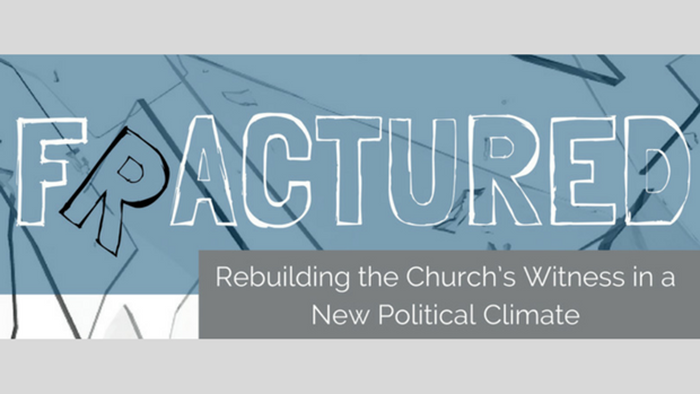 Laurie Nichols
In my neighborhood is a sign that reads, "No matter where you come from, we are glad you are our neighbor." It's a simple sign that does two important things.
First, it speaks a message of love and acceptance.
Second, it is directed at the receiver.
You see, it's in multiple languages.
It's been several months since the Presidential elections concluded here in the U.S., and in a little over a week we will see our new President inaugurated. Over 80% of White Evangelicals voted for our now President-elect, Donald Trump. And a wedge which already existed among Evangelicals grew wider. It's a wedge that separates Anglos from People of Color, for exampe, inside the Church. (Then, there's the wedge between Evangelicals and the broader culture, also made more evident in this election.)
Regardless of how you voted, we can all acknowledge that many churches now have a witness problem. How do we recover from both the external daggers being thrown our way from the secular world, and the internal daggers severing us from within? (See the end of this post for an important event I am hosting and leading on January 24 surrounding these kinds of questions.)
I think it's time for all of us to revisit what it means to hold to a Christian worldview that primarily embraces two things: the Great Commandment and the Great Commission. To be clear, this is a worldview that holds to God as Creator, Redeemer, Restorer, and Holder of all things. This is Colossian 1:16-18.
But it is also a worldview that cannot divorce itself from what this very God called us to: the Great Commission.
This kind of Christian worldview (and let me be clear, I think it's the only kind), which holds in one hand the Great Commandment and in the other the Great Commission, cares little about self-preservation and promotion. Instead, it embraces a love of God and a love of others above even ourselves (Phil. 2:3-4).
It models Christ.
The sign in my neighborhood is a reminder of how simple and yet how difficult the Great Commission is. Simple in that sure, we just love people. Difficult in that we must devote our lives to figuring out how best to love people.
And what does it mean to love people?
The Great Commission reminds us that truly caring for others means sacrificing time and resources. Go, therefore. It's a call to discipleship and evangelism. John Wesley once said, "Do all the good that you can, by all the means you can, in all the ways you can, in all the places you can, at all the times you can, to all the people you can, as long as ever you can."
So where do we begin if we are to develop a Christian worldview that embraces this kind of love?
First, we must look at our own lives through the mirror of scripture.
We read God's word and ask the hard questions: Is this me? Am I being obedient? What's my temperature in terms of worship, community, outreach?
We take the time needed to reflect on our thoughts, our deeds, and our words. We assess how much time we invest in spending time with God and with non-Christians. We are honest about how committed we are to showing and sharing the love of Jesus in our lost world.
Perhaps you are familiar with the story of Maximilian Kolbe, a Jew who converted to Christianity and ministered to those in the Nazi camps at Auschwitz.
In late July 1941, after several men escaped, the deputy camp commander chose ten prisoners to be killed in order to discourage prisoners from trying to flee. When the last man, Franciszek Gajowniczek, was chosen, crying out, "My wife! My children!" Kolbe stepped forward and offered to be killed in his place.
Just weeks earlier, Kolbe penned these words to his mother:
Dear Mama, at the end of the month of May I was transferred to the camp of Auschwitz. Everything is well in my regard. Be tranquil about me and about my health, because the good God is everywhere and provides for everything with love…
Kolbe was taken away, starved to near death, and was finally killed by lethal injection. He was 47.
Kolbe was often called the "Christ of Auschwitz" by those who knew him. Gajowniczek later recalled this about having Kolbe take his place to die:
I could only thank him with my eyes. I was stunned and could hardly grasp what was going on. The immensity of it: I, the condemned, am to live and someone else willingly and voluntarily offers his life for me—a stranger … It was the first and the last time that such an incident happened in the whole history of Auschwitz. For a long time I felt remorse when I thought of Maximilian. By allowing myself to be saved, I had signed his death warrant. But now, on reflection, I understood that a man like him could not have done otherwise.
Why do I tell this story? Because the Christian worldview that we must recapture is one that cannot help but sacrificially love and care for others. It holds our worship of God as the highest calling, but just behind it is Christ's command to go into the world in a posture of love. A quick review of 1 Corinthians 13:4-7 might be helpful:
Love is patient, love is kind. It does not envy, it does not boast, it is not proud. It does not dishonor others, it is not self-seeking, it is not easily angered, it keeps no record of wrongs. Love does not delight in evil but rejoices with the truth. It always protects, always trusts, always hopes, always perseveres.
In short, love is a consistent outpouring of honor to others and sacrifice of ourselves for the good of the world and the glory of God. Love always takes steps forward to gather into the fold all those who have been physically, emotionally, socially, or spiritually alienated or harmed in whatever way.
It's like I said, love is so simple, and yet so hard. It compels us to reach out to the stranger, the foreigner, the wanderer, the nobody. It compels us to show the love of Jesus in ways that demonstrate we care for them. It beckons us to share the love of Jesus as though our very lives depend on it.
It's time to stop long enough for all of us who call ourselves followers of Christ to assess our lives. Our witness depends on it. In Part 2, I will talk about the critical role of evangelism in a Christian worldview.
Ed Stetzer holds the Billy Graham Distinguished Chair of Church, Mission, and Evangelism at Wheaton College, is Executive Director of the Billy Graham Center for Evangelism, and publishes church leadership resources through Mission Group.
Laurie Nichols is the Director of Communications for the Billy Graham Center for Evangelism at Wheaton College.