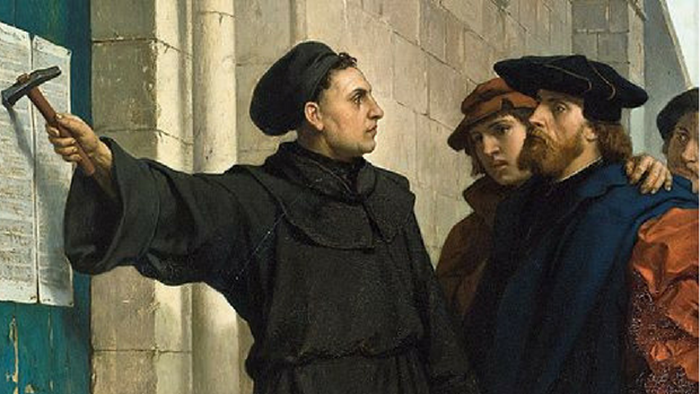 I grew up in Minneapolis, Minnesota, in the Scandinavian Lutheran tradition on a steady diet of hot dish, sola fides, and Davey and Goliath TV episodes. From my Lake Wobegon perspective, the Protestant world did not extend much beyond Iowa. Today, I am on sabbatical in Chiang Mai, Thailand, where Buddhists abound and Lutherans are difficult to find. Yet, in a real sense, I am probably closer than ever to the Protestant movement.
This year, Protestants around the world are celebrating 500 years of history, starting from Martin Luther's 95 theses on the door of Wittenberg Church in October 1517. While there is indeed much to celebrate, Protestants are also penitent over Luther's inexcusable tirade against the Jews and subsequent history of anti-Semitism that still plagues many Protestant churches. One of my hopes and prayers in this celebratory year is that we will stand in solidarity with Jews and fight for freedom for all religious and nonreligious communities around the world.
Although for several centuries the Protestant movement was based in Europe, then North America, it eventually expanded out of its Western homelands until it spread all over the world. Today, different types of churches exist within Protestantism, including Anglican, Baptist, Brethren, Churches of Christ, Congregational, Disciples, Evangelical, Friends (Quakers), Lutheran, Mennonite, Methodist, Moravian, Pentecostal, and Reformed/Presbyterian.
The Center for the Study of Global Christianity's research, found on the infographic, shows that there are 560 million Protestants in 2017, in nearly every country. Two major movements within Christianity, Evangelicalism and Pentecostalism, overlap with Protestantism (as shown in the last diagram in the infographic).
The infographic also shows the continental distribution of Protestants, including Anglicans, from 1600 to 2015. Nearly all Protestants were European in 1600, but by 2017 the European share had dropped to 16%. By 2050, it is expected that less than 10% of Protestants will be European. African Protestants were only 1.7% of all Protestants in 1900—and these mostly Europeans in South Africa—but in 2017 they represent 41% of the global total and are projected to reach 53% by 2050. That is, sometime around 2040 half of all Protestants will live in Africa.
In light of this fact, I find the relative absence of Africans speaking at the numerous 500th anniversary conferences troubling.
Nonetheless, these figures reflect the shift of the Protestant center of gravity from the North Atlantic Ocean in 1910 to western Africa in 2010. The United States still has by far the most Protestants (56 million), but Nigeria (53 million) and Brazil (35 million) have passed Britain (down to 29 million) and Germany (down to 25 million). The remaining countries in the top ten are in Africa (two) or Asia (three). Over the past century, Africa and Asia have seen the fastest growth of Protestants. Rwanda, Burundi, and Cote D'Ivoire top the list. In the past decade, Sao Tome & Principe, Bhutan, and Niger show the fastest growth.
Worldwide, Protestants numbered 133 million in 1900, nearly doubled to 252 million by 1970, and then more than doubled again in size by the early 21st century, reaching 560 million in 2017. Protestants will likely number 626 million by 2025 and surpass 870 million by 2050. The largest Protestant "denominations" are still mixed between North and South. The TSPM in China and the Assemblies of God in Brazil top the list while the EKD in Germany and the Church of England in the UK are close behind. Note that Chinese house churches and large African Indigenous Churches are categorized by us as "Independent" (representing another 437 million Christians in 2017).
Here in Thailand, less than 1% of the population is Christian, and Protestants alone number about 450,000. A short time ago, my wife and I were invited to a Lahu Baptist Church here in Chiang Mai. Half of all Christians in Thailand are from hill tribes like the Lahu. We enjoyed the service but were puzzled that after 100 years of Christianity, the hymns were all translations of European and American songs—Martin Luther would frown on that. Nonetheless, these Protestants easily out-sang and out-prayed us.
That same Sunday, a Swedish delegation was also visiting the Lahu church. At lunch afterward, I was surprised to find myself sitting next to the former head of the World Evangelical Alliance Mission Commission, Bertil Eckstrom, a Swede who lives in Brazil. We caught up on events from around the world and it began to dawn on me that the two of us, supposedly "core" Protestants, were experiencing the future of our tradition.
Neither of us, American nor European, represented a typical Protestant—more likely my wife's Lahu students in Thailand or Bertil's Pentecostal friends from Brazil. We've come a long way from 16th-century German Lutherans or 19th-century American Baptists; surely, the next 500 years clearly belongs to Africans, Asians, Latin Americans, and Pacific Islanders.
The Exchange is a part of CT's Blog Forum. Support the work of CT. Subscribe and get one year free.
The views of the blogger do not necessarily reflect those of Christianity Today.