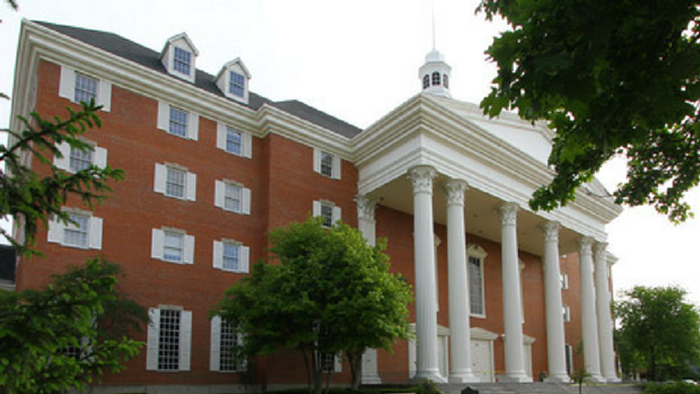 Among the many ministries housed in the Billy Graham Center is the graduate-level education of students from around the world. Some of the students attend in the traditional way, taking courses according to their individual schedule. One exciting addition to this traditional approach is the introduction of cohorts of students pursuing a master's degree in Evangelism and Leadership or Missional Church Movements.
You don't have to be in a cohort, and can come in as an individual student, but I wanted to explain our cohorts as we will be launching more of these in the days to come—maybe one with your ministry. (Email us at bgc[@]wheaton[.]edu and we will get you more info.)
These cohorts are designed to accommodate 15 to 25 students. Each cohort takes their classes as a group. The educational plan follows a three-year track in which the students complete much of their school work at home, where they are heavily involved in ministry or other occupations. The cohorts gather about three times per year to learn from our world-class professors and to dialogue about evangelistic practices and principles.
Over the summer, I took a few pictures and decided to make them into a post about partnership.
The photos below highlight two of our cohorts: Every Nation and Propel. The first photo shows Dr. Rick Richardson leading a class of students here at the Billy Graham Center. Rick is professor of evangelism and leadership at Wheaton College and the director of the master's in Evangelism and Leadership and the master's in Missional Church Movements degrees.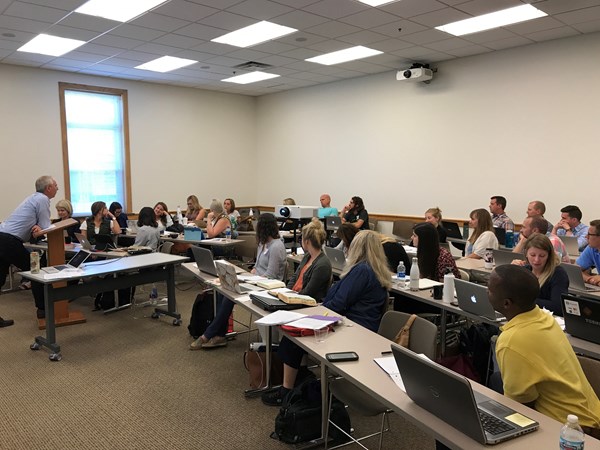 Before coming to Wheaton, Rick was the national coordinator and then associate director for evangelism with InterVarsity Christian Fellowship. He worked in campus ministry for 25 years, and regularly speaks and ministers as an evangelist on campuses in many different parts of the country. In addition, Rick is an ordained Anglican priest, and served for three years as pastor of evangelism and small groups for Church of the Resurrection in Wheaton, Illinois, a church known for its healing prayer ministry.
Rick has published numerous articles and five books. Evangelism Outside the Box: New Ways to Help People Experience the Good News has been well received, particularly in campus ministries and among emerging generation churches. It has also been widely used in seminary classes on evangelism.
Rick's latest book, Reimagining Evangelism, has been turned into a DVD-based curriculum. Rick has also published four Bible discussion guides for seekers and skeptics, a book on healing prayer, and a book co-written with Brenda Salter McNeil entitled The Heart of Racial Justice: How Soul Change Leads to Social Change.
Every Nation
Here is our cohort Every Nation. They are a global network, and this class had people from nine countries, with the largest group from the Philippines. This cohort has 22 members total. Here we are meeting at a home in Wheaton for fellowship and dialogue after a long day of classes.

Propel Women
We also have a cohort with Propel Women, which Christine Caine leads. These women leaders are actively engaged in ministry together as they lead a movement empowering women in biblical ways.
One of the unique advantages of the cohort approach to education is that it gives a common experience to a group that is pursuing community and ministry apart from their Wheaton education. This experience helps to build a team spirit as the members work to support one another while a part of our rigorous education. Here on my front porch (after dinner at my home), the founder of the Propel Women ministry, Christine Caine, is explaining her vision for the future of the ministry, part of which included her becoming a student in our Evangelism and Leadership master's degree.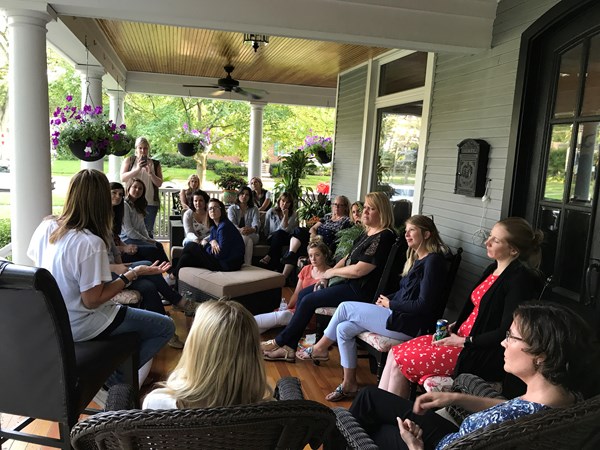 I'm here teaching our Every Nation cohort in one of our Billy Graham Center classrooms. We combine best practices in education with the most experienced faculty to bring growth in the mind and heart of each student.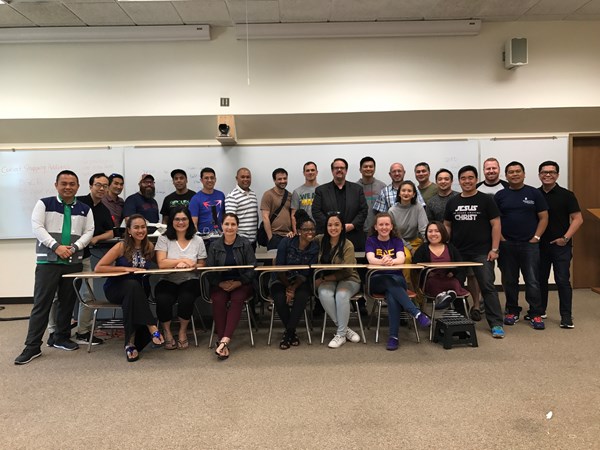 With groups that travel far (from 9 nations), like the Every Nation cohort, we like to give them a taste of the Midwest. Here we are at a July 4th parade. (The class met over that week.)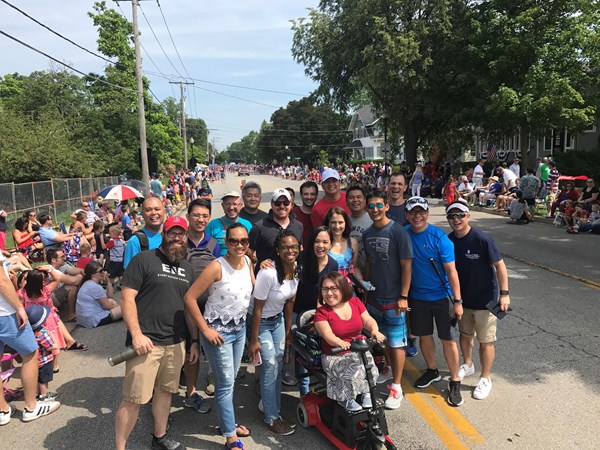 Our associate director of academic programs, Christina Walker, is orienting our students to the intensive week-long educational adventure. By the end of the week, students are exhausted, but full of inspiration and knowledge to move their ministries forward. By the end of the three years, the students will have a master's in Evangelism and Leadership.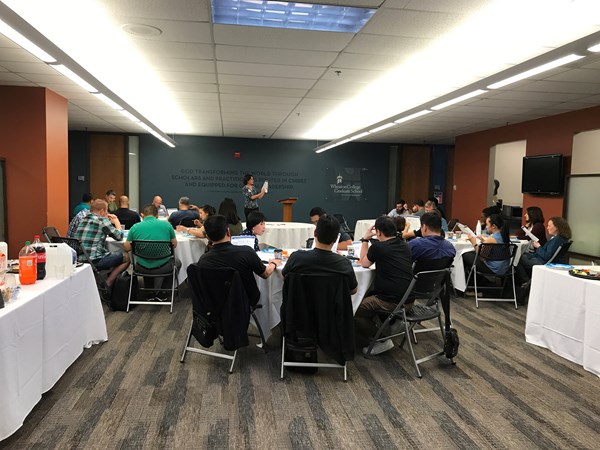 When they stay over the weekend, we bring the students to worship in a local church. Here we are at Moody Church in Chicago.
Before the service, the students stood with me behind the historic Moody pulpit. It has been an honor for me to serve as interim preaching pastor at The Moody Church for the past 12 months.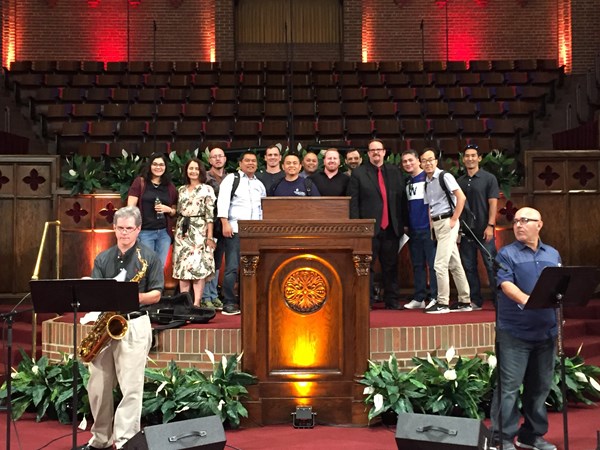 Perhaps you know of a group that might wish to invest in their leadership by pursuing a master's in Evangelism and Leadership at the Billy Graham Center. We'd like to welcome your cohort...as this sign welcomes Propel Women to an intensive week of study.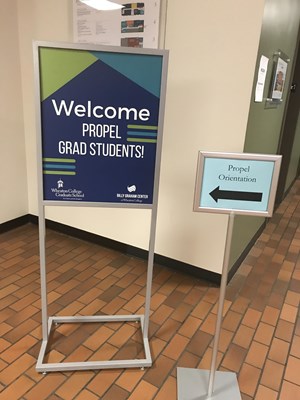 We will soon announce some partnerships in local churches as well, bringing church and academy together. And, if you'd like to be a part of a cohort, email us at bgc[@]wheaton[.]edu and we will get you more info.
Our academic programs have more than doubled this year, and if you'd like more information about the program in general, email us as well. We'd love to have you here.
Please pray for these people who are in the field of harvest and in the classroom becoming better equipped. As Jesus commanded us, "Ask the Lord of the harvest, therefore, to send out workers into his harvest field" (Matt. 9:38).
Ed Stetzer holds the Billy Graham Distinguished Chair of Church, Mission, and Evangelism at Wheaton College, is executive director of the Billy Graham Center, and publishes church leadership resources through Mission Group.
The Exchange is a part of CT's Blog Forum. Support the work of CT. Subscribe and get one year free.
The views of the blogger do not necessarily reflect those of Christianity Today.