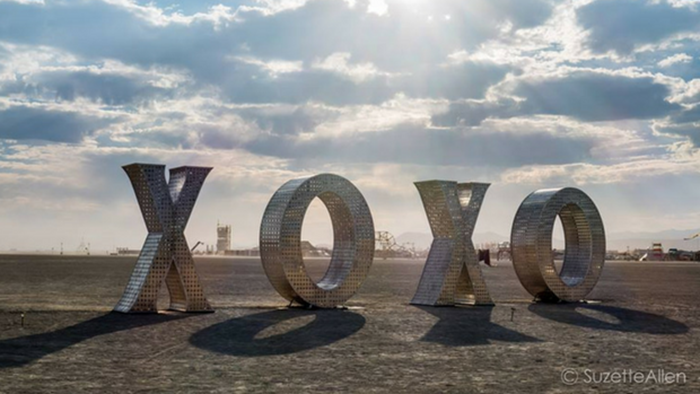 Burning Man is an annual festival that draws over 70,000 people to the desert of Black Rock City, Nevada, during the week leading up to Labor Day. One of the core values of this community is radical self-expression, which includes things like amazing creativity and artwork, but which also includes radical freedom in the areas of drugs, sexuality, etc. Although it could be easy to see this as a godless event, many of the people who go to Burning Man are searching for something to satisfy them spiritually.
Image: Photography by SuzetteAllen.com
I went to Burning Man this year with a group of Christians who simply wanted to offer the powerful love of God to people who don't know him yet. This year, like others, people at Burning Man were all over the map spiritually. But regardless of where they were coming from, we invited them to experience the love and goodness of God through our words of encouragement and the nuggets of truth that we shared. Our desire is that each person we talked with will eventually come to know the God who made them and loves them, even if for now we only get to be one piece of that process. Let me share three stories of my time there in the hopes that it would encourage all of us to play our own part in seeing others move closer to the God who loves them.
Loving Our Neighbors – Even If They're Satanists
It didn't take us long to figure out that our neighbors were part of a Satanist theme camp. I'm so thankful that I was with a group of Christians that walked both in great discernment and great boldness, knowing that all authority in heaven and on earth has been given to Jesus, and so we can go anywhere with confidence because of his presence (Matt. 28:18).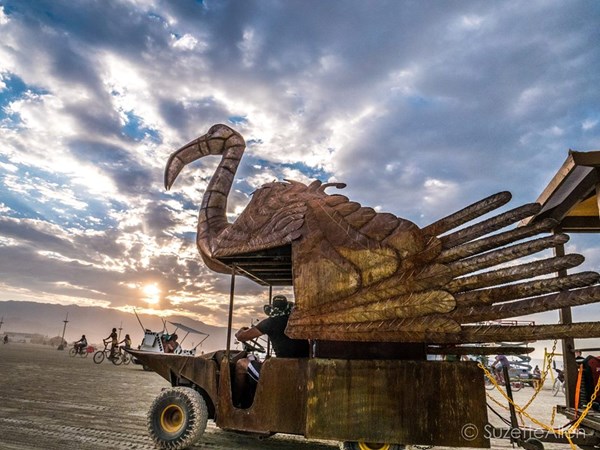 Image: Photography by SuzetteAllen.com
Although I'm sure there were committed Satanists in that camp, there were also some who camped there out of convenience. Jason*, one of the guys from the camp, ended up hanging out at our camp a lot throughout the week.
One morning, we were chatting and drinking coffee and I felt prompted to ask him what his middle name was. When I found out that his middle name was David, I told him that about two years ago I had prayed a crazy prayer for all the Davids in the world. I had prayed that they would all become men after God's own heart, just like King David was in the Bible, and live into the fullness of their destiny.
As I told him about King David, Jason explained that he had been in church as a kid, but had been turned off by several things. Through our conversation and the love and acceptance he experienced at our camp, we saw his walls begin to come down and he left very interested in reading the story of David in the Bible for himself.
Looking back, it would've been easy for us to write him off and assume that he wasn't interested in hearing about God's love for him simply because he was part of the Satanist camp. But the truth is that people are often open to experiencing the love and encouragement of God in some area of their lives, even if it doesn't look like it on the surface. Just as God looks past our outward appearances and sees our hearts, we too must cultivate spiritual eyes that can look past outward appearances and see people's hearts (1 Sam. 16:7).
Angel Wings in the Desert
One of the things I really loved about Burning Man was being able to wear crazy clothes and not be considered weird. Because one of the values of Burning Man is radical self-expression, people end up wearing outrageous costumes, nothing at all, and everything in between. This year, I wanted to dress up as an angel, so I bought my wings and halo on Amazon and took them with me to the desert. I wore them one day and enjoyed every minute.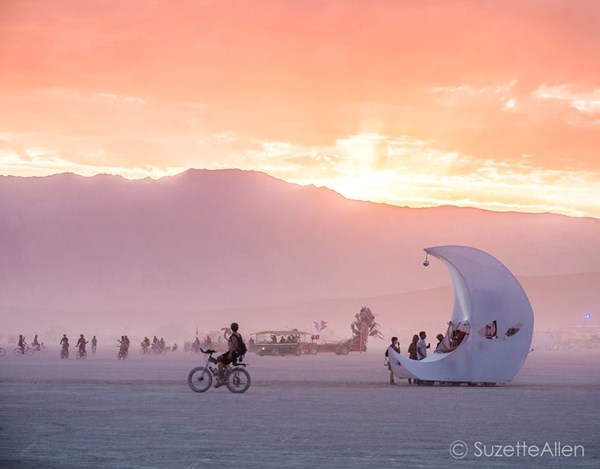 Image: Photography by SuzetteAllen.com
The next day, however, I was sharing prophetic encouragement with a woman in our tent. Out of her gratitude, she exclaimed, "You're an angel!" By the end of our conversation, I had given her my angel wings and halo, and I was reminding her that she is surrounded by angels and by God's love, even if she doesn't realize it yet. A day or two later, a different woman rode into our camp wearing the same set of angel wings and the same halo. She said a woman had given them to her and told her that she needed to come check out our theme camp. I was amazed!
It was so cool to see how God took my gift and used it to draw people to himself in ways I couldn't have predicted. It gave me so much joy to freely give away my wings to the first woman, but seeing them passed on to another only doubled my joy. Jesus explained that "it is more blessed to give than to receive" (Acts 20:35), and it really is! When we freely give what we have in a spirit of love and generosity, it's amazing how God can use it to soften people's hearts and open the way for their lives to be transformed by his truth.
Obedience & Oil Pastels
When I was packing for Burning Man, I was planning on bringing my old set of broken oil pastels. But I sensed God prompting me to bring my new set instead, so I did. The oil pastels stayed in my tent the first several days, and I began to wonder why I had brought them. Then, one day towards the end of the week, after we had finished doing ministry for the day, Stacy* walked into our camp.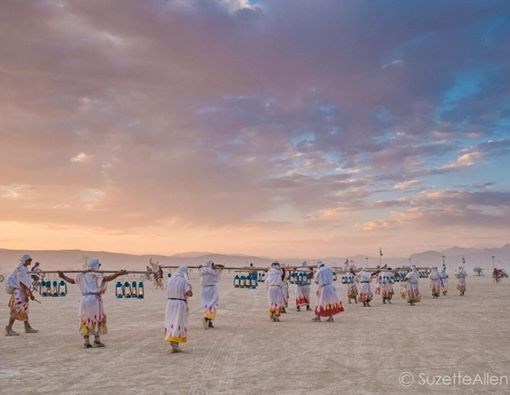 Image: Photography by SuzetteAllen.com
It wasn't long before we learned that she was going through a gender transition from being male to female. We listened to her for a while, and then I shared with her the encouragement that God had put in my heart for her.
With each word, I saw more and more beauty in her, and I felt the genuine love in my heart grow. She had mentioned that she enjoyed doing art, so I pulled out my set of oil pastels and some art paper. We ended up spending the next hour drawing together.
I was so thankful for my small step of obedience to bring the oil pastels with me. I was also humbled as God taught me to give love and acceptance freely, regardless of where the other person is at in his or her journey. In John 15:10-12, Jesus tells us, "If you keep my commands, you will remain in my love… My command is this: Love each other as I have loved you." As we freely offer our love to others, we walk in obedience to the command of Jesus, and we experience more of God's love in return.
May we all increasingly discover the joy of seeing God change the world through us as we walk in obedience to the promptings of his Spirit and the command of love! We won't be able to predict how God will work in and through us along the way, but we know it will lead us deeper into his love, and that alone makes it worth it!
Kerilee Van Schooten is the church evangelism research and ministries coordinator of the Billy Graham Center at Wheaton College. With a master's degree in Evangelism & Leadership from Wheaton College, she is passionate about encouraging and equipping people in evangelism. She also enjoys cultivating her creativity by writing poetry as an expression of her faith.
(*names have been changed)
The Exchange is a part of CT's Blog Forum. Support the work of CT. Subscribe and get one year free.
The views of the blogger do not necessarily reflect those of Christianity Today.