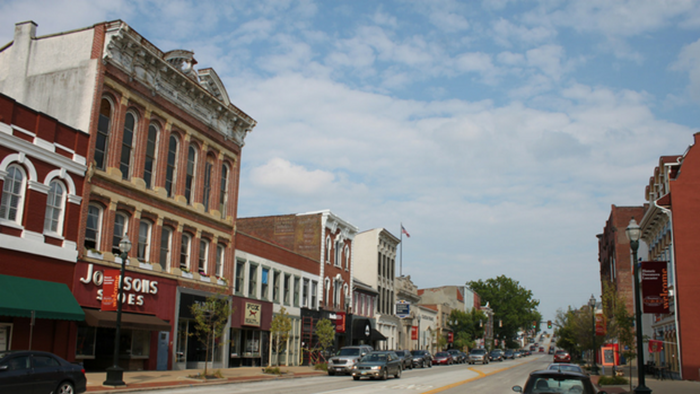 "Is Vineyard committed to planting churches in small town America?" Five years later, I still can't believe I asked the question. It was directed to Michael Gatlin, national coordinator of Multiply Vineyard, Vineyard's church planting arm. The occasion was the Q&A session at our first Small Town USA conference. We had only met once before this conference. I braced for his answer and he answered in classic Gatlin style: "I thought we were supposed to go where the humans are. If there are humans in small towns, then they need churches. And if there are humans in metro areas, then we need to plant there."
Go where the humans are. That answer has propelled us these past five years. So what have we learned?
Planters are hungry for someone to talk about small town planting.
Over the past five years, the Small Town USA team has written scores of blog articles, produced 4-6 webinars annually, and led seminars in places as diverse as Mechanic Falls, Maine; Tomahawk, Wisconsin; and San Luis Obispo, California. We've hosted two national conferences. While attendance has been modest (75-100), we've been amazed that people flew from places like Colorado and drove from places like Minnesota and Missouri just to attend a conference in Ohio dedicated to planting in small towns. We've had at least 11 states represented at these events.
The conversation around small town planting took off enough in our movement that one concerned leader asked if Vineyard still cared about planting in large cities. Of course we do! Remember we "go where the humans are." But so much of the church multiplication discussion has been from the large church and large city perspective (we're talking to you, Atlanta, NYC, Chicago, and San Diego) that our small town planters have been left out.
Shortly after our 2012 conference, we received word that one attender was being sent from his megachurch to a town of 1,600 to launch their first multisite campus. He told us later that before the gathering, he wondered if doing a multisite in a small town could work. He wanted it to work, but he had never heard of anyone doing it. Simply seeing that others were doing it and getting resources designed for the small town context pushed him over the edge to become the campus pastor in his Colorado town.
It's possible to plant vibrant churches in small town USA…
In the past five years we have been privileged to meet great planters, pastors, and churches in small towns (and villages). There is the Vineyard church in Fulton, Ohio, which has a town population of 271. It was planted six years ago after a few successful outreaches and small groups. Today, the church is pastored by Jerry Stephens and has 60 attenders!
Then, there is Dick and Maida Ray in Mechanic Falls, Maine. They pastor a great church in this town of 3,000. Their average attendance is 300! Walking around Mechanic Falls you soon learn that Dick knows everyone. He doesn't just pastor the church; he pastors the town. And there is Jimm and DeDe Wood in Paxton, Illinois, which has a population of 5,000. This small town has one light and is surrounded by cornfields. The Woods were sent by a megachurch to start a multisite that eventually became a standalone church.
Drive down Main Street on Sunday morning and you know exactly the store front this church of 150 meets at—it's the only place open on Sunday! Life abounds on the street, the sidewalk, and definitely inside. The Rays and Woods aren't merely providers of religious goods and services on Sundays. Their churches are vital to their towns as they provide resources like food, recovery groups, places for civic discourse, and counseling to schools after tragic events.
…but it's not without struggles.
While we have seen some pretty vibrant churches, none have been without struggles. Planting anywhere is hard. Planting in small towns has its own unique challenges. Planters and their churches are often under financial strain as giving can be low and jobs hard to find. Connecting with other pastors or mentors can be difficult because rural pastors are often bivocational. There can be leadership and personality drains in small towns as influencers, movers, and shakers leave to pursue the bright lights of the big city. And since everything in the church world screams BIG (big budgets, big buildings, big attendance), small town planters often feel like failures with churches of 20, 50, or even 100.
Small town specific resources are lacking.
Small town planters lack resources tailored to them. When is the last time you listened to a bivocational small town pastor at your denomination's conference? What's the last book you read written by a faithful pastor of 75 in a town of 1,300 in Montana? You haven't? Me either. Church world is fascinated with large churches in large towns. Tim Keller has developed a missiology for reaching large cities. Who is developing resources for small town America?
The place to start may very well be the tools we use to assess planters called to rural areas. Recently, I was contacted by someone who was helping to assess a potential planter. The planter lived in a small town in Texas. I was asked if any of the 'red' areas in the assessment should be seen differently since he was headed to a rural area. A couple red areas dealt with change and the ability to quickly change. If this planter was headed to a metro area, I would press in. But in small town USA, change, particularly quick change, isn't valued. Consistency, longevity, and dependability are highly valued. We need tools that are tweaked to assess planters headed to small town USA just like we need specific tools for cross-cultural missions.
There is a wider move of God for rural and small town America.
Rural Matters. Anglican Church. ARC. Significant Church. Assembly of God. Baptists. Wesleyans. Nazarenes. Over the past year our small town task force has come in contact with a wide variety of groups who are taking rural America seriously. When we connected with one group, we were simply happy to know we weren't alone. Now we're beginning to think there is a move of God on this small town thing. What if it's the small towns who are lucky enough to have a Dollar General who end up leading the next revival in America?
Whether that happens or not, I don't know. What I do know is this: we're called to go where the humans are, and that includes small town USA. What about you? Who are the humans God has called you to?
At age 26, Joel and Kristi Seymour planted the Lancaster Vineyard Church in Lancaster, OH. Nineteen years later Joel still pastors the church. He leads a local neighboring initiative bringing together public, private, and social sectors of the city together in order to increase the peace of the city. He serves as an Area Leader for Vineyard USA and leads the Small Town USA specialty group for Multiply Vineyard. The Seymours recently celebrated 25 years of marriage with their three wonderful children.
The Exchange is a part of CT's Blog Forum. Support the work of CT. Subscribe and get one year free.
The views of the blogger do not necessarily reflect those of Christianity Today.