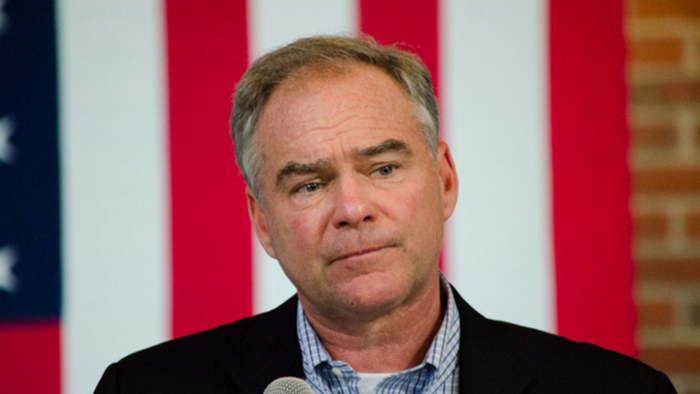 In a recent Christianity Today article, Virginia senator and former Democratic VP candidate Tim Kaine eloquently appealed to Christians to take seriously the biblical imperative to care for "the least of these" out of Jesus' words in Matthew 25.
I agree.
According to Senator Kaine, Christians should use these words to inform how we engage the current healthcare debate—setting aside partisan division to "develop simple solutions that improve care for all people."
I agree.
However, in responding to Kaine's appeal, I want to first offer two concerns I have regarding the Senator's use of faith and scripture in his advocacy, before addressing the critical flaw in his message, namely how his actions completely undermine his point.
Parts of the Body
At the center of Kaine's argument is his comparison between Paul's description of the church as a body (1 Cor. 12:14-21) and diversity in American politics. Just as Paul uses this analogy to promote unity in a chaotic Corinthian church, Americans need to welcome a diversity of input in solving the healthcare debate. This is a subtle shift from what Paul is actually doing in the passage. Paul is reminding us that the church is a body comprised of many parts. Crucially, Senator Kaine omits the preceding two verses where Paul gives us the basis of the text:
For just as the body is one and has many members, and all the members of the body, though many, are one body, so it is with Christ. For in one Spirit we are all baptized into one body—Jews or Greeks, slaves or free—and all were made to drink of one Spirit. (1 Cor. 12:12-13)
This is important because it helps us to understand what the church is—it is the body of Christ. It is not the body of humanity or the basis of government policy; rather, it is the collection of believers who are unified by their shared belief in Christ, a mutual indwelling of the Spirit, and a singular mission (which Kaine correctly identifies at the beginning of his article with the establishment of God's Kingdom, but applies wrongly).
Misusing the Text
Kaine's confusing argument has consequences. He takes an imperative to the church and applies it to Democrats and Republicans. I want Democrats and Republicans to work together and find a solution, and I think that a developed society like ours can and must provide health care to all our citizens.
However, his misuse of scripture is flawed in many respects, the chief amongst them being that our mission in the church should never be co-opted by Democrats or Republicans. Christians (particularly evangelicals) need to get better at ignoring this co-option of our faith to call for some legislative action. The fact is, Christians come to different conclusions about some issues of public policy.
It is often Republicans who speak a Christian language for political ends but the answer is not to simply accept a similar tactic from Democrats.
So, I think that the analogy is unhelpful, but more importantly, that it is disingenuous.
"The Least of These"
And herein lies my greatest concern, since Senator Kaine sent this to convince a readership that is pro-life while he tip-toes past a whole segment of the "least."
While serving on the ticket of a party that wants no restrictions on abortion, Kaine has famously obfuscated around the issue of abortion, claiming that his Catholic faith informs his personal opposition to abortion while advocating for legal protections for abortion (up to the moment of birth) along the Democratic party line.
Watch Chris Wallace ask Hillary Clinton if there were any restrictions we should accept on abortion, listen to her answer, and then reread Kaine's essay. And remember, this was the banner he carried.
Furthermore, it is more than a little disturbing to me that a candidate who just ran on the most radical pro-abortion ticket in American history would come to Christianity Today, an evangelical Christian magazine, to speak of the least of these.
The Hypocrisy

How is it that Kaine can make an argument that faith must inform our policy choices (particularly as they relate to the "least of these") yet completely refuse to follow the same imperative on the basis of the rock-solid position of his own church on the sanctity of life? That's what makes this entire article so bizarre. He basically says we should listen to the teachings of our faith on healthcare, yet he is a Catholic who just ran on a ticket that couldn't even oppose partial birth abortion.
Kaine needs to decide (as we all do), if we really care for all the least of these or only a cross-section. Justice that is not always striving for consistency and universality in its application is not justice at all. Thus, we need to care about the unborn, the poor, the sick, and all those created in the image of God.
Finally, let me say that there is much in Senator Kaine's article with which I agree, and I think we desperately need the dialogue he advocates. However, Senator Kaine is simply not the right person to explain how our faith and scripture inform our actions for the "least of these." We know of his actions, and his faith has not led him to protect the unborn.
You see, Senator Kaine, when you speak of parts of the body, it's hard not to think of the body parts of the unborn as well.
Ed Stetzer holds the Billy Graham Distinguished Chair of Church, Mission, and Evangelism at Wheaton College, is Executive Director of the Billy Graham Center, and publishes church leadership resources through Mission Group.
The Exchange is a part of CT's Blog Forum. Support the work of CT. Subscribe and get one year free.
The views of the blogger do not necessarily reflect those of Christianity Today.