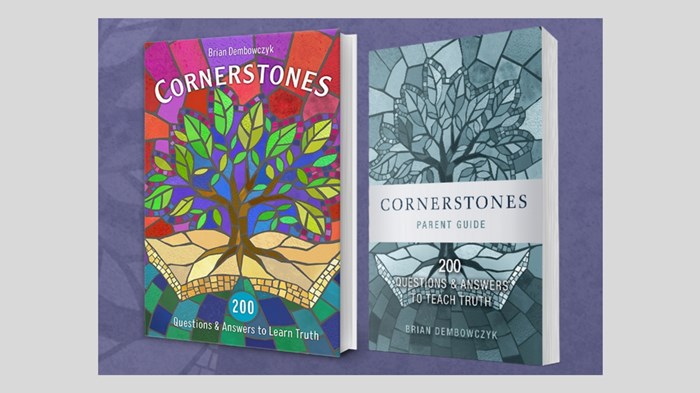 Image: cornerstonestolearntruth.com
Ed: What is the basic premise of Cornerstones?
Brian:Cornerstones is a pair of books—one for children and the other for parents—that covers the basic doctrines of the faith in a question-and-answer format, like a catechism. Years ago, when I was in seminary, I learned how the early church had used catechisms to train believers in the faith and I decided that I wanted to use this approach with my children.
So I searched for one to use, but the ones I found either had a theological bias, missed topics I wanted to cover, or had questions that were too complex or wording that wasn't kid-friendly. So I wrote my own. At that time, I think I had about 100 questions.
My wife and I used that homemade resource with our kids for several years and it worked really well. My kids were learning and they seemed to enjoy our times "doing the questions." As a family, we were having some great conversations about God. I think the question-and-answer format gave them doctrine in bite-sized morsels they could digest.
I was serving in local church ministry, so I crafted a version to share with families in the churches where I served. I also added brief explanations to some of the questions and answers to help these parents understand the big doctrinal ideas they were rubbing shoulders with.
After I started working at LifeWay, I shared this idea with the B&H Publishing team and they not only liked the concept, but they wanted to take it farther. They recognized how important it is to equip parents, so they had the idea of providing a second book for parents—the Parent Guide—with longer explanations for each question and answer. The questions and answers were expanded as well—there are 200 in Cornerstones, divided into eight categories: God, creation, sin, Jesus, salvation, the Bible, discipleship, the church, and last things.
So with all of that said, I would say that Cornerstones is a discipleship tool for parents to use with their children and an approachable systematic theology book for parents.
Ed: How is Cornerstones different from other resources out there that might be similar?
Brian:Cornerstones is distinct in at least three ways. First, it was written specifically with grade school kids in mind. You can certainly use this with preschoolers, but the sweet spot is elementary age kids. I tried to write the questions and answers in a way that connects with these kids. Because there are 200 questions and answers, I didn't have to provide complex answers attempting to capture different nuances.
The questions and answers are designed to be as simple and straightforward as possible. At the same time, I believe we often don't give our kids enough credit; we fail to challenge them. They can handle more than we think. So I introduce some essential theological terms and ideas, but try to explain them in a way a kid would understand.
Second, Cornerstones is longer than many other resources out there. That means parents can cover some topics that might not usually be addressed—such as stewardship and generosity—and also drill down deeper in places.
One of my goals in writing Cornerstones was not just to cover what a kid needs to know as a follower of Christ, but also what should be going on in his or her heart. I wanted to talk about love prompting our obedience, for example, to help parents and kids have conversation about how God changes us through the gospel as opposed to the Christian moralism that is so prevalent today.
Third, the Parent Guide, which is over 400 pages long. I'm excited about parents having a tool crafted just for them, to help them understand more deeply the doctrines their kids are learning about. My hope is that the Parent Guide will give parents confidence to have robust, meaningful conversations about God and his ways with their kids as they seek to live out Deuteronomy 6.
Ed: What are some practical tips for how parents can use Cornerstones to disciple their children?
Brian: I think one reason why it can be so difficult to have meaningful, sustained family devotions is because many parents don't know where to begin. So they take what they experience in corporate worship, they try to translate that into their homes, and it breaks down. My encouragement to parents is to always start simple. Aim for about ten to fifteen minutes, once or twice a week. Our family has found dinner to be the ideal time for our family devotions.
I would encourage parents to read about five or ten questions and answers in the Parent Guide ahead of time, and then try to cover them as a family from the kids book. You might have to help with the answers at first, and that's okay. Then the next time, you ask those same questions and perhaps add one or two more. Then, when you get to a new subject, you start the process over.
Other than that, I would encourage parents to look for ways to talk about the questions and answers more deeply. Use what you learn in the Parent Guide—perhaps read the Bible verses included there.
Ed: So this is a resource primarily for grade school children. What would be some next steps for parents to take as they disciple their kids?
Brian: I would say that Cornerstones is a great starting place for parents to disciple their kids, but it is certainly not the ending place. As I said, I always encourage parents to start simple; so that they create some sort of rhythm of family discipleship in the home. But then, they should look for ways to add to that.
We know that reading the Bible is the best indicator of spiritual maturity, so an important next step would be to add reading scripture together as a family. Another step to take would be to talk about what you are learning in church—in worship, in small groups, and so forth. Many kids' curriculums have resources for parents to use in the home. Use them; layer this into your times of family discipleship.
But remember the context of Deuteronomy 6 is God's command for parents to talk about him and his ways as part of the regular rhythm of our lives. So look for ways to disciple your kids beyond structured family devotions.
The Exchange is a part of CT's Blog Forum. Support the work of CT. Subscribe and get one year free.
The views of the blogger do not necessarily reflect those of Christianity Today.