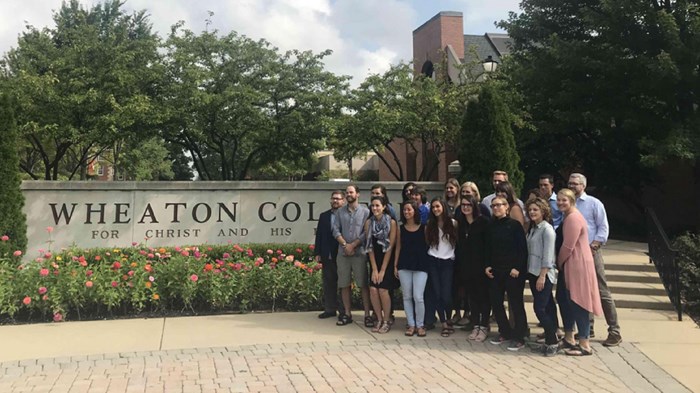 Image: via Lauren Leonard
Almost a year ago, we announced the launch of our new M.A. in Humanitarian & Disaster Leadershipat Wheaton College Graduate School, and this month we were able to welcome our first cohort of students on campus.
The goal of this program is "to prepare the next generation of humanitarian and disaster professionals to lead with faith and humility, utilize evidence-based practice, and serve the most vulnerable and the Church globally."
This program, which is part of the newly launched School of Mission, Ministry, and Leadership, comes from the Humanitarian Disaster Institute (HDI), the first faith-based academic disaster research center in the country. HDI's mission is to help the church prepare and care for a disaster-filled world.
We could not be more excited about the 18 students who make up this first-ever cohort. They bring with them a wealth of experiences, backgrounds, passions, and dreams, and it's incredible to see just how clearly God has directed each of their paths to bring them to this program.
We look forward to sharing their stories over the coming weeks and months, and to seeing how they are shaped as they prepare to go out and serve the church and the vulnerable around the world.
"I am so impressed by the quality of this group of students," said Kent Annan, who as Director of Humanitarian & Disaster Leadership provides leadership for the M.A. program. "From the moment they arrived on campus, it was clear that they not only are passionate about loving and serving the vulnerable, but are intellectually curious about understanding the complexity of how to do this well."
HDI Founder and Executive Director Dr. Jamie Aten added,
The diversity of experiences that this group of students brings with them to this program is exciting. Some students are coming to us straight out of their undergrad experience, others have had a year or two to try out their vocations and are now ready to refine it, and others have practiced professions for years and are looking for a new way to use their gifts in service of God's kingdom. I feel confident that they will learn from each other as they learn from us, and that's what we hope a cohort like this will be.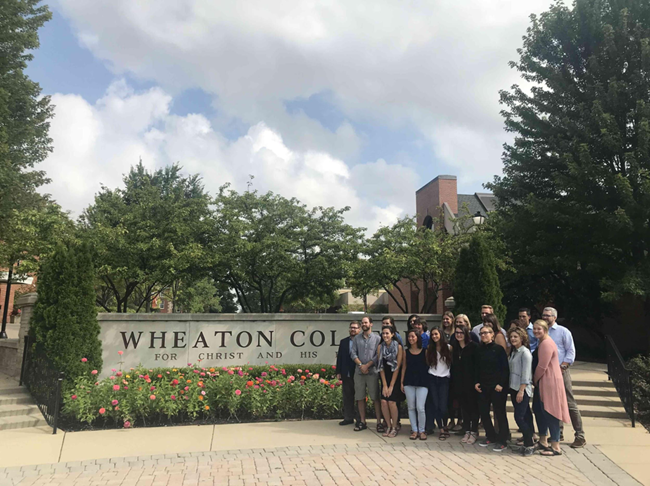 Students kicked off their time in the program with two week-long intensive classes: they spent the first week in a course on Intercultural Communication, and the second in Foundations of Disaster & Humanitarian Assistance, co-taught by Kent Annan and Dr. Jamie Aten.
This course serves as a broad introduction to evidence-based and informed psychosocial care skills, programs, and interventions in the context of disasters, humanitarian crisis, and other trauma-inducing events.
Over the course of the week, students were able to learn from a number of guest speakers directly involved in various specialities within disaster and humanitarian work, hearing firsthand about best practices and possible career paths. This also included multiple site visits to agencies and ministries around the Wheaton area.
Here's a taste of what they experienced both on and off campus during the first-ever classes in this Humanitarian & Disaster Leadership Master's program.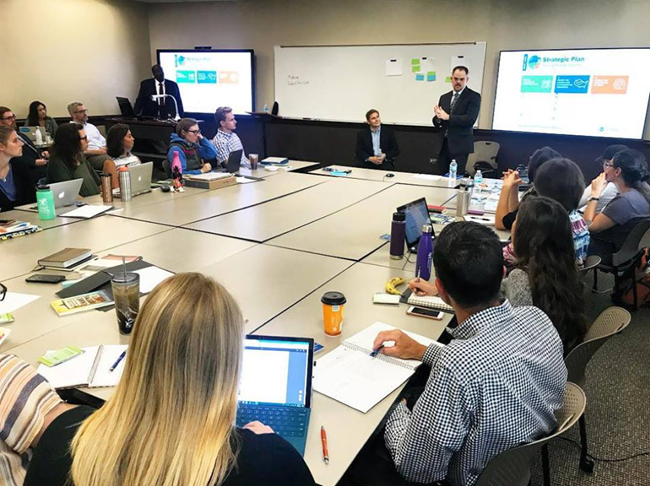 An important part of preparing students for this work is understanding how faith-based organizations can better work together with government agencies in disaster response and to build a culture of preparedness.
We were honored to have guest speakers Kevin Smith, Director of FEMA Department of Homeland Security (DHS) Center for Faith and Opportunity Initiatives in the White House, Marcus Coleman, Acting Deputy Director of the DHS Center for Faith and Opportunity Initiatives, and Patrick Crawford, Director of Disaster Services at Feeding America share more about their work and what this partnership model looks like.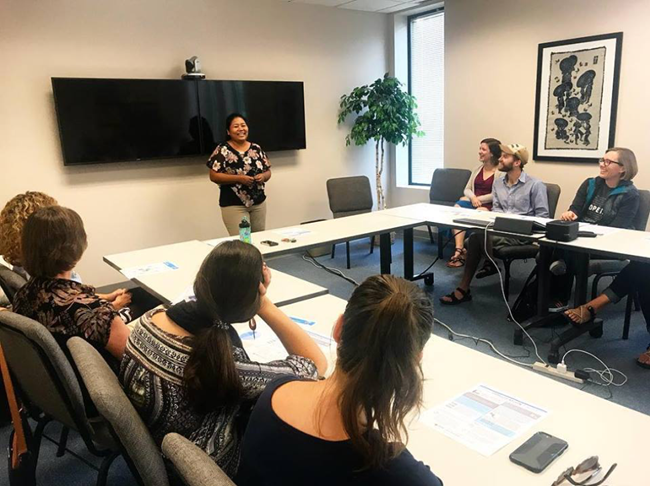 The HDL cohort got to visit the World Relief Dupage/Aurora offices, where students learned more about the many types of work involved in refugee resettlement. They heard from a few different employees, including Deborah Mawi (pictured), who works at World Relief as the AmeriCorps Life Skills Coordinator and was herself resettled by the agency after fleeing Myanmar.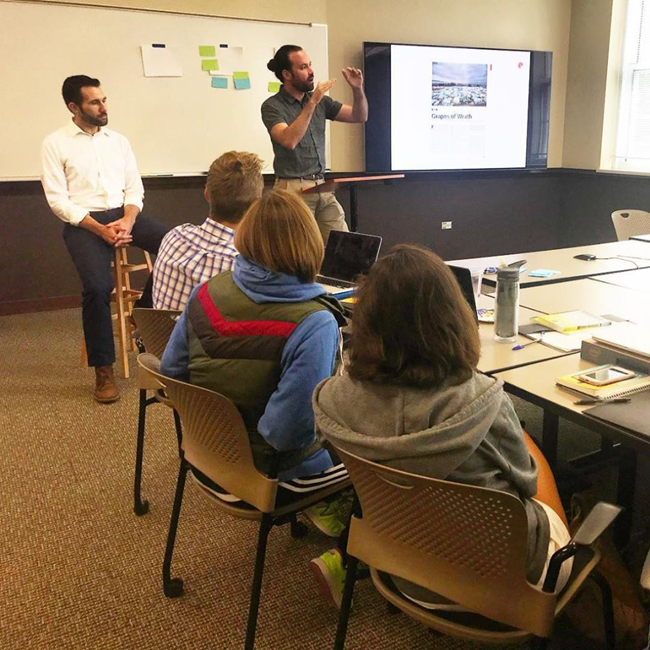 Christianity Todayeditors Andy Olsen and Jeremy Weber walked our HDL cohort through issues surrounding ethical reporting and storytelling in humanitarian and disaster settings, sharing examples from their own reporting and editing work in crisis situations all over the world.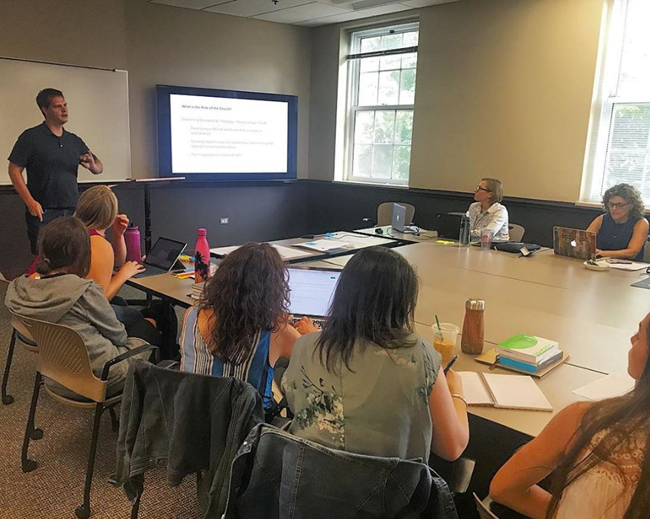 The HDL cohort learned about the role of advocacy in refugee and immigration work from Matthew Soerens, U.S. Director of Church Mobilization at World Relief. He is also the co-author of multiple books on the subject, including Welcoming the Stranger: Justice, Compassion, and Truth in the Immigration Debate(InterVarsity Press, 2018) and Seeking Refuge: On the Shores of the Global Refugee Crisis(InterVarsity Press, 2015).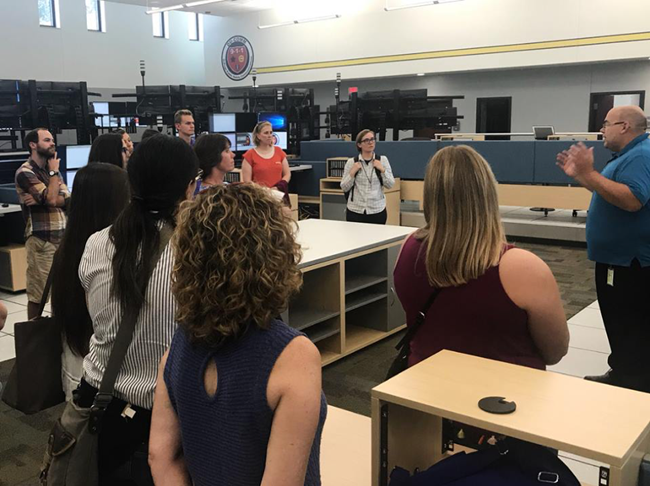 The HDL cohort went on a site visit to the brand-new DuPage County Emergency Operations Center to learn about how they respond to emergencies on the local level and coordinate with other agencies and organizations in disaster situations. They are pictured here in the 911 call center, where dispatchers will receive and respond to emergency calls around the clock. They also learned about how the local agencies work together in disaster situations to deploy responders and communicate with residents.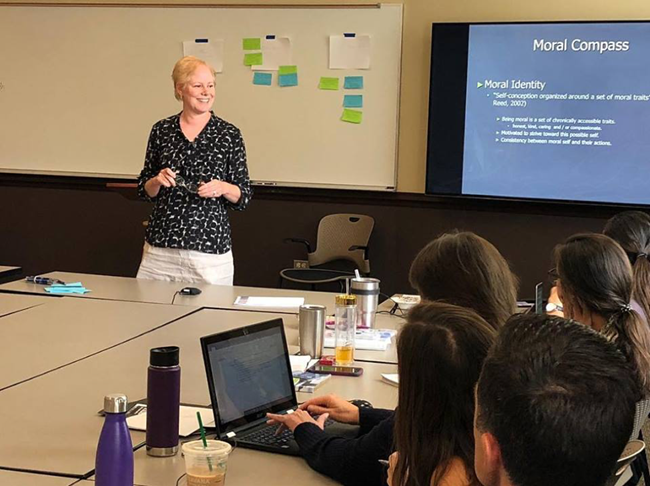 Dr. Margaret Diddams, Provost of Wheaton College, came to class to speak to our HDL cohort about worldview and ethics. She has been instrumental in shepherding this new M.A. in Humanitarian & Disaster Leadership program into existence and we are so grateful to be able to have her speak to our first-ever cohort.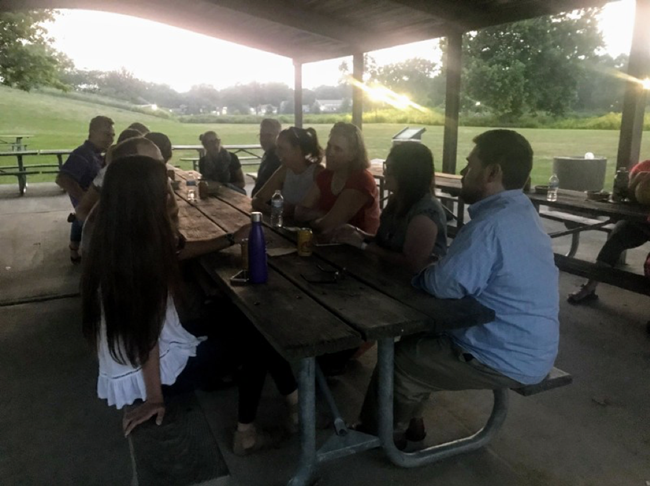 On Monday night, the cohort had a group picnic in the park, enjoying a Qdoba buffet and time together outside of class. Half of our students are completing the program in one year, taking full-time classes on campus culminating in internships next summer. The other half of this first cohort is completing the program in two years, with most of the coursework after these first two weeks being completed online.
We also have a current Wheaton undergrad student who is taking advantage of the accelerated M.A. program by starting his graduate degree during his senior year. Learn more about the various options for completing the program here.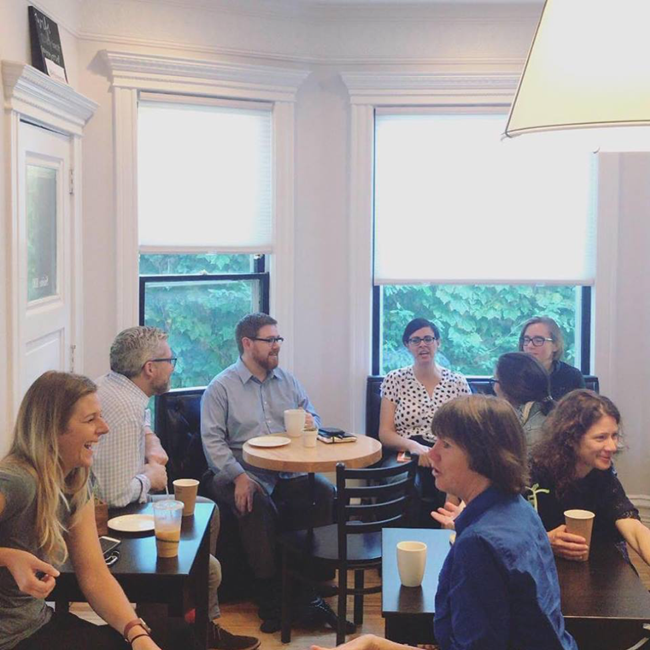 Our HDL cohort spent a few hours at My Half of the Sky, a coffee shop in downtown Wheaton with the goal to "provide suburban men and women everyday opportunities to engage the community and world in order to live a life that impacts the world for good," to learn about social entrepreneurship from owner Renee Pollino. They engage in work that supports refugee, anti-human trafficking, extreme poverty, addiction recovery, and ethical labor issues.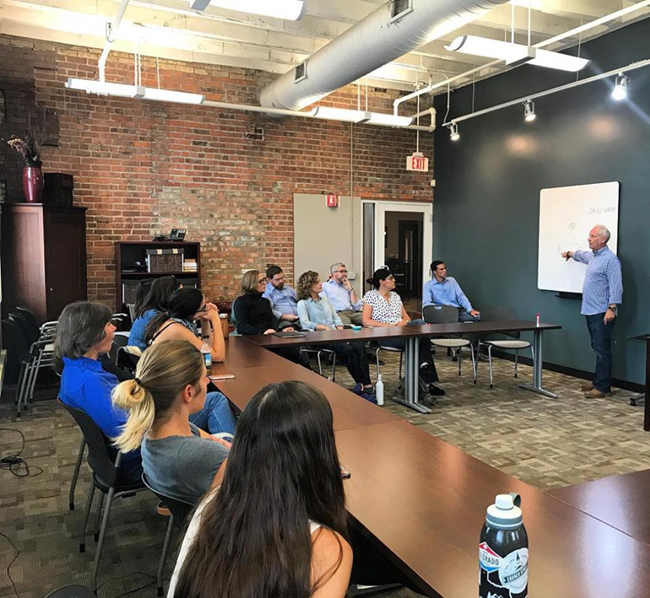 David Sveen of Cedarstone Partners spoke to our cohort about the business side of nonprofit work, because a great mission will be compromised if it isn't supported by great organizational and financial structure. Cedarstone Partners provides back-office support (including fundraising, financial reporting, and administration) for non-profits so they can focus on mission work.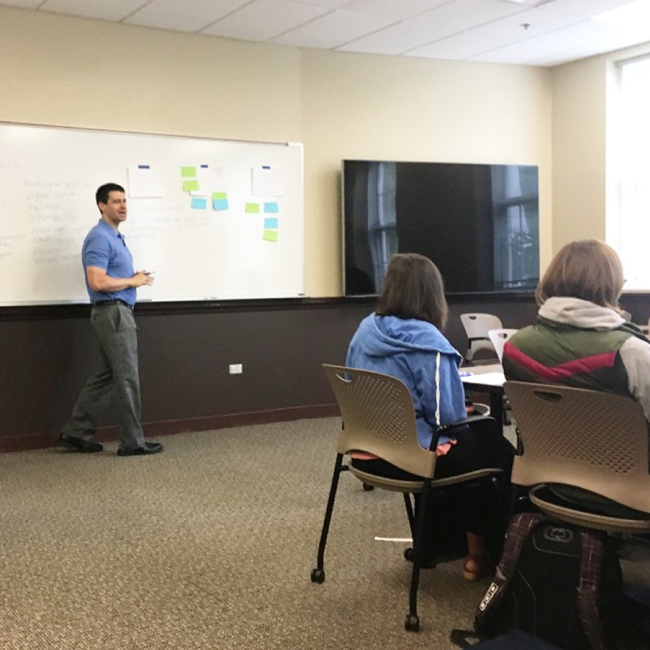 HDI Faculty Fellow Dr. Ward Davis presented current HDI research on the impact of humble leadership on humanitarian aid organizations.
Interested in experiencing this for yourself? Learn moreabout how to become part of the next generation of humanitarian and disaster professionals to lead with faith and humility, utilize evidence-based practice, and serve the most vulnerable and the Church globally with the M.A. in Humanitarian & Disaster Leadership.
Laura Leonard is communications specialist at Humanitarian Disaster Institute.
The Exchange is a part of CT's Blog Forum. Support the work of CT. Subscribe and get one year free.
The views of the blogger do not necessarily reflect those of Christianity Today.