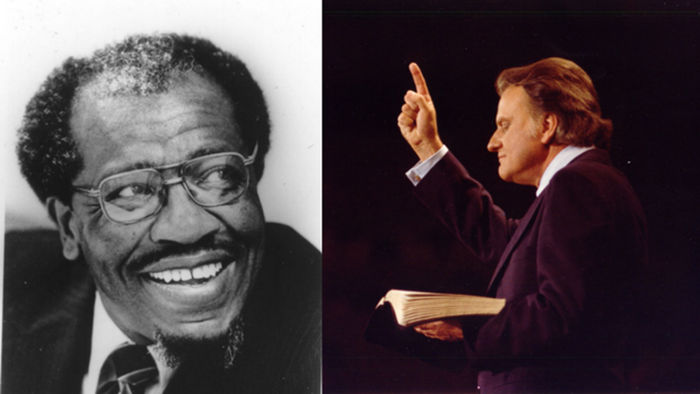 Image: Credit: Billy Graham Center Archives
Rev. Billy Graham was the most impactful Christian evangelist of my generation. Mr. Graham, along with Leighton Ford and other members of the Billy Graham Evangelical Association, had a tremendous impact on my life and the lives of so many around the world.
Billy's teachings taught me how to disciple and council people. I learned how to get them connected with the local church. He was a true partner in Christ and was someone who enriched the Church's demonstration of the gospel, particularly through its embodiment of reconciliation.
I moved to California in 1947 when I was seventeen years old and not yet a Christian. With the encouragement and help of certain loved ones, I came to know Christ ten years later. My faith matured and developed as I listened to Billy Graham and other teachers of the faith speak and preach the Gospel. I then came back to Mississippi to begin my life's ministry and to teach the Gospel.
Billy Graham had first come to Mississippi in 1952 to speak to both blacks and whites. When he arrived, there were ropes up dividing the two races. What Billy did with a local Christian businessman was profound—they literally took down the ropes. Billy made a radical statement out of the conviction in his heart. He demonstrated the love of God for all and the inherent dignity of mankind.
Although Billy Graham had already impacted me from a distance, I became directly acquainted with him while in preparation for his second visit to Mississippi, which was in 1975. This was the year many consider to be the end of the official Civil Rights Movement in Mississippi, and it's also the yearDecision Magazine published an article about me.
One would hope in the twenty-three years since Billy's last visit the ropes would have been removed. There were significant changes taking place through the head-on involvement by all sorts of courageous people; however, as the political realities were shifting, the church needed to respond in a manner that brought forth reconciliation and healing.
In preparation for bringing Billy to Mississippi in 1975, I realized the ropes were still present in Southern society and particularly between Christians. We had set up a committee of both blacks and whites to prepare for Billy's arrival, and we met together at a local hotel.
Although this was one of the first times blacks and whites had come together with the hopes to do something this significant as Christians, the segregated South was still alive in the hearts of the men sitting in that Holiday Inn. I walked in and I saw black men on one side and white men on the other.
"This is not going to work," I said. "Even now, we are still divided."
I wanted nothing to do with further enabling the patronization of us black folks or merely paying lip service to diversity without actually acknowledging the brokenness we all carried. However, bringing Billy Graham to Mississippi in 1975 brought us all in the same room together where we discovered that the ropes, though no longer visible, were still separating us as Christians. The conversations that followed these meetings marked the beginnings of reconciliation.
If Billy hadn't come to Mississippi, we may not have come into the room together and identified the invisible ropes. We had to begin mending the deep wounds, and open, honest dialogue was the first step in the long road to reconciliation. At these meetings preparing for Billy's visit, I met some white leaders who became my lifelong friends.
White brothers like Victor Smith, Stuart Irby, and others became part of a collective group of friends with me, and we have stuck together—as equals—through the decades. These friendships helped in the development of our communities, but most importantly we enriched the spiritual growth of each other.
Out of his crusade to Jackson, Billy helped establish one of the first churches whose purpose was to heal the wounds of racism and be a multicultural example to the community. This—making reconciliation the work of the Church—was the deepest significance I saw stirring where Billy went.
Today, I am convinced a multicultural church displays the fiber of the Gospel. It's what makes Christianity unique. Racism is not compatible with the Christian faith, and Billy Graham and I were partners in removing ropes of segregation and replacing them with a foundation of love and brotherhood. We worked to build a ministry based on what brings us together as believers rather than what divides us as people.
I remember Billy telling me he regretted not doing more to remove the ropes of racism. He repented and asked for my forgiveness. Even though he had done so much, Billy had humility and I admire him for this. Billy understood God's power to forgive sin and to reconcile all men to Himself.
The simplicity of Billy Graham's mission is perhaps what impacted me most. He preached the Gospel, and he trusted the Holy Spirit to convict people's hearts. Billy Graham was a humble servant of God.
John M. Perkins is Founder of the Christian Community Development Association and John & Vera Mae Perkins Foundation.
The Exchange is a part of CT's Blog Forum. Support the work of CT. Subscribe and get one year free.
The views of the blogger do not necessarily reflect those of Christianity Today.