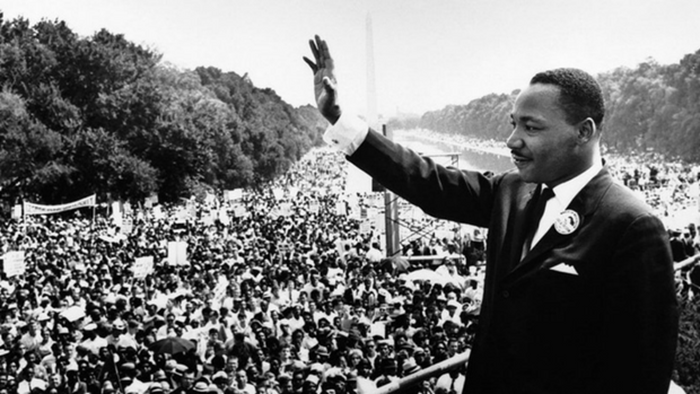 Today is Martin Luther King Jr. Day—a Monday dedicated each year to celebrating the legacy of a man who labored tirelessly for racial equality.
As the Executive Director of the Billy Graham Center at Wheaton College, I've naturally taken particular interest in a certain relationship: that is, the friendship between Rev. Billy Graham and Dr. King. Graham spoke of this friendship in a press conference he gave in Bonn, Germany, in the spring of 1970. He remarked on King's work, arguing that as a social reformer, his goal, ultimately, was to fulfill the same mission Graham worked towards—just through different means. (Be sure to read his actual words.)
Graham's point, especially in today's cultural context, is a critical one. Mission is a broad term, and is more than gospel proclamation alone. The message of Christ's love and redemption is always at the heart of the work we do, certainly. But that doesn't mean that all our day-to-day work looks the same.
Martin Luther King Jr. worked, among other things, to free African Americans living in the United States from the oppression of segregation. He worked day and night speaking, writing, and organizing events and groups of leaders with the goal of doing justice for those who are oppressed.
King ultimately dedicated his life to this cause because he had a dream—but not just any dream—a mission that led to a dream.
Our engagement of issues of race remind us that Jesus came not just to save those with a certain skin color, but every tongue, tribe, and nation on earth. His love wasn't 'color-blind' because different colors didn't scare him. His love, poured out on that old rugged cross, was for all people.
There are certainly a whole myriad of different lessons one could learn from looking closely at the life of Dr. King—lessons about faith, dedication, perseverance, struggle, failures, and more. But here, I attempt to highlight what I feel are the most important.
Find Your Dream
The word 'dream' has, in recent decades, been polluted by the notion that we're supposed to 'shoot for the stars' and orient our lives around this certain self-centered ambition. Some of us dream about wealth, others about status, an impressive career, or perfect pair of children.
Our individualistic American culture tells us that what we accomplish belongs entirely to us. We wear these pedigrees with pride, like medals around our necks, so that all may see the success we so boldly garnered for ourselves.
But what if these dreams we dreamed weren't about us and our need for self-fulfillment? What if, like Dr. King, our focus wasn't on what we could do for ourselves? What if, instead, our dream was instead focused on what God was calling us to do for others?
Our world is desperately in need of Christians who care about more than garnering some superficial form of worldly success for themselves. We need people who love Jesus to dream dreams about justice, like King did, for the oppressed, care for the poor, and medical assistance for the sick and injured.
Whether we're working as shopkeepers, bread-bakers, or investment fund managers, we should see the work we do as a form of ministry unto the Lord—part of a kingdom mission that's so much bigger and better than anything we'd seek to accomplish for ourselves, and then ask what can we do toward that dream.
Don't Be Discouraged by Difficulty
Many picture Martin Luther King Jr. as a brave man who gave speeches and boldly and effortlessly confronted the large-scale injustices of his day. But Dr. King's life wasn't a simple, linear pathway towards success. He accomplished much, but also struggled, failed, tried again, and also suffered greatly for the sake of the mission.
After participating in a protest against the treatment of African Americans in Birmingham, Alabama, he was unjustly jailed. He struggled with depression for a great portion of his life. He lived in constant fear for his life in light of the nature of his work and ultimately, we mustn't forget, was assassinated at the young age of thirty-nine.
Martin Luther King Jr. didn't lead an easy, glorious life. But the difficulty and discouragement he overcame ultimately paved the way for enormous national-level legislative victories as well as greater rights and representation for African Americans in the U.S.
We must, like King, learn to press on no matter how thick the battle or bleak our hope for success. You see, it's not about us, but about others… and they need our voice and our action.
Place Your Confidence in Christ's Redemptive Power
One of Dr. King's most compelling speeches was arguably his last, entitled I've Been to the Mountaintop, which he delivered on April 3, 1968, in Memphis, Tennessee. He spoke powerfully about the dark times he felt the nation was living in, but told audience members, "Something is happening in our world." He spoke of African Americans rising up and living with determination to gain their "rightful place in God's world."
Most impactful, perhaps, is the end of King's speech, where we are reminded of how a God-given dream changes our motivation and our mission:
Like anybody, I would like to live a long life. Longevity has its place. But I'm not concerned about that now. I just want to do God's will. And He's allowed me to go up to the mountain. And I've looked over. And I've seen the Promised Land. I may not get there with you. But I want you to know tonight, that we, as a people, will get to the Promised Land! And so I'm happy, tonight. I'm not worried about anything. I'm not fearing any man! Mine eyes have seen the glory of the coming of the Lord!
This ultimately is the posture I believe we must have as believers. Not that our labor solves the problem or even fully addresses the hurt and pain in our broken world, but that God's faithfulness is enough—he alone is able. May we be inspired by the legacy of Dr. King on this day. May we learn to keep our eyes on the God of the mountaintop, focusing not on our biggest fears or greatest anxieties, but on the promise of his redemption and ultimate coming.
Ed Stetzer holds the Billy Graham Distinguished Chair of Church, Mission, and Evangelism at Wheaton College, is executive director of the Billy Graham Center, and publishes church leadership resources through Mission Group.
The Exchange is a part of CT's Blog Forum. Support the work of CT. Subscribe and get one year free.
The views of the blogger do not necessarily reflect those of Christianity Today.