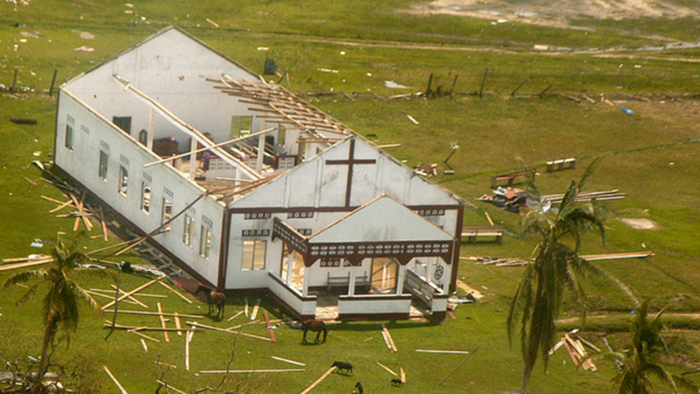 Wikimedia
Many remember the three Texas churches that sustained structural damage during Hurricane Harvey who later sued the Federal Emergency Management Agency (FEMA) for denying them disaster relief grants. The suit was heard in federal court and we finally have a result of sorts: FEMA has changed its policy.
To be clear, the FEMA's initial refusal to assist had nothing to do with the churches' lack of need, but everything to do with the religious services being performed within their four walls.
FEMA's policy guide previously stipulated that institutions like museums, zoos, and other non-profits were eligible to receive grant money in the wake of Hurricane Harvey. Churches and other religious institutions, by virtue of their engagement in "religious activities such as worship, proselytizing, religious instruction, or fundraising activities," were not.
This week, the federal agency announced that its updated policy will allow religious groups, not just in Texas but nationwide, to receive the disaster relief funding that was previously unavailable to them.
Thank you, FEMA.
The Old Debate
But this question of whether or not FEMA relief money should be given to religious institutions in the wake of a disaster is not new.
After Hurricane Sandy ravaged the shores of the East Coast in 2013, the Ocean Grove Camp Meeting Association was denied funding to rebuild the beach's boardwalk. Camp meeting associations were originally birthed out of the Second Great Awakening and several are still scattered in coastal towns across Northeastern shores.
This particular one, located in Monmouth County, New Jersey, is rooted in a Methodist heritage and decidedly dubbed their town "God's Square Mile at the Jersey Shore." The Association's president expressed his deep disappointment upon FEMA's rejection of their appeal for funding.
Former U.S. presidents have stepped in to resolve these disputes. After a 2002 earthquake, President Bush made headlines after approving a $550,000 grant to a Jewish school that had sustained damages. President Trump advocated for the plight of churches in Texas. In a September 8th tweet, he said that "churches in Texas should be entitled to reimbursement from FEMA relief funds… just like others."
The Becket fund—a D.C. firm dedicated to the defense of religious freedoms—saw the situation similarly. After the incident in Texas, Diane Verm, a Becket employee, agreed that FEMA's behavior was problematic, given that churches were being "denied the same relief other nonprofits are getting from FEMA."
In other words, they were excluded on the basis of the content of their speech.
Now, those who disagree would say that the Constitution says Congress must not promote the establisment of religion. I think that is true, but I think the goverment must not exclude because of religion.
Therein is the rub.
Engaging in the Discussion
While I am thankful that FEMA recently adjusted their policy, we must acknowledge that the change was needed—and this issue continues to be discussed.
So, to clarify, a particular institution's practice of worship and prayer cannot constitutionally disqualify it from access to funding available to all others after a disaster. Of course, the government, as per the First Amendment, is not allowed to prohibit the free exercise of religion, nor to promote a particuarl religion. And, this is the issue.
As I see it, in singling out religious institutions by refusing to help them rebuild, FEMA was actively penalizing them for the content of their speech. This, I believe, is a very an unhelpful approach.
When believers and leaders came to the defense of these churches, tangible change occurred.
Are We Being Consistent?
But as we consider this conflict in retrospect, it's easy to get wrapped up in the fact that these were Christian churches. As fellow believers, we find it easy to sympathize with their plight and naturally desire to advocate for their rights and freedoms.
But it's important that we ask ourselves: What if this was not a Christian church? What if, instead, it was a mosque? A gurdwara? If we claim to follow Christ and demonstrate a passion for religious freedom for all, we must be consistent.
So, considency matters.
I'm grateful for FEMA's ultimate decision, and I'm glad those churches were persistent. But this is a good moment to look in the mirror and ask ourselves, Would we have supported other religious groups in the same efforts?
Christians, upholding religious freedom, should be known to be intolerant of injustice in whatever form it should embrace (Micah 6). We just need to ensure that we follow through with this consistently and in good conscience as we seek to be faithful to the biblical text and our respective context.
FEMA got it right this time. Yet, this question will come again. And when it does, may we be those who stand up for everyone.
Ed Stetzer holds the Billy Graham Distinguished Chair of Church, Mission, and Evangelism at Wheaton College, is executive director of the Billy Graham Center, and publishes church leadership resources through Mission Group.