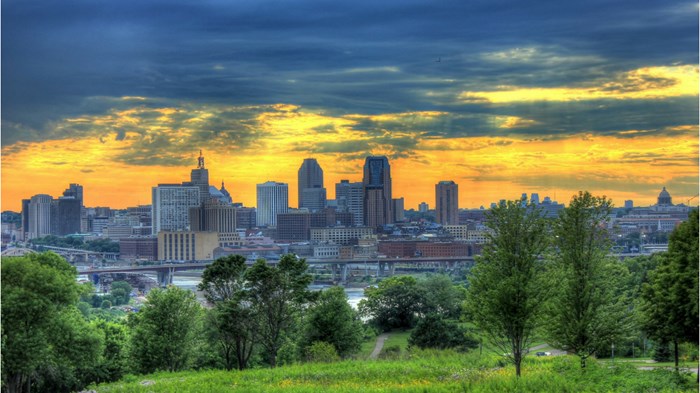 Image: via Creative Commons
Ed: Nick, tell me a little bit about what you've been doing lately.
Nick Hall: For the last several years, we've been in the middle of a city-wide movement in the Twin Cities. Churches and leaders have been coming together across the Twin Cities. We've been meeting in prayer and worship and building friendships, wanting to reach our community with the gospel. This unification has been a baseline for some amazing things. We've had some reconciliation, discussions and understanding on race and justice, and then we've been talking about church planting and immigrant populations.
We just hosted a massive outreach expression that we've been building up to for the last 18 months. We believe it's a continued sign of what God is doing across the country. We had 750 churches come together, 1,800 pastors unite, over 10,000 believers praying and linking arms together through different gatherings – all united around the effort to reach the next generation. About 9,000 believers went through training to share their faith and disciple their friends. All of this built up to an outreach event where we filled the U.S. Bank Stadium – the stadium where the Super Bowl was just held.
It was the first stadium event here since Billy Graham came in 1996 on a crusade, which was directed by Jeff Anderson. His son, Jay Anderson, was one of the directors of the event we just hosted. We booked the stadium as an act of faith and planned this enormous next generation-focused outreach event for May 18th. We ended up having 50,000 people in attendance and over 9,000 young people responded to the gospel.
We've had an incredible follow-up effort partnering with hundreds of churches. Churches have been launching Alpha groups and seeker studies. We've had digital counselors texting; over 2,000 text message conversations have been going on long after the event. These conversations follow up with young people who have questions about God or faith or just baggage they've carried.
We're trying to tell the story of what's been going on here in the Twin Cities to give people some perspective on how God has been stirring and the church has been uniting, that there's this multi-generational partnership and a young generation that's hungry for God. Some incredible stuff has been going on that we hope and believe is a sign of a new wave of collaboration, evangelism, and spiritual hunger.
Ed: People are wired for big events; they draw crowds and spark conversation. Some say the era of the stadium event is over. What do you think?
Nick: If you look at the past election—if you look at any movie star, rock star, any cultural influence—you'll see big events draw crowds and still hold influence today. The public arena has always been a place where ideas are shared; stadium events are a version of our modern-day city centers. We think that big events are just one glimpse into the human experience and we believe that the gospel belongs everywhere.
So, it's not that stadium events are more important than other things, but we believe that there is something catalytic that happens when you do something that's so big that it forces all of us to work together. Rob Ketterling said in a video we did, "You don't need to work together when you work for small things, you need to work together when you work toward big things."
Something has forced us to get into the trenches together, and obviously the need to reach the next generation is one of those big things. Oftentimes, an event, stage, or season can provide an opportunity for deep relationships and healing of past wounds. We've seen so much of that happen in our backyard here. We frequently put too much emphasis on the event, when the event is just the catalyst. So I do think stadium events can still be an effective catalyst, but we need to look beyond the event itself.
Ed: What do you do around the event so that it is engaging churches, communities, individuals, and follow up?
Nick: We have four seasons we work in and through – Unite, then Movement, then the Pulse event, then the Next process. Unite is centered in and around prayer and unity. We had Unite gatherings, local events that happen in local churches, and we had Unite pastors gatherings. This season is all about coming together around our shared need for the gospel, our shared need for reaching a generation. It's about friendship. It's about forming a baseline of how we can link arms to reach our community, to reach our region.
How do we share our best practices? Prayer is the glue. In the Unite season in the Twin Cities, we had 1,800 different pastors and senior leaders coming together, and we had over 10,000 believers gather at smaller events. There were around 15 to 20 of these Unite gatherings, ranged in size from 50 to couple thousand. That's how it all starts.
That then moves into Movement. Movement is a season of training and equipping believers. We feel out the needs in the community and try to rally folks around meetings those needs. That could be as practical as church planting; it could be as specific as sharing your faith. We pull in different resources, different ministries. We also train people in a specific movement training that has to do with living in a lifestyle of seeing your life as a part of the broader gospel movement.
We emphasize evangelism and discipleship and get people to consider, Do I want to give my whole life for the gospel? We had about 9,000 people go through that training in the Twin Cities. Throughout the Movement season, the momentum is increasing, churches are doing promotions, and the wave is building.
Next, we have a season of outreach marked by Pulse. Outreach could happen in the big events, but it also happens through a number of smaller events or going out peer to peer. For example, we had what we call "Young Influential Gatherings," where young professionals gather in different sparks to reach the next generation. Pulse climaxed on May 18th, when we had 50,000 people come on out to U.S. Bank Stadium and filled it up and we shared the gospel.
Following Pulse, we moved into a series called Next. We strategically plan in committees and teams to consider how we can make a full-fledged, all-out effort to have every resource possible for people so that no one drops through the cracks. That includes everything from a digital strategy of text messaging, email, social media integration, and phone calls to friends praying for friends. Churches host various resources we're inviting them to – Alpha groups, seeker studies, discussions on different topics. Next is an effort to continue the waves long after the climactic event.
Ed:Talk to me about what happens from here. What's between now and Together 2018 like this movement?
Nick: In the Twin Cities, the work continues. There are youth efforts, and there is a huge effort now that we're turning towards coming alongside the immigrant population. There are a hundred nations represented here. That's the beauty of collaboration and relationships – you really start to share burdens and lift up different visions.
So we're now partnering towards a big campaign, linking the young people with the mission fields in our backyard. We had about 300 young people come out even last week as an ongoing discipleship, trying to train and equip. We're opening a training center in Minneapolis. So, all that work continues.
We would say we're in a 10-year window of wanting to rally and galvanize the nation. We really believe that there is a new Jesus movement afoot, and so in everything we're doing we want to connect the dots and build a common thread between ministries, churches, movements, and organizations in order to equip and disciple these kids who are 14 all the way up to 30. Really, I think that 18 to 20 is the center of that bullseye.
We want to put the best we can in their hands because we believe that God is doing something historic in their lives. There's a passion there—a generosity and a willingness to go. So, we're trying to equip them and come alongside them. We're at festivals and events and always training. We have 50 to 100 interns and folks who we're trying to actively pour into, and then we're getting more and more intentional with training programs and intensives.
All that's happened and is continuing to happen in the Twin Cities is a part of or even a continuation of what happened on the national mall at Together 2016. I think Together gave people faith to dream bigger and to see some city-wide and region-wide things happen. We're hoping to see that momentum continue right through Together '18.
Ed Stetzer holds the Billy Graham Distinguished Chair of Church, Mission, and Evangelism at Wheaton College, serves as Dean of the School of Mission, Ministry, and Leadership at Wheaton College, is executive director of the Billy Graham Center, and publishes church leadership resources through Mission Group.
The Exchange is a part of CT's Blog Forum. Support the work of CT. Subscribe and get one year free.
The views of the blogger do not necessarily reflect those of Christianity Today.