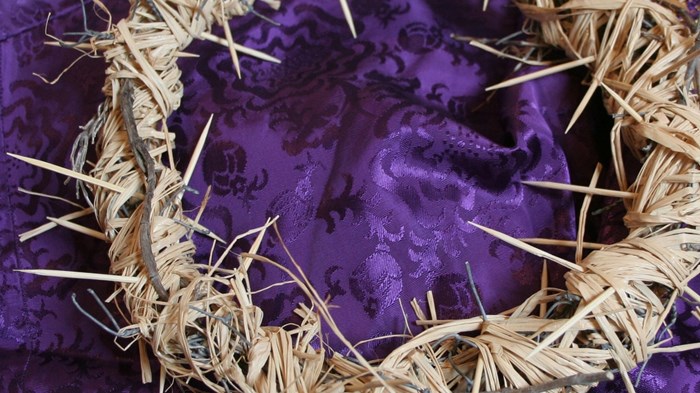 Image: Creative Commons
Today is Good Friday; the day we remember Christ's death on the cross. This sacrifice—the greatest outpouring of love this world will ever know—earned us our freedom from the bondage of sin.
Without the pain, loss, and sorrow of Good Friday, we could never know the intense joy of Easter morning. Rev. Billy Graham knew this himself:
"Yes, it was a tragedy Jesus had to die—and the reason He had to die was because of us. There was no other way for our sins to be forgiven, and no other way for heaven's door to be opened to us. He was willing to do this because He loves us, and He doesn't want us to spend eternity apart from Him."
Rev. Graham dedicated his life to the importance of this day: an encounter with the crucified Christ changes everything. When Jesus bore the burden of our sins on the cross he paved the way for us to accept his free gift of forgiveness and ultimately be reunited with him.
Like a shepherd gathering his sheep, there isn't a distance our heavenly father wouldn't have ventured—no wilderness He wouldn't have braved—to bring us back to himself.
A Global Ministry
Billy Graham understood the importance of going the distance for the gospel. He traveled the world spreading the good news about Good Friday and the joy to come on Easter Sunday. Since the 1940s, Graham's crusades have visited more than 250 cities worldwide, reaching an estimated 215 million people.
Every single one, a precious child of God.
It's no secret that each of Graham's visits to these places brought unique challenges and areas of difficulty.
His visit to South Africa in 1973 comes to mind. For a period of almost 50 years, the nation was wrapped up in a bitter racial conflict: apartheid. The policy started in 1948 when the National Party (NP) came into power. Black and white citizens were thereafter segregated by race; despite pressure placed on the nation by the international community, these dangerous and discriminatory practices continued.
In the 1970s, when Graham visited, more than three million people were forced to resettle in black 'homelands'; Nelson Mandela, who fought in opposition to apartheid, had already been in prison for nine years.
But Graham had resolved to confront apartheid head on, refusing to accept an invitation to speak there unless it was in front of a racially integrated audience. Years later in 1994, Graham said: "My wife and I have prayed for the country of South Africa since 1951, when I was first asked to hold meetings there."
Thankfully, crusades in the South African cities of Durban and Johannesburg did take place a scheduled. During the rallies, he told audiences, "Christianity is not a white man's religion." Christ's gospel, he argued, was for all people, "the black world, the white world, the yellow world, the rich world, and the poor world."
The Gospel Transcends Culture
Many might wonder why Graham went to such lengths to challenge South African perceptions. After all, wasn't this—apartheid—merely a part of their culture at the time?
It's because Graham knew that gospel transcends culture. It should interrupt apartheid and fly in the face of our racism, classism, and nativism. The gospel doesn't just go places, it changes places and works to reorient hearts and minds; it is alive and active, sharper than any double-edged sword (Heb.4:12).
The truth presented to us in scripture should tell us something about not only who we are but who our neighbors are: image bearers of the Father in heaven. It is universal applying to people of all historical contexts and cultures challenging each and every one of us to surrender our biases in light of God's truth.
I'm thankful for Billy Graham and his years of ministry. But, on a day like today, I'm thankful that he preached the message that he did in South Africa: a Christ who took the cross for everyone.
Ed Stetzer holds the Billy Graham Distinguished Chair of Church, Mission, and Evangelism at Wheaton College, is executive director of the Billy Graham Center, and publishes church leadership resources through Mission Group.
The Exchange is a part of CT's Blog Forum. Support the work of CT. Subscribe and get one year free.
The views of the blogger do not necessarily reflect those of Christianity Today.