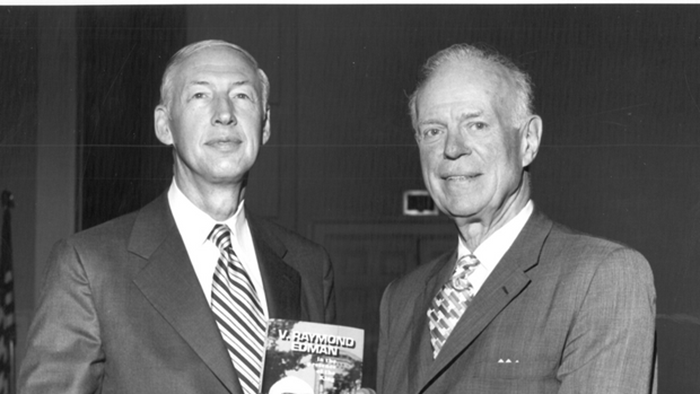 Image: Special Collections, Wheaton College
Many people have been talking about Rev. Billy Graham since his passing on February 21, 2018, and appropriately so. Having attended his funeral and hosted the radio coverage on many networks, I spent much time brushing up on Billy Graham history to share as color commentary during the radio broadcast.
However, what was also helpful was that, in that preparation, I was able to share something at the Exponential Conference in Orlando related to 'hero-making'.
The Exponential Conference this year was built around the theme of people who have invested their lives in other people and were not themselves the heroes, but made other heroes. Now, let me say first that I think Billy Graham's ministry has largely been defined by pointing to someone other than himself.
In my latest CNN article I explained that Billy Graham is famous largely for trying to make someone else (Jesus) more famous. In other words, his life was largely driven by the ministry of telling people about Jesus instead of talking about himself.
Elner Edman as a 'hero maker'
However, one of the stories that may surprise many people is the story that I shared during my mainstage session at the Exponential Conference. My colleagues at the Billy Graham Center, Paul Erickson and Bob Schuster, shared with me one example of a hero maker by the name of Elner Edman.
Elner was the brother of V. Raymond Edman, a past president of Wheaton College. Elner and Herman Fischer, who was on the Wheaton Board of Trustees at the time, were on vacation golfing in Florida. There, they met Graham, who was then a student at the Florida Bible Institute, a then-unaccredited Bible college (today, it is Trinity College in the Tampa Area).
They listened to Billy preach, but they also went golfing and Billy served as their caddy, carrying their golf bags. They found themselves impressed with him and encouraged him to consider attending Wheaton College after finishing a degree at Florida Bible Institute. Graham had said that his mother had always wanted him to attend Wheaton, but that it was out of their financial reach.
So, having been impressed with him, both Edman and Fischer came back a couple days and Elner offered to pay the first year of his tuition at Wheaton. They both also agreed to work to get him a scholarship. Graham did end up attending Wheaton College, which became a key transition point to his global ministry.
When I shared this in front of the 6,000 attendees at the Exponential Conference, I did not tell people who Elner Edman was. I simply put his picture on the screen and explained that for the last year and a half, I've carried a responsibility of something called the Washington Project.
In the Washington Project, my job was that upon Billy Graham's death, I was to cancel my plans, to call and set into motion certain events related to the funeral, and more. I have actually carried a card with me that I held up to the attendees at the Exponential Conference and explained that I would get this call and then I would call certain people.
So, I explained to those at Exponential that by putting a picture of Elner Edman up, I wanted to encourage all of us that there are all kinds of hero makers. In this case, Elner met his caddy, thought he had potential, encouraged him to go to Wheaton College, and helped pay his way to go to Wheaton College.
After explaining a bit about the card and the Washington Project, I explained that Elner Edman's caddy died recently, and I put a picture of Billy Graham on the screen. There was a ripple of surprise and affirmation throughout the room.
What are you a 'hero maker' to?
All of us can and should look for people to invest our time, efforts, and energy in. In short, let's be hero makers.
As I reflect on this personally, I consider the fact that I've been able to invest in the lives of other leaders in the last few years. Seeing how they have excelled has brought me great joy. There are many people who indeed are caddying or working some other odd job today who need us to come along side and help make them heroes.
Who will that be for you?
Ed Stetzer holds the Billy Graham Distinguished Chair of Church, Mission, and Evangelism at Wheaton College, is executive director of the Billy Graham Center, and publishes church leadership resources through Mission Group.
The Exchange is a part of CT's Blog Forum. Support the work of CT. Subscribe and get one year free.
The views of the blogger do not necessarily reflect those of Christianity Today.